The 1957 launch of Sputnik dented America's sense of technological supremacy.
In response, America built a long-term pipeline of rocket scientists and won the race to the moon. It also invested in colleges, scholarships and educational programs.
International competition has been an important spur to investment in education in America. Beneath the high-profile space race with the USSR, the progress of science and technology in the marketplace gradually changed the world. Japan lost World War II and was never a participant in the space race, but found its niche in the postwar economy, beginning with innovations such as transistor radios and cheap motorcycles.
As described in lesson 1.3, technological innovation has changed the nature of work, and the changes are global. America is no longer distinctive in the level of educational success that its students achieve in school.
So where does the future lie?
Science for the Next Generation
Today's students will drive tomorrow's breakthroughs, if they are ready.
Unfortunately, despite its high-tech reputation, California has consistently lagged other states in science education. For example, in 2015 California's eighth graders scored in the bottom five states in the nation that reported scores, statistically tied with Alabama, Mississippi, Hawaii and New Mexico.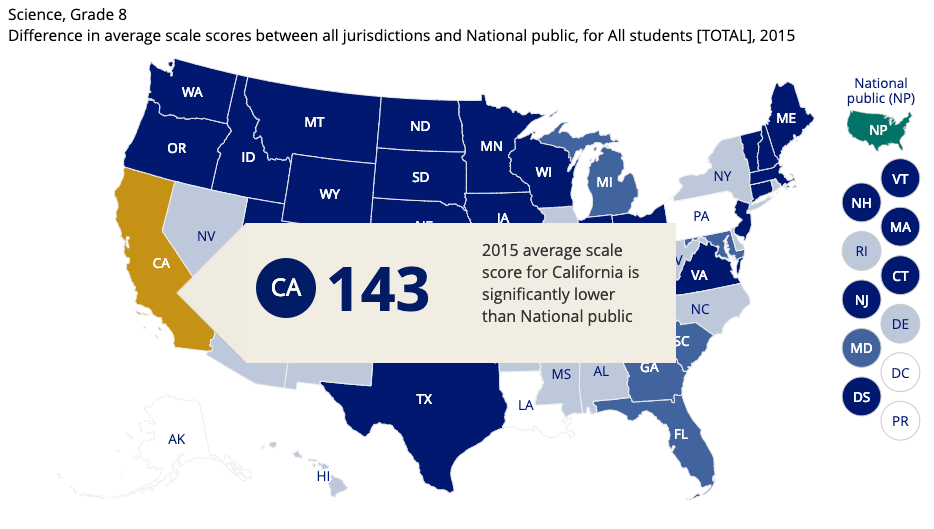 Things may be changing. In 2013, the California State Board of Education adopted new standards for science education, known as the Next Generation Science Standards (NGSS). (Although it might be tempting to pronounce this abbreviation "noogies," it would be terribly unscientific-sounding. The shortest abbreviation in spoken use appears to be "NextGen Science.") School districts are slowly taking action to make changes based on these standards.
Hear Carol and Mary discuss NextGen Science
As with the Common Core standards, a consortium of states developed the new science standards. California was a lead participant among the 26 states involved, but rolling out changes in standards is a significant undertaking that requires new learning materials and training for teachers. The State Board called for student testing based on the new standards to begin in 2018-19.
The NextGen science standards blend scientific disciplines with concepts of technology and engineering, defining eight science and engineering practices, seven "crosscutting concepts," and 44 disciplinary core ideas. Paul Anderson, a science teacher, has created a series of videos about the standards to help explain their purpose, structure, and usefulness for teachers.
Investing in STEM education
Today's educational investments in the areas of science, technology, engineering and math (collectively known as "STEM" investments) will play a key role in the shape of tomorrow's economy. America's schools have fallen dramatically behind other countries that have emphasized preparing students for work in STEM fields. Despite its high-tech reputation, California students do no better than most in these subject areas.
In 2010 as part of the economic stimulus package that followed the Great Recession, the Race to the Top program offered states the opportunity to compete for federal grant funding. California failed in its bid to win these funds partly because the judges felt the application lacked a coherent plan to make STEM education more effective.
This is, to say the least, a multi-faceted challenge.
California lags in Math
Math (the "M" in STEM) creates the educational foundation for the other three disciplines. Of course it is routinely characterized as one of the "basic" school subjects. It's also an area where California lags most other states according to the National Assessment of Educational Progress (NAEP).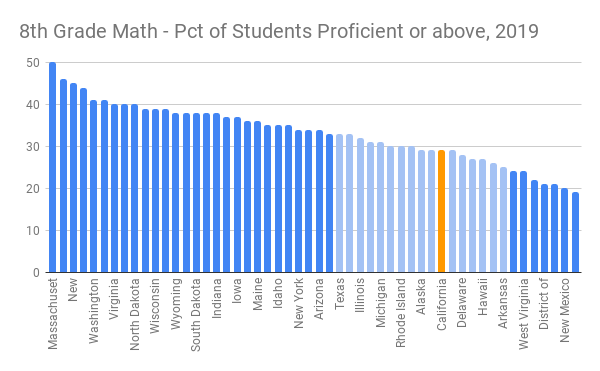 In recent years, California's math scores have risen a little bit, but they're still pretty darn weak. State officials hope that California's implementation of the Common Core State Standards are helping to improve students' math performance. In comparison to how math was taught for more than a decade under the old standards, the new ones focus more deeply on fewer topics. This "less is more" idea is consistent with mathematics instruction in countries that are doing far better in the STEM areas.
In the area of math, as in English language arts, the Common Core emphasizes students' development of "habits of mind" in tandem with subject matter content.
The Common Core Mathematics Practices
Make sense of problems and persevere in solving them.
Reason abstractly and quantitatively.
Construct viable arguments and critique the reasoning of others.
Model with mathematics.
Use appropriate tools strategically.
Attend to precision.
Look for and make use of structure.
Look for and express regularity in repeated reasoning.
Wondering how this kind of content can be introduced to young students? This video series can help:
Algebra: California's 8th grade waffle
California does not require schools to provide courses in algebra until high school, though many do. For about a decade, California policy actively pushed algebra as an 8th grade course requirement, and enrollment in the course grew sharply. By 2012, about 2/3 of California's 8th graders were enrolled in algebra I, and in particular there had been significant growth in the proportion of black and Latino students enrolled in the course.
In 2013, the State Board of Education unanimously voted to drop the 8th grade algebra requirement in order to adopt the structure and pacing of the Common Core standards for Mathematics. This was not an outright capitulation; many of the key concepts of basic algebra were incorporated into the common core standards for eighth grade math, including using the Pythagorean theorem, linear equations, exponents, and irrational numbers.
The Fast Track May Be... a Unirail
It is common for schools to offer math instruction in "tracks" for students at different levels of readiness. In 2014 San Francisco Unified School District stood this logic on its head. The district completely de-tracked its middle school classes, enrolling all students in the same heterogeneously grouped courses for Grades 6, 7, and 8. Early outcomes appear to validate this approach.
Subtracting California
Still, California cannot claim leadership when it comes to math expectations. Most states in America require three or four years of math for high school graduation; only Montana, Maine and California require just two. (That's not quite as bad as it sounds — most California school districts set their own, higher graduation requirements for math.)
Compelling evidence suggests that the state should focus more on early math instruction
Mastering algebra doesn't just happen. Compelling evidence suggests that if California is to sustain its role as a center of technology, the state should focus more on early math instruction. More students succeed when elementary teachers, and even preschool teachers, have stronger backgrounds and skills in teaching math to the youngest children.
Standards set the high-level expectations for learning, but they need additional detail to be implemented. In 2013, California adopted a curriculum framework to accompany and clarify the new standards. A curriculum framework is more specific than standards — it provides guidance and examples to help school districts and teachers think through their plans in actionable detail.
Getting 9th Grade Math Placements Right
Math concepts build on one another. It is important to get the sequence right; if a student doesn't advance when ready, the missed opportunity permanently affects his or her success. The Noyce Foundation put a spotlight on "math misplacements" in an influential report in 2010, establishing that large numbers of students of color and students in poverty were being made to repeat algebra in ninth grade, even if they passed it in eighth grade. This finding led to passage of SB359 (Ed Code 51224.7) in 2015 to address the problem.
Where are the teachers?
Many of the challenges involved in teaching math are human ones, such as recruiting and retaining teachers with the necessary subject knowledge and charisma. The STEM Teacher Drought, a report from EdTrust West, finds that African American, Latino, and low-income students in California have less access to STEM learning opportunities than their more advantaged peers, and they experience worse academic outcomes in STEM subjects.
Attentive and prepared teachers can present a student with the right challenge at the right time, but it is difficult to do so for many students at once. The Khan Academy and other online learning platforms are finding favor with some teachers and parents partly because they create individualized challenges for students, making personalized learning possible. Students can take a lesson focused on a specific skill or problem and repeat it until they feel confident. (Note: Khan Academy is a past grant recipient of Full Circle Fund.)
Science and engineering education stands to benefit from individualized computer-assisted learning as well, if only because achieving mastery in these fields requires pairing competent instruction with clear problem sets. But there is a difference between reading about spectrography and actually firing up a Bunsen burner to sleuth the elemental content of a mystery substance.
From STEM to STEAM
Real tech jobs are multidisciplinary. Designing a manufacturing solution, for example, involves art, craft, teamwork, communication, project management, and problem solving. It almost certainly involves use of a spreadsheet and some kind of visual design tool. These sorts of varied skills are not easy to introduce without the right tools in the room and, crucially, a teacher with the right skills. The California STEM Learning Network (CSLM) supports partnerships throughout California working on these issues. (As a aside note, when an acronym is used inside another acronym you just know it has either become universal or it has jumped the shark.)
Arts advocates have worked to add the arts to conversations about STEM by adding the letter A (for arts) to the acronym, making it "STEAM."
Next Steps
Start Early. Parents and teachers can find a wide variety of activities for our youngest children on the Sesame Street web site Little Discovers: Big Fun with science, math and more!
Make Math a Family Thing. The Harvard Graduate School on Education has put together some ideas and resources for families to develop children's mathematical learning and for educators to guide families in that process.
Encourage curiosity and experiments at home: 5 Tips for Parents from the California State PTA
Check to see if STEM is part of your district's LCAP. Are teachers getting the training they need to implement the new science standards? The California STEM Learning Network has some tips.
Get involved at your school. What Your PTA Can Do to Promote STEM Education