School should be free and mandatory for all kids. It's obvious, right?
Actually, it's kind of a new idea.
Large-scale public education in America began in Massachusetts in the 1850's under the leadership of Horace Mann (pictured). Mann developed an organization of over 1,000 compulsory schools modeled on the Prussian system of common schools.
In 1875 President Ulysses S. Grant campaigned for a constitutional amendment to mandate free public schools and prohibit public funding of religious schools. This amendment (known as the Blaine Amendment) failed, but was adopted in most state constitutions. The idea of free public schools, separate from religious institutions, began to become part of the fabric of America.
First, get the kids out of the fields
A mere 100 years ago, however, there was still far to go. More than a quarter of children in America did not attend school in 1910. At the time, even radicals in America viewed tuition-free universal education as a dream.
Tuition-free basic education has been universal in America for only a little over 100 years.
Putting children in school required first extracting them from fields and factories, where the poorest endured horrifying conditions with few protections. Around the turn of the 20th century, Americans journalists drew attention to the dreadful working conditions in factories. Gradually public opinion shifted, influenced both by the women's movement of the time and the labor movement.
By 1916 most states, following examples in Europe and Massachusetts, had passed laws to outlaw, discourage or at least regulate childhood labor. As states developed laws regarding child labor, they also changed public expectations about public schooling.
Gradually making education "universal"
Over the last hundred years, a broad theme in the evolution of public education has been to make access to it more universal. For example:
Make school mandatory: In 1910, a quarter of America's children did not attend school, but by 1918, Mississippi became the final state to pass laws mandating that public school should be not only universally available, but compulsory through elementary grades.
Get kids out of the factories: The Owen-Keating Act of 1916 set federal standards for the maximum number of hours children could work, and banned interstate trade in goods manufactured by children. This measure was overturned by the Supreme Court in 1918, but the trend had been firmly set.
Feed them: In 1946 Congress appropriated funds for a nationwide school lunch program, creating a new reason for impoverished families to send their children to school and establishing an essential precedent for federal support for education.
Include all races: In 1954 the Supreme Court ruled unanimously in Brown v. Kansas Board of Education that schools could not be segregated by race.
Include schools in impoverished areas: In 1965, President Lyndon B. Johnson signed the Elementary and Secondary Education Act (ESEA) as a key element of his War on Poverty. Title I of this Act provided federal funding to support education in low-income communities.
Include students with disabilities: In 1975 the US Congress established that American schools must provide a free and appropriate education to students with disabilities.
Since the 1970s, state and national education policies have increasingly reflected this principle of universal access, including a growing sense that students should have equal access to not only a school, but a good school. Issues of funding equity and adequacy have driven policy decisions for more than four decades. A growing body of research on how children learn — and on how they can best be taught — has also been a powerful driver of education change.
A century of steadily expanding and improving access to education has fundamentally changed America, both economically and socially. Universal public education is a major proof-point of America's self-image: this is a land of opportunity for all. And most Americans are now convinced that, given enough support and time, all kids can attain a high level of academic achievement.
Education: a strategy for national defense
Another source of influence in the history of America's educational system has been national security.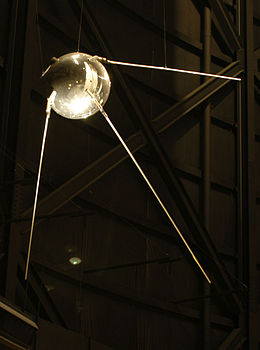 In the early years of the cold war, the Soviet Union's launch of Sputnik sparked concern that America was falling behind, and failing to produce the scientists and inventors needed for a nuclear age. This sparked a wave of investment in science programs in America's schools and universities. Today it is widely accepted that education is connected not only to social aims, but also to issues of economic and military security.
In 1983, "A Nation at Risk" called for sweeping changes in American education, and kicked off a series of national conversations about "standards." The goal was to improve what children know and are able to do at each grade level so the U.S. could stay safe and competitive in a global economy. A widespread consensus emerged, leading to the federal No Child Left Behind act (NCLB), passed in 2001. The central, big-picture goal of NCLB was to gradually raise the achievement bar, year by year, so that all children, including those usually "left behind," would receive a solid education. The law required each state to establish grade-level standards and to test all students annually in order to evaluate each school's success.
...or as a strategy for national inclusion
Alas, many children were still left behind. Among other things, the NCLB experience revealed that the 50 states varied widely in their expectations for students. In response to the requirement to test annually and show steady improvement, many states' standards were written in a way that led to a narrow definition of success. In 2009 the National Governors Association initiated a project to define a new set of shared standards that became known as the Common Core State Standards.
These standards originated with the states, but they were quickly adopted in part because the Obama administration used a federal matching grant program called "Race to the Top (RTT)" to encourage them to do so. California set 2015 as the year it would begin judging the performance of its students and schools based on these new standards.
Fierce debates continue about public education policies. In particular, there has been an evolving tension between the importance of top-down direction and bottom-up innovation. Charter school policies became a particular flash point in the 2010's, as this delivery method for public education grew beyond 10% of California enrollment.
Worth noting, though, is how little we argue these days about the basic principle that all children should have the chance to attend quality schools and meet high academic standards. Horace Mann would be pleased.