Here is a suitable thesis for a term paper: Selectivity and diversity are competing priorities in the history of American public education.
On paper, California's student body is incredibly diverse. On closer inspection, it is well sorted. Throughout childhood, students grow accustomed to being sorted, or to sorting themselves: by age, by gender, by height, by neighborhood. Not so long ago, students were explicitly sorted by race; today the sorting persists by zip code or community, often with similar effect.
Schools also sort students academically. Most colleges and some high schools are selective; students must demonstrate their ability and commitment to gain admission. In many high schools Advanced Placement courses are the academic equivalent of making the varsity team, and not all students make the team. Other schools allow students to be admitted into these more challenging courses based on student and parent choice. 
The practice of grouping students according to readiness or ability is sometimes known as "tracking," particularly where groupings persist from one class to the next. Tracking is generally out of favor in most schools, in favor of "differentiated instruction," in which teachers work to serve multiple learning levels in the same class. Arguments in favor of tracking can be found in this article from Education Next.
Selective policies tend to benefit those who ask
Some schools work to attract similar "birds of a feather" as part of an educational strategy. For example, some schools promote their emphasis on the arts. Others promise an enhanced focus on technology. Schools that emphasize Gifted And Talented programs (GATE) attempt to identify students with exceptional academic promise and provide extra learning opportunities appropriate for their needs.
Sort if you like, but don't expect extra money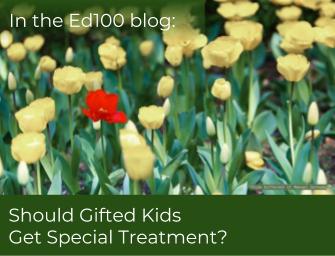 In the past, both the federal budget and the state budget included funds to support programs for gifted students. As we discuss in length in the Ed100 blog, federal and state funding for this purpose has gone away.
California school districts
may
offer programs for gifted students (it's still allowed) but they don't have to. It is entirely a matter of local control.
Keep 'em separated
Single-gender schools attract attendance with the premise that simplifying the social framework for their students can boost academic focus. The available evidence suggests that, all other things being equal, there could be some merit to this theory. Some studies show academic achievement is generally higher in single-gender school classrooms than in co-ed ones, but the research finding is not straightforward. Like most social science, the data are messy and the validity of this conclusion can be disputed.
California's first new single-gender school in twenty years opened in Los Angeles in 2016. It's an all-girls school. California law prohibits gender-segregated schools, but Federal law permits them. LAUSD obtained a California waiver from the State Board of Education to open the school.
Stand up for yourself
At the risk of stating the obvious, selective policies tends to benefit those who ask to be selected. Selecting anything (or being selected for something) usually requires an action, even a small one like raising a hand or filling out a form or talking to a teacher. These small barriers requiring student self-advocacy or parent advocacy tend to reinforce patterns of selection, even unintentionally.
Each school, intentionally or unintentionally, develops its own reputation for the ways in which it is selective and the ways in which it is diverse. In cases where parents have a choice about where their children attend school, they respond to these signals. Parents can influence the balance their local schools strike between these two competing values.
The next lesson will examine the role of special schools for children at risk.