Is it true that students in California receive less support for their education than students in other places?
Yes. It's true.
California Skimps
California consistently skimps on education, and has done so for decades. By how much? Well, buckle up. Measuring it is more complicated than it might seem.
There are several ways to quantify how much states spend on education. EdSource.org, the preeminent source of expert news about the California education system, summarizes the challenge brilliantly:
"How does California rank in K-12 per-pupil spending nationally...? a) 46th; b) 41st; c) 29th; d) 22nd.
The answer is all of them. Depending on how spending is calculated and how up-to-date the data are... the state's ranking varies widely."
Let's start with answers (c) and (d). These are two slightly different versions of a simple-math comparison: divide the number of dollars spent on education by the number of students served. By that simple ratio, California's education funding per student is middle-of-the-pack. About average.
Dollars are only good for what they can buy.
A simple dollars-per-student ratio is misleading, though. Dollars are only good for what they can buy, and it costs a lot more dollars to run a school in California than it does in, say, Nebraska. Salaries make up most of a school's costs, and salaries in California are higher. They have to be. The labor market responds to supply and demand, and Californians with a college degree have lots of employment options. The rankings that place California at or near the bottom compare purchasing power per student, not simply dollars per student.
Dollars don't educate students, teachers do.
In order to meaningfully characterize the value of each state's expenditures for education, answers (a) and (b) adjust for the purchasing power of educational dollars in each state. The most thorough analysis of California's educational investment gap can be found at CalBudgetCenter.org, which takes local labor costs into account. For students, parents and community members, this is the comparison that should matter. Dollars don't educate students, teachers do.
By these meaningful measures, California consistently ranks at or near the bottom of the list. Education Week regularly compares funding per student based not just on nominal dollars per student, but based on what those dollars can actually buy in each state. On that basis, California funds education at a level about 72% of the national average, and less than half that of New York. (Source: 2017 Quality Counts report based on 2013-14 expenditures. Data to compare states' spending on education is chronically many years out of date. But it also tends to change very slowly.)
Why is it important to know that California skimps?
Because it turns out that money really does matter. It seems obvious, but for a very long time education outcome data were so low-quality that it was quite difficult to prove a connection between money and learning. The connection was significantly clarified in two studies included in the 2018 Getting Down to Facts II project. "Money and Freedom", a study of the impact of California's Local Control Funding system, concluded that "money targeted to districts with the greatest student need has led to improvements in student outcomes". In a separate study, researchers were asked to make a responsible estimate of how much money it would take for California's education system to provide all students with the opportunity to succeed in college and career. Following precedents used in other states and findings from expert panels, they concluded that the state would need to increase expenditures by 38%, with variations based on regional costs.
This conclusion squares with work by other researchers. For example, "How Money Matters" looks at additional research that comes to the same conclusion: "On average, aggregate per-pupil spending is positively associated with improved student outcomes."
What Happened? Why is California so skimpy?
Long ago, in the 1960s and early 1970s, California was once a top funder of public education. In a long, slow slide, California has joined Florida and Texas toward the bottom of the national stack. Funding per student in California, adjusted for the most conservative measure of inflation, stands only slightly above where it stood forty years ago. California is no longer even near the top of the stack. A 2016 report, "California's Challenge: Adequately Funding Education in the 21st Century", estimated that "the amount of additional funding that would be needed to move California to the average funding level of the top 10 states is ... roughly a doubling of current state funding."
Really?
How can this be? Isn't California a rich, high-tax state?
Yes, California is a fairly rich state. Based on the 5 years from 2011 to 2015, for example, the state's median household income of about $61,818 exceeded the rest of the USA by about 17%.
California's overall tax system is regressive: the lowest-income families pay the highest share of their total income in taxes.
And yes, California also collects higher taxes than most states. California's overall state and local tax burden relative to the state economy exceeds the national average by about 11% according to taxfoundation.org. For the 2009-10 fiscal year, California's Legislative Analyst Office (LAO) pegged California's state and local tax burden at $11.30 per $100 of personal income, high enough to put it in the top ten states in the country. (High-income taxpayers might be surprised that the state's overall tax rate exceeds the national average by only 7%. They might also be surprised to learn that the tax system in the state is regressive, meaning that lower income taxpayers carry a higher overall tax burden than wealthier taxpayers.) Want to know even more? California's Legislative Analyst produces a report with a full rundown of California's Tax System.
If California has an economic tax base 17% larger than average per household, and levies state and local taxes at a rate 7% higher than average, how can it possibly fund K-12 education so far below average per student?
Youthfulness
A small part of the answer is that California is a youthful state. It has more students per taxpayer than most states do, so funding for education must be spread among more students in California than in most other states. Texas faces this challenge to an even greater extent than California. By contrast, Florida and Hawaii, famous as retirement destinations, have a relative abundance of taxpayers per student.
Other Priorities
Age demographics do not explain away California's skimpy education funding, though.
For the last four decades, California simply hasn't made education a priority. A state or nation's "effort" to support education is objectively measurable: calculate its funding for education as a percentage of the economy.
In 2014-15, public primary and secondary education accounted for about 3.27% of California's economy. Powered by a big boost in the state's education budget, this was a significant increase in "effort" from prior years in California. Nevertheless, California still lagged in its level of commitment to education relative to the rest of the states, where education accounted for 4.04% of the economy. It may sound like a small difference, but 0.77% of California's economy is real money.
Budgets are an expression of values
Does the state's long pattern of low investment mean that Californians place a relatively low value on public education? It might. For example, since 1970 California has increased spending on prisons and incarceration about three times as much as it has increased spending on education. Spending on health care has expanded even more.
There are some reasons to believe that the tide might turn in education's favor. For example, according to the Public Policy Institute of California (PPIC), about 2/3 of California adults and voters now say the current level of state funding for their local public schools is not enough.
This consensus can drive change. In the years following the Great Recession, Californians passed two ballot measures, Propositions 30 (2012) and 55 (2016), to raise revenue (mainly) through an income tax on California's highest earners. The stock market subsequently rose from its lows to new highs, reviving education funding from its collapse in 2008. Equipped with this revenue, California's lawmakers passed budgets in 2014 and 2015 that revived and then increased funding for education in California.
The increase was tremendously important, but it's important to keep it in perspective: California still significantly lags other states in the resources it invests in the education of children. The chart below shows California education dollars per student for elementary school districts, high school districts and unified districts. The top of the chart is set to $20,000 per student for a reason: it's approximately the average amount invested each year in the education of each student in the state of New York.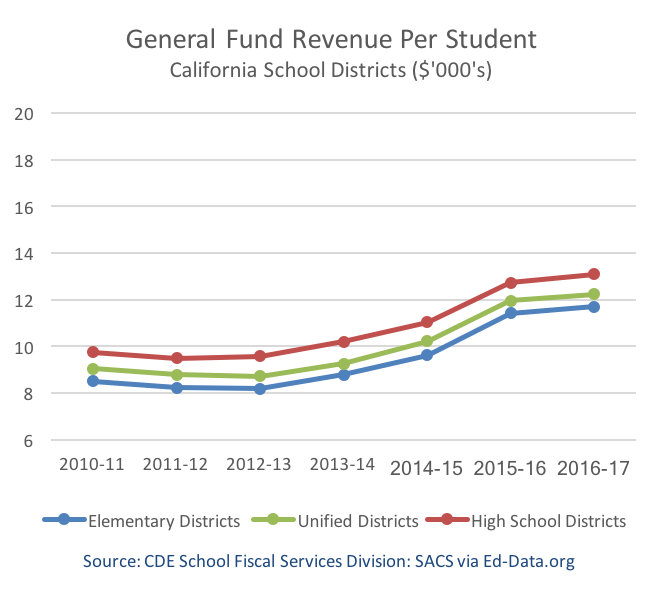 For students, these investment gaps are recurring, and should be thought of as cumulative. We invest in students over the course of a 13-year education. Each year, California invests about $7,500 less per student than the average of the ten states that invest most generously in their public education systems. Over 13 years of skimpy schooling, that's an investment gap of more than $100,000 per student.
Structurally Skimpy
Long-time observers of California's education system often connect the state's habit of skimpy investment in education with Proposition 13, which flipped the education finance system from stable local funding (through property taxes) to volatile state-sourced funding (through income taxes). An unintended consequence of this structural change is that it weakened voters' political will to tax themselves. In general, voters tend to support taxes that help their immediate community more readily than they support taxes to help others less close to them. By flipping the basic revenue model from local to statewide, California overturned its political underpinnings. School funding in the state has never recovered.
Clueless
Education is the largest function of government.
Of course, it's important to acknowledge that most Californians have no idea at all about their state's level of investment in education, either in absolute terms or relative terms. According to an annual survey by the Public Policy Institute of California (PPIC), only 15% of Californians can correctly identify the biggest slice of the state's budget. Nearly half think that the state spends more on prisons than any other function.
California funding for K-12 education is skimpy, but it is still the largest function of state and local government.