It is easy to think of truancy as a law enforcement issue – a problem of willful teenagers. Enforcement of attendance is a common area of cooperation between municipalities and school districts.
But a distressing amount of "truancy" is better thought of as "absenteeism." It involves elementary school children whose parents or caregivers fail to get them to school for all sorts of reasons. Children who miss school can fall behind quickly, and schools are generally not equipped to support family interventions that can make a difference. School is compulsory for children in California beginning in first grade.
Missing school is a warning sign of bigger problems
A growing body of research suggests that early absenteeism is a strong predictor of later problems, including failing to graduate high school. Districts need to address absenteeism early and often. In part, they need to address it for funding reasons: districts don't receive money for students who don't show up to school.
Former California Attorney General Kamala Harris began shining a spotlight on elementary school truancy with an annual report "In School + On Track." It's a trove of hard-to-get information assembled from local data systems. For example, the 2015 report revealed that the annual cost of missed school in California exceeded a billion dollars, just for elementary student absences alone.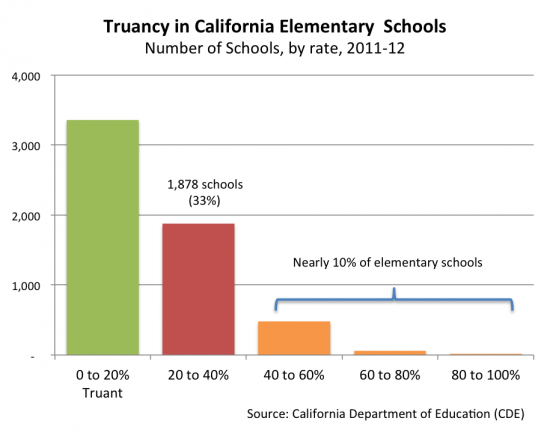 California's definition of truancy casts a wide net: "a student is truant if he/she is absent or tardy by more than 30 minutes without a valid excuse on 3 occasions in a school year." By that measure nearly a million California students were truant by the end of the school year. The statistics regarding "chronic truancy" (absent at least 10% of the school year) are smaller, but concerning: about a quarter of a million California elementary school students miss more than three weeks of school per year. This level of absence from school correlates with all kinds of bad outcomes, including failure to finish high school. According to the Attorney General's office report, 82% of those in prison in America are high school dropouts.
California's strict attendance rules are a hardship for student organizations and athletic groups. For example, even students that serve on school boards or as advisors in school accreditation teams are technically truant when they miss school to attend meetings during school hours.
Suspended
For older students, sometimes missing school is a result of their behavior. Out of school suspensions and expulsions are a tool that schools use to punish students and maintain order in schools. However, these disciplinary approaches also keep kids from learning, especially those kids whose achievement is of the greatest concern.
Johnny's not in class
a canary in the mind
empty chairs can pass
a silent warning sign
The California Endowment has been a leading voice in creating a movement to find other ways to address student misbehavior. They argue that suspensions are largely counterproductive, and that it is better to "suspend" students in a way that keeps them in a learning environment.
The school finance system in California creates a powerful incentive to keep students in school: it funds school districts on the basis of Average Daily Attendance (ADA). This is also a part of the reason why schools take attendance every day. Districts take this very seriously. Investments that increase school attendance can pay for themselves quickly if they work. For example, effective attendance-management systems enable school office staff to call parents of absent students by lunchtime.
Next Steps
Parents and PTAs can help get kids to school on time. From creating a regular bedtime routine to making sure backpacks are ready to go in the morning, time-proven strategies really work, if parents know about them. Attendance Works provides useful web-based handouts for pre-school, elementary, middle and high school in several languages.
This lesson concludes the Ed100 coverage of the topic of Time as a lever for educational success. This is a good moment to reiterate the organizing framework of Ed100: Education is Students and Teachers spending Time in Places for Learning with the Right Stuff in a System with Resources for Success. So Now What?
The next series of lessons picks up the topic of places for learning, including primers about neighborhood schools, charter schools, and learning beyond the classroom.