It is often said that half of new teachers depart the profession within five years. This is a myth.
Teacher turnover (and its opposite, teacher retention) has been the subject of many studies over time. It can be hard to measure retention, because teachers change jobs within schools, change schools, and change their names. School systems don't necessarily connect to one another, and a lot of early studies just got it wrong. In 2015, the National Center for Education Statistics tried to set the record straight with a longitudinal survey that found at least 82.7% of those who started as teachers in 2007 were still teaching or serving in other education roles five years later. Other studies, using different methods, suggest that this estimate might be too rosy, pegging the five-year teacher retention rates at about 70%. There's room for interpretation, but either way: myth busted. It's definitely less than half. (See EdSource for more about the data.)
It is often said that half of new teachers depart the profession within five years. This is a myth. It's closer to a quarter.
But the point isn't purely wrong. In today's America, most people are career-changers, and this includes teachers. Teacher turnover is a particularly big issue in California schools, especially in high-need areas like special education and bilingual education.
Why do teachers leave?
Teachers may leave a school for many different reasons, most of them not unique to teaching. These can include personal needs like the birth of a child or a spouse's work. Teachers might also leave a school based on a sense of dissatisfaction stemming from lack of support, challenging work conditions, or other problems. Teacher turnover varies widely by individual school, with high-poverty schools experiencing the greatest rates due to factors such as insufficient funding, poor working conditions, and lack of administrative support. Teaching can be lonely work, and nobody likes to feel unsupported.
Why don't teachers leave?
Leaving a school district is a bigger economic decision for a teacher than most people realize. In the private sector, changing employers is normal, and even expected. It can be easier to move up to a better job in the private sector by changing employers than by waiting for a promotion. In teaching, the incentives are entirely different. As explained in Ed100 Lesson 3.8, the pay system for teachers is strongly based on seniority. Teachers who move from one district to another generally face a pay cut. Less obviously, the financial hit of a pay cut is multiplied by the teacher pension system.
Why does teacher retention matter?
Students in poverty are more likely than other students to be in schools with high teacher turnover and less-experienced educators.
Great school leaders do everything in their power to resist this churn and persuade good teachers to stay because the impact of retaining a great teacher is massive and long-lasting. In a study involving 2.5 million students and 18 million test scores, researcher Raj Chetty and colleagues demonstrated that a great, high value-added teacher, defined as a teacher whose students perform better than predicted based on past measures, can have a large, long-lasting effect on students' success in school. Keeping a great teacher matters a lot.
Teacher Supply and Teacher Shortages
The labor market for teaching drastically changes depending on whether budgets are growing or shrinking. When budgets are very tight, school districts often can't afford all of their teachers. The newest ones, with the least seniority in their district, check their mailboxes for warnings that they may not have a job. (These notices are commonly called pink slips.) When budgets are growing, by contrast, school districts may experience a teacher shortage, meaning that they cannot find good candidates with the right credentials to fill open positions. Teachers with seniority may take advantage of the moment to negotiate a shift to a school they like better. School districts fill the gaps with substitute teachers and teachers with an emergency permit.
These on-again, off-again cycles in the labor market for teaching have become part of the expectations for new teacher candidates. Teaching is a relatively attractive job in California (see survey above), but until you gain seniority it can't be assumed to be a safe one. (We take up this topic further in Lesson 3.10)
Staffing has become challenging throughout California schools in recent years, especially for schools in rural and disadvantaged areas. Bilingual teachers and special education teachers are in particular demand.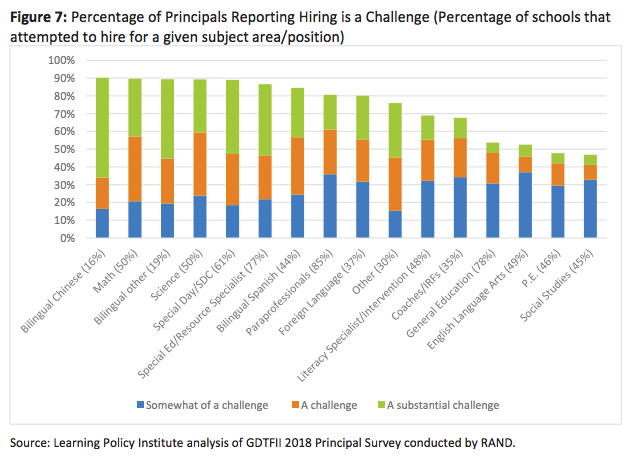 Teacher retention programs and strategies
To keep new teachers in the profession and improve their effectiveness, some school districts invest in training and mentorship programs for new teachers to help them learn the ropes. In education lingo, this kind of on-the-job support is known as an induction program. These programs can make an enormous difference. If they are well-implemented induction programs not only reduce the "rookie ratio" in schools, they also save money that would otherwise be spent recruiting and hiring new teachers. California has made induction programs the preferred way for a teacher to complete requirements for a clear or professional credential. Some teacher induction programs are better than others, though. In order to raise the level of quality of such programs, California has established standards for them.
Successful teacher induction programs save money.
Some of the state's larger districts, searching for alternatives, take a "grow your own" approach to teacher recruitment and education. Many of these local programs aim to cultivate and support teachers with a deep commitment to a community. For example, the City College Teacher Prep Center of San Francisco provides information, resources, and advice for students interested in teaching as a career. This includes assistance with university transfer for advanced degrees as well as support to obtain elementary, secondary, and career technical education (CTE) credentials. (Hear Carol's interview with Kathleen White about it on KALW.)
Nationwide, the special education teacher workforce is frequently noted as a shortage area, leading some states to create retention incentives. An October 2019 study by the Education Commission of the States states that, "Twenty-nine states require or explicitly encourage additional pay for teachers who work in underserved schools and.or shortage subject areas."
What is teacher burnout?
Teaching is demanding, important work. When a school environment is effective and teachers feel like they are pulling in the same direction, it can be exhilarating. But when teachers feel unsupported, it can be emotionally exhausting.
school leaders. Nobody likes working for a bad boss.
Clearly, it hurts kids when great teachers depart the profession, especially students of color and low-income students. Reducing turnover for its own sake, however, is not the point. Not all experienced teachers are equally effective with students. Periodically, when a recession hits, school districts have to lay off teachers. What happens then? This topic is central to Ed100 lesson 3.10, Tenure and Seniority.