It is often said that half of new teachers depart the profession within five years. This is a myth.
According to a 2015 longitudinal survey by the National Center on Education Statistics, at least 82.7% who started as teachers in 2007 were still teaching or serving in other education roles five years later. (Other studies using different methods estimate five-year teacher retention rates of about 70%. Either way: myth busted. It's definitely less than half. See EdSource for more about the data.)
It is often said that half of new teachers depart the profession within five years. This is a myth. About 80% of new teachers remain in the education field at least five years.
But the point isn't purely wrong. In today's America, most people are career-changers, and this includes teachers. Teacher turnover is a particularly big issue in California schools. According to research commissioned for the California Getting Down to Facts II project, "In California, about 8.5% of teachers appear to be leaving the profession (or the state) each year, and another 8% leave their current school to move to another." This turnover isn't uniform, of course. California does not collect data sufficient to evaluate how differently turnover affects high-need schools, but according to principals surveyed "teachers in the shortage areas of special education, mathematics, science, bilingual education, and world languages are most difficult to retain." (Source: GDTFII)
When a teacher leaves, it disrupts learning and relationships. Partly due to this pattern, students in poverty are more likely than other students to have inexperienced teachers throughout their education.
Teacher Supply and Teacher Shortages
The labor market for teaching gyrates between shortages and pink slips. When budgets are tight, school districts can't afford all of their teachers. The newest ones, with the least seniority in their district, check their mailboxes for "pink slips" warning that they may not have a job. When budgets are growing, by contrast, school districts experience "teacher shortages" because they cannot find good candidates with the right credentials quickly enough to fill open positions. Teachers with seniority may take advantage of the moment to shift to a school they like better. School districts fill the gaps with substitute teachers and teachers with emergency credentials.
These gyrations of the labor market for teaching have become part of the expectations for new teacher candidates. Teaching is a relatively attractive job in California (see survey above), but until you gain seniority it can't be assumed to be a safe one. (We take up this topic further in Lesson 3.10)
Staffing has become challenging throughout California schools in recent years, especially for schools in rural and disadvantaged areas. Bilingual teachers and special education teachers are in particular demand.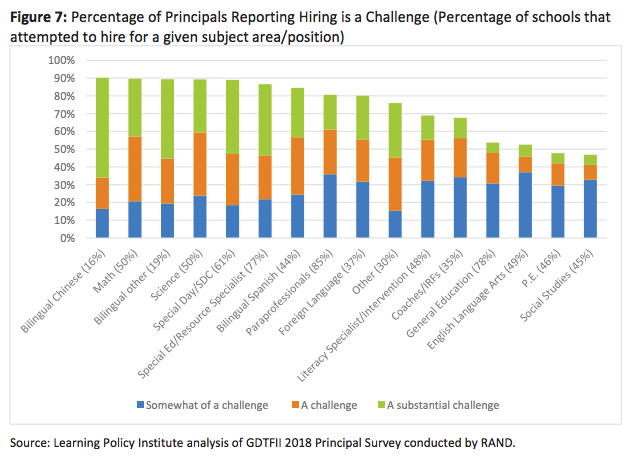 Induction programs help
One strategy for keeping new teachers in the profession and improving their effectiveness is to provide a structured program of training and mentorship for new teachers to help them learn the ropes. In education lingo, this kind of on-the-job support is known as an "induction" program. In California, an induction program is the preferred way for a teacher to complete requirements for a clear or professional credential.
As with any program, some teacher induction programs are better than others. In order to raise the level of quality of such programs, California has established standards for them. Successful induction programs not only reduce the "rookie ratio" in schools, they also save money that would otherwise be spent recruiting and hiring new teachers.
Teachers have reported that they stay in the profession because of this on-job support as well as having the time to collaborate with education leaders and colleagues. They appreciate having a sense of autonomy and ability to provide input on student outcomes.
Successful "induction" programs not only reduce the "rookie ratio," they also save money.
Some districts and schools, searching for alternatives, have begun to test "grow your own" approaches to teacher recruitment and education. The goal of local programs is to cultivate and support teachers with deep commitment to a community. For example, the City College Teacher Prep Center of San Francisco provides information, resources and advice for students interested in teaching as a career. This includes assistance with university transfer for advanced degrees as well as support to obtain elementary, secondary and CTE credentials. (Hear Carol's interview of Kathleen White about it on KALW.)
Clearly, it is bad for kids when great teachers depart the profession. Reducing turnover for its own sake, however, is not the point. Not all experienced teachers are equally effective with students. In 2011, a wave of seniority-determined layoffs brought the issue of teacher retention into a new focus, a topic that is discussed further in Ed100 primer 3.10 Tenure and Seniority.