Some children seem destined to excel in the arts. They draw incessantly. They win at Pictionary. They love music, or drawing, or dance.
Art for Everybody
Arts education is important not just for students with artistic "talent." It is for all children.
Knowledge sticks more easily when it is beautiful, or compelling, or funny.
The arts are useful for learning. They are more than just "what" children learn but also "how" children learn. Knowledge sticks more easily when it is beautiful, or compelling, or funny. Comedian Steven Wright quipped "Why is the alphabet in that order? Is it because of that song?"
Preschool and kindergarten classes burst with song, movement, color and joy. Pablo Picasso observed that "Every child is an artist. The problem is how to remain an artist once we grow up." Great teachers find ways to incorporate arts into learning in higher grades. There is a strong relationship between arts education and the fundamental cognitive skills that students use to master core subjects such as reading, writing, and mathematics. (Not to mention memorizing stuff like US history, chemistry, how to do long division, or how to memorize the quadratic formula.)
Arts education can improve students' ability to communicate effectively (for example through drawing). It can teach the importance of teamwork, for example through experiences in music or other performance arts. Growing evidence suggests a connection between participation in art programs and academic results. Additional findings point to a connection between arts programs and social-emotional development.
California schools neglect art
The arts show up in our classrooms in two ways: Integrated into lessons, and taught as distinct disciplines. Art disciplines include visual arts, music, dance, the theatre arts, criticism, history, and aesthetics. In its broadest sense, it comprises instruction in the making/creating of art and art appreciation.
Students in California receive much less instruction in visual arts and music than students in other states.
The federal Every Student Succeeds Act (ESSA) defines the arts as a part of a "well-rounded education." However, the primary measure of a school's achievement has been students' reading/writing and math scores. Without focus, there has been little pressure to commit instructional time to the arts.
Arts instruction measurably declined as an unintended consequence of this focus. In California, participation in music classes dropped 46% from 1999 through 2004. During the recession that began in 2008, many schools nearly eliminated arts education from their curriculum, continuing a decades-long decline. A statewide study of arts education in California in 2007 indicated that 89% of K-12 schools did not offer a standards-based course of study in the visual arts, music, theater, and dance.
California could ill afford this decline. In 2007, a study of instructional hours per year for music and visual arts in elementary schools documented that California children were spending less time on the arts than children nationally back in 1999-2000.
Unfortunately, a followup survey in 2013-5 showed little improvement, suggesting that once art programs disappear from a school they can be difficult to bring back.
Art program advocates warn that the decline in arts education has created a generation of both teachers and parents who may not now fully appreciate the broader importance of the arts. To start to address this massive decline, a 2015 report, A Blueprint for Creative Schools [PDF] outlines strategies to making the arts a core part of education for all students in California public schools.
Changing Standards
California's educational standards for the arts are in a moment of change. In 2017, legislation committed the state to develop and adopt new K-12 standards for art education, including (for the first time) educational standards for media arts, defined as "animation, video production, digital sound production, imaging design, and interactive design, as well as virtual and augmented reality design". The standards were adopted and rollout began in January 2019 after a period of review and comment.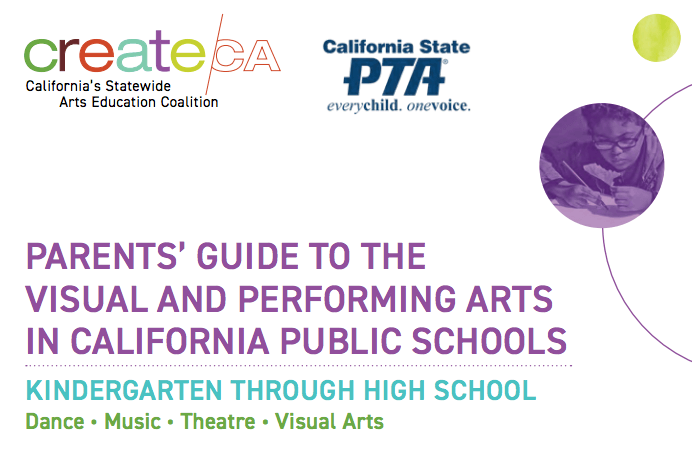 The California State PTA has embarked on a campaign in support of arts education as well. Their Parents' Guide to the Visual and Performing Arts gives an overview of what children across the state should learn in dance, music, theatre and the visual arts by the end of each grade level.
The Alliance for Arts Learning Leadership, founded by the Alameda County Office of Education, is a collaborative network that works to develop public understanding of the essential role of arts learning in education. Statewide, major arts and education advocates have joined together in a coalition, CreateCA, to advance an education model that promotes creativity and the arts for the workforce of tomorrow.
The Art Gap
Classes in the arts tend to be most available to students in well-funded schools. Based on the SRI study, for example, music and visual arts instruction are only provided to about a quarter of students in high-poverty schools in California.
The 2016 followup study affirmed the earlier findings: well over half of students in grades six and up aren't enrolled in any art study at all, and there is a predictable pattern: schools where more families are poor are far less likely to provide students with access to education in the arts.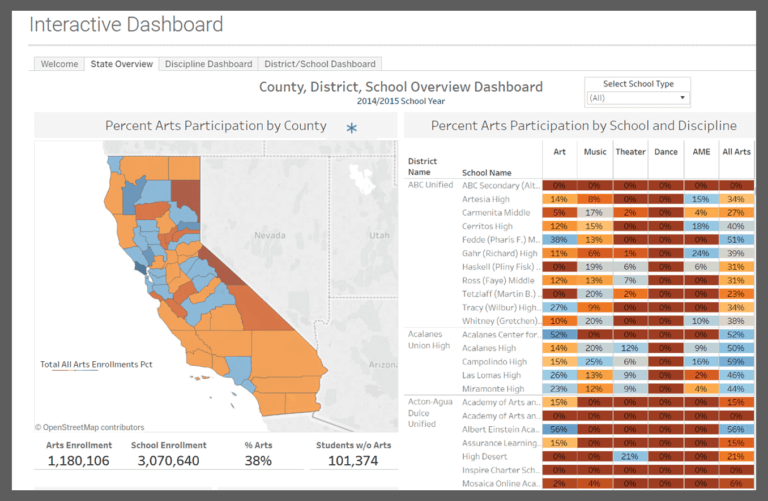 Many suggest that increasing arts in the schools is a key strategy for closing the achievement gap. A study of New York City graduation rates, Staying In School: Arts Education & NYC High School Graduation Rates suggests that increasing students' access to arts instruction in schools with low graduation rates can be a successful strategy for lifting graduation rates and turning around struggling schools, not just in New York City, but nationwide.
Including the arts in a student's education also contributes to the variety of the school experience: Kids like the arts! Access to instruments and materials can be a real obstacle to arts education, but where there is a will there is a way, so long as there is someone willing to teach.
Creativity is sometimes misrepresented as "right brain" thinking; this is a myth, but the idea of incorporating creativity into learning is sound.
Ask Your School District!
In California, funding for arts education is the responsibility of school districts as part of the Local Control Funding Formula. The state does not require schools to commit a particular level of funding to the arts. If art education is starved in your district, it represents a local choice about funding priorities. Some districts fund arts, music and athletics as part of their core budget; others look to their school communities to raise extra money for these programs.
Next Steps
Questions to ask about arts education:
The next lesson examines another part of the school experience that many students find enjoyable: physical education.