Many issues can interfere with a child's learning, from learning disabilities to mental and physical health issues to family tragedies to peer effects.
School counselors and nurses are rare today
Many of these challenges can only be addressed effectively on an individual basis. This kind of help requires expertise, patience and sensitivity. You might remember receiving help from a counselor or school nurse during your own childhood. If so, you should probably file the memory under "how it was." Few California public schools provide that kind of service anymore. In most schools, if there are counselors a central role of the job is to point people in the right direction to get kids the special help they need, if they can.
In 2017, the ratio of students per counselor in this state averaged 681 to 1 according to kidsdata.org. Nationally comparable data for that year are not available, but a 2015 analysis suggests this ratio puts the state in the running for last in the nation.
And what about that school nurse? The American Academy of Pediatrics recommends a minimum of one full-time registered nurse in every school, but in California the ratio of students to nurses in 2017 was 2,502 to one. More than half of the school districts in California do not employ even one nurse.
Students with Disabilities
Students with disabilities need greater support than the rare counselor or school nurse can provide. Schools are required to provide extra help. Here are two major laws you should know about:
Section 504. Named after a provision in the federal Rehabilitation Act of 1973, "section 504" is a civil rights law that prevents discrimination in access to education due to a disability. Who may be eligible for extra help? Examples include students with a physical or mental impairment that may interfere with a "major life activity" like reading, walking, concentrating, speaking, or breathing. Think asthma or an illness like arthritis. Even students that earn good grades may be eligible.
Individuals with Disabilities Act (IDEA). Commonly known as special education, this Federal law governs how states and public agencies provide early intervention, special education, and related services to more than 6.5 million eligible infants, toddlers, children, and youth with disabilities nationally. A major feature of this law is the requirement to develop an Individualized Education Plan (IEP) for qualified students.
Each of these laws has separate eligibility requirements. A student who is not eligible for special education may be eligible for a 504 plan. (Yes, this is part of the reason why parents of students that need extra support sometimes become education policy nerds.) Check this summary that lays out the differences.
Early identification and support for struggling students is essential, but how does that actually happen? California has an acute shortage of teachers with special education training. In practice, elementary school teachers in regular classrooms are responsible for spotting and helping children who need special help, frequently without the professional training and support they need. A child who is struggling may be referred for an evaluation to determine eligibility for special education or a 504 plan.
According to the National Center for Learning Disabilities many parents don't follow up on teachers' recommendations to have their child professionally evaluated. In 2015, a State Task Force on Special Education highlighted these as a critical issues. It recommended:
Beefing up teacher support and preparation programs.
Expanding early learning so that all students, especially those with disabilities, have access to high-quality infant and toddler programs and preschools, including the diagnostic and intervention services.
Parents of young children, and their teachers, can play an important role in helping to identify and address potential learning issues early, if they know what to look for.
If your son or daughter needs special education services, it can be very helpful to keep good notes. If this sounds like empty advice, like "you should clean up your room," (Oh, where to begin??) perhaps some more specific direction can be instructive. For guidance about what good notes look like for a parent of a student with special needs, watch this video from Understood.org.
Student Challenges: Autism and Bullying
Students with autism face challenges at school that go beyond academics. For example, these students are disproportionately involved in bullying incidents — as the bully, as the victim, or both. A set of studies by the Interactive Autism Network in March 2012 suggests that this issue is particularly important for students with Asperger's syndrome. A 2014 survey by the Centers for Disease Control and Prevention estimated that about 1 in 59 children has been identified with an autism spectrum disorder, with boys 4 times more likely to be diagnosed.
Are students with autism automatically eligible for special education services? No. Eligibility depends on assessment, and whether their autism adversely affects their education. If they are not eligible for special education services, however, they may be eligible for a 504 plan.
About one in 40 boys and about one in 190 girls has been diagnosed with a form of autism, based on 2012 data from the CDC. The ratios vary a lot by state, and have been steadily increasing.
Student Challenges: Dyslexia
Reading is a core skill for learning, and students who have difficulty reading are at a great disadvantage in school. Dyslexia is common; by some generous estimates it affects as many as 15-20% of us, frequently undetected. It can be difficult for teachers to discern the root cause when a student struggles with reading. Many students struggle without knowing why, or what to do about it. It is particularly challenging to spot dyslexia in students that are learning English. In 2017 the California Department of Education released California Dyslexia Guidelines, a detailed explanation of dyslexia and how California's education system supports students. (It's a long document. Jump to page 81 for practical advice about things you can try at home.)
According to these guidelines, "A student who has dyslexia does not necessarily need special education and is not automatically eligible to receive it." Remember, though, that Special Education is separate from Section 504. The guidelines emphasize that "a student who does not qualify for an IEP, including a student with dyslexia, may nevertheless be entitled to protection under Section 504. For example, a student with dyslexia may be substantially limited in reading in that he finds it challenging to read required class material in a timely way."
A federal law (IDEA, the Individuals with Disabilities Education Act) requires public schools to provide special education services to students with disabilities that adversely affect their education. An "Individualized Education Program" (IEP) specifies the district's obligations to the student. These obligations are real and may not be ignored. In 2017 the US Supreme Court clarified in a unanimous decision that an IEP must be specially designed to meet the unique needs of children through an individualized education program: "A child's IEP need not aim for grade-level advancement if that is not a reasonable prospect. But that child's educational program must be appropriately ambitious in light of his circumstances, just as advancement from grade to grade is appropriately ambitious for most children in the regular classroom. The goals may differ, but every child should have the chance to meet challenging objectives."
Nationally, about 13.1% of students have an Individualized Education Program (IEP). California identifies fewer.
Different states have different processes to guide how a district identifies a student as having special needs, and the percentage of students identified varies accordingly. Nationally, about 13.1% of students have an IEP. California districts identify fewer Special Education students, about 10% of enrollment.
In order to evaluate learning progress for all students, students with special needs have been included in annual testing. Students can be given extra time or other "accommodations" (such as having the test read to them) in order to enable them to participate in and complete the test. A small fraction of disabled students are given a different test, the California Alternate Assessment (CAA). (See Lesson 9.3 for more.
What about Gifted Students?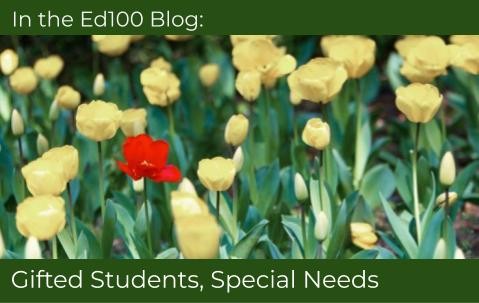 The special needs of gifted students are frequently overlooked. There is no special funding for gifted students in California, but some school districts set aside money to creates programs or services for them. (Learn more about gifted students in the Ed100 blog.)
Universal Design for Learning (UDL)
In the early decades of federal funding for special education, students were designated as having "special needs" in a rather binary way -- students were deemed to have them or not. Time and science have matured the definitions. Increasingly, teachers and school leaders have concluded that everyone learns a little differently. For some, learning a melody is easy, but mastering a math concept is hard. For some, math is easy but names are hard to remember. Increasingly teachers are using the term "learning differences" rather than "disability" to discuss how students learn.
Great teachers learn to present concepts in flexible ways so that they engage all of their students, get them involved in their own learning, and permit them to show their understanding in different ways. The 2015 Every Student Succeeds Act (ESSA) mentions this approach under the label Universal Design for Learning (UDL). ESSA did not attach new funds or incentives to the UDL approach, but its use of the term may raise its profile.
Addressing Special Needs Takes Resources
The cost of providing special education services varies significantly among schools and districts. According to the California Legislative Analyst, the average annual cost of educating a student with disabilities is more than double that for a mainstream student — approximately $22,300 compared to $9,600 in 2011. (Most students require less severe, less costly services, but some students require intensive interventions that cost notably more.)
Between 2005 and 2016, a combination of increasing special education costs and relatively flat state and federal special education funding meant local budgets had to cover an increasing share of these costs. 
Federal and state funds specifically for special education don't fully cover the costs. Local funds contribute, too.
In the 2015-16 school year, 64% of special ed expenditures were carried locally, not reimbursed by federal or state funds. (This unreimbursed portion is sometimes insensitively called "encroachment" or "encumbrance," terms that irritate families whose children have special needs.)
Special needs are funded as a block, not per student
The state funding model (LCFF) doesn't include special education.
School districts with great programs for kids with special needs face a bittersweet problem. If their success becomes well known, eventually they will attract more families that want a great program for their kids. The state school finance system does NOT provide extra money to districts based on the number of children with special needs, so a district can become a victim of its own success. (Money is allocated based on the total number of children attending, regardless of students' disability status.) The state funding model doesn't direct state or federal money according to individual learning needs: it assumes that students with special needs are evenly distributed among the general population across the state. Some of the logic behind this policy is that if the state awarded additional dollars for kids labelled as having special needs, districts would respond by labeling more kids.
To help mitigate these financial impacts, and also to create some economies of scale related to uncommon and high-cost disabilities - such as blindness - the state distributes special education funding through a regional network of 127 Special Education Local Planning Areas (SELPAs). State law requires that every school district, county office of education, and charter school belong to a SELPA. Most of the state's largest school districts have their own SELPA; smaller districts join together and negotiate the use of funds for students. About three-quarters of special education funding is allocated to SELPAs according to a "census-based" formula established in 1998-99 under AB602.
Special Education Finance Overhaul?
In 2015, a much-anticipated task force recommended a major overhaul of the special education system. The report emphasized the need for additional funding, as well as the need to allocate funds fairly. SELPAs receive widely varying funding per student for reasons more grounded in historic practices than in student needs. The task force recommended specific actions to equalize funding and address the shortcomings of the SELPA system. Want more details? EdSource is tracking developments as the legislature wrestles with options:
In 2018 a thorough analysis of California's special education system was included as part of the Getting Down to Facts II group of studies. This analysis extended the work of the prior studies, including the recommendation to support special education needs of infants and toddlers.
Help for Parents
When children have special needs, families struggle to figure out the financial implications of supporting them. If they can, some families hire consultants to help them navigate the system. The Simple Dollar, which focuses of family financial planning, offers some free advice.
Special education rules and accounting are enormously complex, and experts disagree about their interpretation, sometimes in court. Litigation has been an important driver of special education policy and special education issues can have big impacts on school districts.