Read up on education issues and win for your school!
You're reading Ed100 because you want to help make schools better. To help school communities add some fun to learning about the education system, Ed100 contributes a playful angle: by learning about California's education system you can also win MONEY for your school's PTA (or another nonprofit organization associated with your school).
Prizes for Schools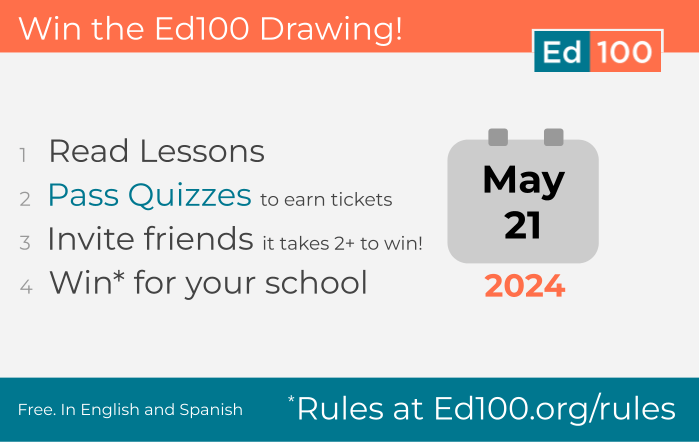 Whenever you complete a lesson on Ed100, you earn a ticket for your school on the Ed100 Leaderboard. Periodically, Ed100 holds drawings using those tickets as entries to win. We held a drawing on May 24, 2023 — check here to see which school won!
The next drawing is coming up on May 21, 2024. See rules for details. No purchase is offered or required.
Ed100 provides a practical way for parent leaders, teachers and community members to learn about education issues, one lesson at a time. Go to Ed100.org to sign up or sign in and start earning those tickets! Congratulations to the winners of past drawings!
Frequently Asked Questions
What is the purpose of the drawings on Ed100.org?
These drawings encourage parent leaders and student leaders to learn more about education issues and ideas now. The drawings also provide school organizations with a useful deadline to drive activity in learning groups.
How much can I win?
You, personally, can't win anything in these drawings. Zero. But you could help your school win.
Whenever you complete a lesson on Ed100, you earn a ticket in the next drawing.
Whoa, that's awesome! Who funds these drawings?
The drawings are supported by donations. Full Circle Fund, a 501c3 non-profit organization, serves as Ed100's fiscal sponsor. (Ed100 originated as a volunteer project by members of Full Circle Fund.)
How much do tickets cost in the drawings?
Nothing. It's FREE to enter, and Ed100 is FREE to use.
How do I enter? How do I get tickets for my school?
Sign up at Ed100.org, and earn tickets by completing lessons in Ed100.org. We call them "lesson tickets." You can also earn "bonus tickets," for example by completing all the lessons in a chapter.
Do I have to finish the whole course to win for my school?
No. Each lesson you complete by passing the quiz earns a ticket, even if you don't finish the course. (But when you DO graduate, you earn a big batch of extra bonus tickets!)
How does the Leaderboard work?
The Leaderboard shows the tickets that you earn on Ed100 by passing quizzes or by earning bonuses. The "current" view of the Leaderboard shows only the tickets you have earned in the current school year, reflecting the way that the drawings work. Each school year is a level playing field! All schools start the year with zero current tickets. Quizzes are all re-opened, so that you can review the lessons and earn additional, new tickets. Even Ed100 graduates can earn new lesson tickets this way. (You can only earn bonuses once.)
The "All Time" view of the Leaderboard shows all tickets earned since the original launch of Ed100. (Prior to the 2017-18 school year, the All Time view was the default. We changed it to encourage school groups not to rest on their laurels.)
Is my school eligible to win?
See the rules for detailed eligibility requirements. The rules include an important requirement: at least two people from your school must sign up for your school to be eligible to win. The purpose of this requirement is to promote discussion, which takes at least two!
My school's new to Ed100. Do we have a chance of winning?
Yes. Each drawing selects ONLY from tickets earned in the current school year. (Tickets earned in the summer, after the final drawing of a school year, may count toward the school year ahead.)
How do I improve the chances that my school will win?
Here are ways to earn more tickets:
Complete more lessons on Ed100. Each lesson you complete earns a "lesson" ticket. Whenever you finish all the lessons in a chapter you earn bonus tickets.
Invite others from your school to sign up. Lessons that THEY complete earn tickets in the drawing, too!
Create an online discussion group using the Ed100 Chapter of the Month guides.
Add useful comments to lessons and posts, for example by sharing a link to an article or sharing your insights with other readers. You can earn bonus tickets that way.
Keep at it! The drawing box resets each school year. You can earn more tickets by reviewing the lessons even after you graduate from the course.
Can teachers, administrators, students and community members join, too?
YES, definitely. Use Ed100 to build your whole school community.
How can I get the most out of Ed100?
Create or join an Ed100 group at your school, in your community or online. Use the discussion guides and videos in the Ed100 Chapter of the Month program to get the conversation going. By learning together you will have more fun, learn more, and have a much bigger chance of turning insights into actions for your school. (Your school will earn more tickets in the drawing, too!)
Who is operating the drawing?
The drawings are operated by Ed100.org, a project of Full Circle Fund.
Q: How can I know when future drawings will be held?
Sign up for Ed100 and you'll get our emails. You can also follow Ed100 on social media.
How much can my school win?
$1,000.
What's in the fine print?
Read it here: rules
I'm interested in sponsoring a future drawing. How do I do that?
Contact us!