Charter schools are tax-funded schools with loosely-defined attendance areas.
Charter schools operate under a contract (a "charter") that obligates them to provide specific services and to achieve specific results. If the school fails to deliver, the charter may be revoked by the school's authorizer, which may be a school district, a county, or the state.
Each charter school is under the direct governance of its own board of directors, which is defined and approved in the authorization process. Each charter school is also associated with a public school district or county board of education that provides oversight. (A few are overseen by the state.)
Anyone who lives within the sponsoring district of a charter school may attend it. If there are not enough seats available, charter schools use a lottery process to govern admissions, a process made famous in the movie Waiting for Superman.
About two-thirds of California charter schools are not unionized.
As part of their separate governance, charter schools operate under reduced regulation compared to other public schools. For example, charter schools are not bound by laws about class sizes, hours of operation and the like. Charter schools also may employ teachers without union representation. About two-thirds of California charter schools are not unionized.
Charter Schools in California
From the establishment of the first charter schools in California in the early 1990s, enrollment grew steadily, reaching 7.6% of all public school enrollment in 2012-13 and approaching 10% by 2017. In a decade, charter enrollments nearly tripled while overall school enrollment remained essentially flat.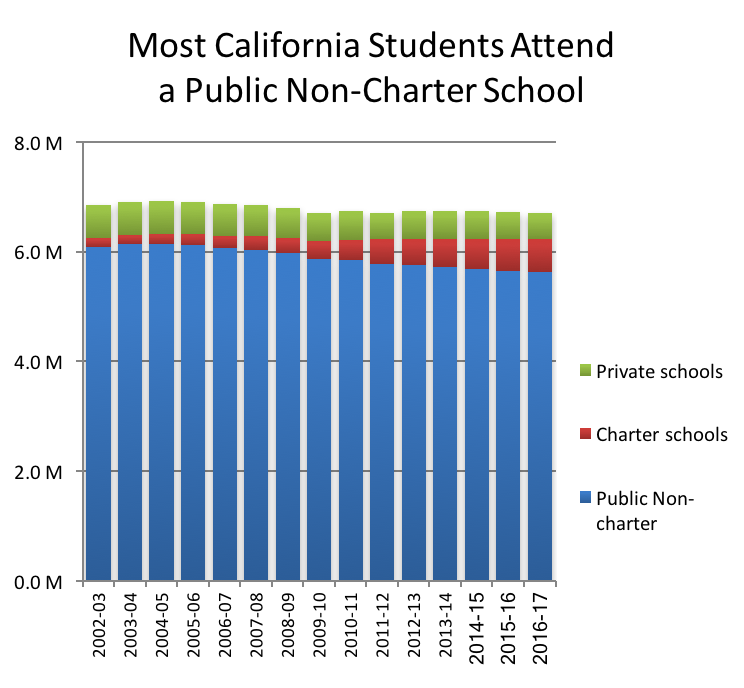 Perhaps partly in response to charter schools, districts have increasingly incorporated parent preference as a factor in the determining where children attend school. In doing so, they are moving away from the idea of "attendance areas" for schools and implementing school choice systems that include more and more of their schools.
Charter school advocates put forward two main theories for how charter schools can improve educational outcomes broadly:
First, they argue that charter schools serve as laboratories for innovation because they are less bound by regulations and red tape. Insights developed in these laboratories create new models that other schools can follow.
Second, they argue that offering families a choice for their children's education creates a market for success and a price for failure. If the school down the street doesn't measure up, it makes sense for that school to lose enrollment.
Critics of charter schools argue (among other things) that the long-term effect of choice policies is to gradually remove schools from communities where needs are greatest. They also argue that because an action is required to choose a charter school, the students with the least-engaged parents and greatest needs are effectively selected out.
Results
Those who hoped that a charter school movement would quickly catalyze astounding results on a widespread basis have had to moderate their hopes.
In practice, charter school results are mixed, and advocates on all sides find facts to support their point of view.
Many researchers have studied the performance and effects of charter schools. Perhaps the most interesting study with the largest number of charter school students comes from an organization called CREDO at Stanford University. In a study first published in 2009 and updated in 2013, CREDO compared charter school students to their "virtual twins" from the traditional public schools. It found similar test scores, on average, between these groups. However, both the CREDO study and other research suggest that charter schools might be more effective with improving student achievement in urban areas, especially for Black students, and less effective with improving student achievement in non-urban areas, especially for White students. The effects were modest, however.
In 2017, GreatSchools released Searching for Opportunity, a study of racial gaps in access to quality schools in California. Among its many findings, it identified 156 "spotlight schools" that delivered strong results for Hispanic or African American students; of those schools serving at least the state average of low-income students, half were charter schools.
There are some great charter schools – including a disproportionate share of America's very best schools, according to the 2016 ranking by US News and World Report. But there are also some terrible ones, and quite a lot of ordinary ones. 
Those who hoped that a charter school movement would quickly catalyze astounding results on a widespread basis have had to moderate their hopes.
How charters are created
Charter schools have become a very important part of the dialogue about school change and school "turnarounds". Not all charter schools are created from scratch; some are created through "conversion" from ordinary schools. The conversion process is usually the same as the process for approving a new charter, requiring approval by an "authorizer" such as a school district, county or the state. In 2010, California legislation created a new mechanism that, for a time, generated enormous controversy: parents of students in schools with very low test scores could "trigger" a change at the school. This could include changing it to a charter school, replacing staff, removing the principal or closing the school down.
This "parent trigger" policy passed into law under a bill sponsored by Gloria Romero, then a California Senator. Several other states implemented versions of the trigger law. Although much has been written about the law, very few schools have actually attempted to use this approach to school change.
California's taxes pay for the education of California's children. Whether a child enrolls in a public district school or a public charter school, funding follows the student. A family's choice about where that child will attend school, therefore, is a matter of financial consequence. When families choose to enroll their child in a school, that school receives money to hire teachers, run programs, and support administrative costs.
Supporters of charter schools argue that competitive pressure is not a bad thing, and that no one should mourn the closure of an ineffective school. Opponents counter that this argument rings hollow unless the new school is better than the old one, and that the work of shrinking or closing district schools is a distraction from the real work of educating students. Better, they argue, to improve the schools we have than to roll the dice that a new school will be better.
Charter schools operate subject to the terms of their charter; they can be closed. For example, in 2017, the California State Board of Education voted to close down two charter schools because of governance and financial concerns. And the California attorney general reached a $168.5 million settlement with a for-profit online charter school operator over alleged violations of California's false claims, false advertising and unfair business practices laws.
Charter Management Organizations (CMOs)
In the earliest days of the charter school movement, each charter school was its own start-up operation, from development of its governance structure to finance and facilities to hiring and academic leadership. Although some schools were able to juggle all these factors successfully, it took time and focus away from the main jobs of teaching students and supporting teachers. In recent years, this "standalone" model has become less common; though charter schools are mainly authorized individually by districts, increasingly they are operated and managed through non-profit charter school networks known as Charter Management Organizations (CMOs). CMOs serve an oversight and operational role analogous to that of a school district, but unlike school districts they are not concentrated in a single neighborhood.
Some relatively well-known CMOs include the KIPP schools, Aspire, Rocketship Schools, YES Prep, UNcommon Schools, Leadership Public Schools, and Green Dot. Some non-profit organizations have made a priority out of supporting the development and improvement of CMOs. Organizations that have played a strong role in California include the NewSchools Venture Fund, the Gates Foundation and the Broad Foundation (Insider tip: "Broad" rhymes with "road.").
For-profit charter networks: "EMOs"
Not all charter networks are organized as non-profits. For-profit charter networks are known as Education Management Organizations (EMOs).
The laws of most states permit the formation and operation of charter schools, with varying requirements and limitations. According to the National Alliance for Public Charter Schools, which tracks charter school laws in each state, in 2017 California was the 16th most charter-friendly state in America.
Hover your mouse over a state in the image below to see its ranking. (Unranked states have no charter law.)
Controversy
Forming a charter school requires local support, and tends to inspire local opposition, as well. Charter schools compete for enrollment with local schools, and the energy required to form a new school competes for attention with efforts to improve existing ones. The conflicts are local, but they tend to be supported on both sides by big organizations. Unions frequently oppose the formation of charter schools, most of which do not have union-affiliated faculty and staff. Charter school organizations tend to provide support the groups forming new schools. The conflicts can be extraordinarily strong, and sometimes can lead to surprising divisions. For example, in 2010 the Oakland Educators Association withheld support for a local ballot measure that would have provided new funding for K-12 education in Oakland. The basis for the union's opposition was that the measure was written to benefit children in charter schools as well as district schools. Lacking union support, the measure failed.
Charter schools have inspired breathless prose, hate-filled screeds, philosophical tracts, books, statistical treatises, television specials and movies. If you are making a decision involving charter schools, take a deep breath and remember to seek multiple perspectives.
The next lesson will address private schools.