Schools require facilities for learning, especially including networks, computers, screens and software — but also classrooms, labs, performance spaces, practice spaces and the like.
These virtual and physical spaces need to be safe, sufficiently spacious, and equipped with the right stuff. Nothing is free, and in California there have been many gaps.
First, let there be technology
Until the Pandemic of 2020, most people thought of the core infrastructure of a school as its buildings. Wood and concrete. Future generations will roll their eyes. Even now it's hard to fully grasp the scale of the change. Back then, it was regarded as tolerable for the digital infrastructure of education to be flaky and cheap.
Physical classrooms and learning spaces are wonderful, but in the Pandemic we learned that it is possible to get by without them. Good devices and reliable digital connections among students, educators, and families, by contrast? Those are core. The essence of an educational facility in the world after COVID-19 is the capacity to reliably connect each learner and their educators in the full-time work of learning, whether in person or at a distance.
The core infrastructure of a school is digital.
In 2021, students and teachers returned to classes in person, mostly in buildings that were just as old and cramped as they were before the crisis began. To update them will cost billions and take years. Fixing the digital infrastructure of education will be quick and cheap in comparison.
How school facilities are financed
Costs related to the purchase, construction or modernization of school facilities are known as capital expenses. Unlike ongoing operating expenses, capital expenses pay for assets — stuff that stays valuable for a while and depreciates in value over time as it wears out, like buildings or furniture. Following standard accounting practices, capital assets in school systems are accounted for in a way that spreads out the cost over time. Capital expenses are a significant aspect of the overall cost of education, but they are handled and reported separately from normal day-to-day operating expenses.
Like homeowners who borrow to buy or upgrade a home, school districts generally borrow money to build, buy or upgrade facilities. Unlike homeowners, instead of borrowing from a bank, school districts borrow money using bonds.
The language used to describe bonds can be confusing: when school districts sell or issue bonds, what they are really doing is borrowing money. Just like a mortgage, money borrowed with a bond must be paid back over time, with interest. Investors buy bonds as a business transaction: they make a little money on the deal. The specific rules for a bond (its structure) can vary, including the amount borrowed, what the money may be used for, the interest rate, the timing of when money changes hands, and more. Voters approve bond debts through measures that appear on the ballot. The debt is paid using future taxes collected from property owners based on the assessed value of their property. In most cases, a citizen oversight committee is created to ensure that the funds are used for their intended purpose.
You might be wondering: School facilities always wear out over time. It's inevitable, right? Why do school districts spend money on interest payments when they could earn money by saving up in anticipation of future facilities needs? By doing so they would earn interest on the money saved and have more to spend. It's theoretically possible for school districts to do this, but it doesn't often happen.
Imagine yourself as a school board member and consider the politics: Bond financing for school facilities is standard practice, and easy to get. Saving for future facilities by definition means saying "no" to real, current needs. Your term on the board is short, your constituents are clamoring for action, and financing is available. Oh, and there's a chance that future board members would spend the money you save in ways you disagree with. It's too hard.
Changing rules about school bonds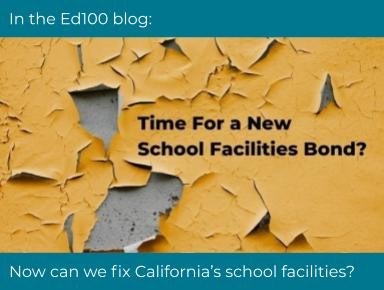 California's constitution established rules and limits for raising funds locally for school construction in 1871. The rules have changed significantly over time, and there have been booms and busts in school facilities investment. The state began playing a role in the funding of school facilities in California generations ago, with passage of the Field Act in 1933. This act established building standards for schools. In the post-Sputnik 1950s and '60s, the rapidly-growing state began issuing bonds to encourage and support the building of new public school facilities. In the 1970s the state began addressing the aging of those no-longer-new buildings with programs to support school modernization and earthquake readiness.
The most well-known change in the finance of school facilities happened in 1978, when California voters passed Proposition 13. This measure raised the threshold for passage of local school facility bonds from a majority to a 2/3 vote, making them very hard to pass. Investment in construction and maintenance of school facilities plunged, even as rapid population growth increased the number of students.
Schools filled to overflowing. To provide classroom space, inexpensive portables (trailers) were rolled out onto many former playground areas and school parking lots. School communities hoped this would be just a temporary measure.
In 1996, legislation required schools to reduce class sizes, which further increased the pressure. Some communities (especially wealthier ones) mustered the votes to pass school construction bonds, but others failed to do so. To make more intensive use of space, some overcrowded schools shifted to year-round overlapping school calendars, which proved unpopular.
Required: 55% supermajority vote
In 2000, voters approved a ballot measure to help address the problem. Proposition 39 gave school districts the ability to pass a local school facility bond with a 55% "yes" vote. Additionally, voters approved a series of four statewide general obligation bonds for school construction between 1998 and 2006. The combination of factors led to a boom in school construction and repair. Some districts found it easier than others to raise funds, but the state bond measures helped to support work in higher-poverty districts. The stock market climbed, and sunshine warmed California schools. Then...
Are facilities bonds fair?
When the market swoons, school funding crumbles, especially including funds for facilities. According to research conducted as part of the 2018 the Getting Down to Facts II set of studies, the Great Recession undermined state bond funding for school facilities, especially "in districts with larger shares of disadvantaged or nonwhite students."
The report concludes that bond financing policies for schools in California have routinely worked to the advantage of wealthier communities best able to pay. Some of the barriers are logistical. Bond measures are complex, and don't happen very often. Districts have a lot to figure out, which means they have to hire expert help. Someone needs to write the measure, review it, publicize it, and campaign for it — all of which costs money and takes time. The report suggests ways in which California lawmakers could address this inequitable variation.
Some conditions are unacceptable
California has a responsibility to provide every child a school where they have a reasonable opportunity to learn. This principle gained the force of law in California through the 2005 settlement of the Williams case. The plaintiffs in this case documented major disparities in health and safety factors (such as vermin or broken toilets) and academic disadvantages (such as missing textbooks and inexperienced teachers). These disadvantages must be addressed in order to increase the odds that children in every school can apply their energies to learning. The expression opportunity to learn came to be used as shorthand for the connection between facilities and learning.
In California, the learning conditions identified in the Williams settlement must be described in each school's annual School Accountability Report Card. Districts must also report on basic learning conditions as part of their annual Local Control Accountability Plan (LCAP). Safe school facilities include things such as lighting, temperature, safe bathrooms and playgrounds, and accessibility for handicapped persons.
Charter schools in California use widely varying facilities. Proposition 39 also required school districts to provide charter school facilities "sufficient to the charter school's needs."
The physical space of school facilities
Many of California's old school buildings were built to old standards. Much of California's public dialogue about school facilities has focused on safety, like removing lead and asbestos, and ensuring that buildings don't collapse in an earthquake.
When schools are renovated there are important choices to make that affect how schooling happens. For example, if the space is divided into uniform-size classrooms that hold about 30 students, it's likely that's how instruction will be organized. Some programs, such as laboratory science and performing arts, require spaces for rehearsals and performance. PE programs are strongly influenced by facilities: a school with access only to paved spaces for recreation will emphasize basketball, but a school with ready access to a grass field might offer soccer.
Ending the Digital Divide
Not long ago, education advocates used to talk of the digital divide as something to be "narrowed," implicitly signaling that digital devices and connectivity were merely desirable. The Pandemic showed that digital access is not just desirable, but central. To participate in society, the economy, and education, each person needs adequate digital equipment and access. Educators must be able to assume with confidence that their students have the digital tools they need to participate in school both in class and at home.
As of this writing in 2021, policies do not guarantee access to technical tools for students. In fact, there is not even a basis to have an informed conversation about it. There is no reliable source of data about network uptime for California's students and teachers. The only available data come from occasional surveys. For example, the US Census Bureau includes questions about access to technology in its household pulse survey.
There remains plenty of disagreement about how and when computers and devices should be used in education, but hardly anyone would argue anymore that schools should be "off the grid" or that students don't need access. As students and educators return to schools in person, they need the basics: shelter, clean water, devices, and connectivity. Prior to the Pandemic many schools had spotty, slow or missing internet access. Most districts couldn't say for certain where their facilities had "dead zones." Many students' homes had access to web services, but not all, and schools didn't know. Fixing the issue should start with data about it. It's not OK not to know.