Students and parents look to teachers for feedback about schoolwork. Teachers report progress, or the lack of it, through red marks, letter grades and report cards. Progress is also strongly symbolized by advancement from one grade to the next. Occasionally, a student is held back to repeat a grade.
We depend on schools, in other words, to regularly tell us whether our kids are on performing well, learning what they need to know to succeed in life.
In elementary and middle school, measures such as reading at grade level in 3rd grade and knowing your multiplication tables have importance in their own right. They also signal that your child is ready to tackle the more difficult academic challenges she'll encounter as she approaches high school. They give some assurance about kids graduating successfully, well-prepared to enter the adult world.
Most parents also see promotion to the next grade level as a key signal that their kids are on track. Every California school district is required to have policies related to pupil retention and promotion - with a focus on grades 2-5 and on 8th grade - but districts vary in how they decide whether a student moves on to the next grade.
Some individual measures are hard to add up
Some individual measures can easily be "summed up" to also provide a picture of how well schools as a whole are doing, but others are difficult or misleading to quantify in that way.
On a personal level, student grades have always carried weight as measures of student progress and success. As most people know, high school grades and grade-point averages figure strongly in college admission decisions. Grades are how schools keep track of successful completion of the courses a student must take to graduate. One issue with grades is that an "A" in Mr. Jones' history class can mean something entirely different from an "A" in Mrs. Smith's history class.
Another issue is that the courses a student takes can vary a great deal in their rigor, which in turn affects student grades. We are used to using grades and course-taking as measures of success for individual students. But pulling them together to somehow give us measures of school effectiveness is quite complex; business math is not the same as calculus. Thus, California and most other states avoid these important metrics to gauge school or system success.
Several high-school measures rate schools
A more straightforward calculation relates to students' completion of the courses they need to be eligible for admission to California's four-year public universities. These courses, known as the a-g requirements, are discussed in Lesson 6.2. The data is generally reported based on the number of high school graduates. Available for schools and districts, and for the state as a whole, you'll find it on the Ed-Data Partnership Website in the "Performance" section of the Student Profile.
Among other things, this data shows that girls are more likely than boys to graduate from high school. What other patterns do you see?
Graduating from high school is certainly a crucial success measure: for students, for schools, for school districts, and for society. (See Lesson 1.4.) Calculating a school's graduation rate requires that you add all the individual student graduations and divide by the number of students. It seems simple, right? But not too long ago different states calculated it differently, and some districts reported inaccurately. If a student stops coming to school, how is the school to know whether the student moved away or dropped out? Beginning in about 2008, the federal government required all states to report graduation rates using a consistent calculation. And, as explained in Lesson 9.5, the state improved its data system, making local reporting more accurate. Among other things, this data shows that girls are more likely than boys to graduate from high school. What other patterns do you see?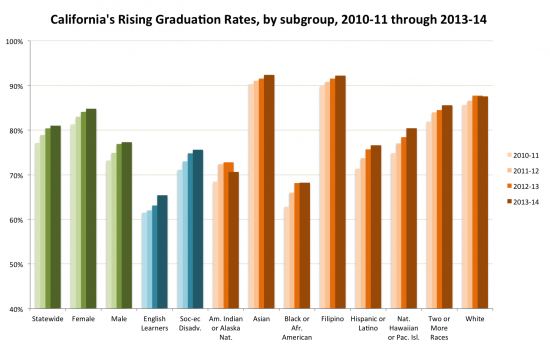 Graduation rates have been rising throughout America, and California is no exception. There are big gaps and plenty of room for continued improvement, but in every subgroup the long-term trend is toward high school completion. (Chart data source: CALPADS)
These tests Really count
Several tests students take in high school matter a lot to them individually but are voluntary and completely separate from the state testing system. The score a student gets on the SAT or ACT college admission exam has substantial bearing on which colleges are likely to admit them. Scores on Advanced Placement tests build a college applicant's resume and in addition can earn college credits. The Advanced Placement program, run by The College Board, offers college-level curriculum and examinations to high school students. Schools submit their curricula and apply for courses to get the AP designation. The program includes end-of-course exams. American colleges often grant placement and course credit to students who score high enough on them.
Measures such as SAT scores, ACT scores and AP test results are often aggregated to demonstrate the quality of a school, based on how many students take them and how they score. Again, you can look up your school or composite information for your district in the Performance section of the Student Profile of the Ed-Data Partnership website.