Students and parents look to teachers for feedback. Teachers report progress, or the lack of it, through red marks, letter grades, report cards and parent-teacher conferences. School systems provide an extra degree of objectivity through standardized tests.
We depend on schools, in other words, to regularly tell us whether our kids are on track and learning what they need to know to succeed in life.
Academic Milestones
In elementary and middle school, there are a few academic milestones of particular importance. By the end of 1st grade, kids need to know the alphabet, the numbers, and some basic classroom norms. By 3rd grade, it is essential for students to be able to read, because schoolwork shifts from "learning to read" to "reading to learn." Similarly, by about 4th grade math advances beyond basic numeracy, becoming a way to solve problems and answer questions.
When students don't achieve these milestones on schedule, what should happen? Should they advance to the next grade anyway (an approach known as "social promotion") or is it better to repeat a grade? Each California school district is required to have a written policy on pupil promotion and retention (PPR). There are no easy answers, but the general guidance of the National Association of School Psychologists is to take a "promotion plus" approach. That is, move the student to the next grade level and invest in providing the specific support the student needs to get on track.
Tracking and "Differentiation"
Students of the same age don't necessarily have the same academic skills. In order to challenge students at an appropriate level, teachers try to create ways of differentiating instruction within the same classroom. If the differences are too great to address them while keeping the students all together, they might create groups, spending extra time with the students that need extra help.
As students advance, they tend to separate. By middle school, some students are ready for algebra and Shakespeare, while others need more basic support. The differing sets of courses that students take, particularly in English and mathematics, are sometimes formalized as "tracks." These tracks can become destiny. Once a student is enrolled in a course on a less-rigorous track, it is extremely difficult to jump to a higher one.
Success in High School
Girls are more likely than boys to graduate from high school.
Over the long term, students have been graduating from high school at a rising rate throughout America, including in California. This is good news though tempered by big gaps. White and Asian students are far more likely to graduate than Black and Latino students, and girls are more likely to graduate than boys.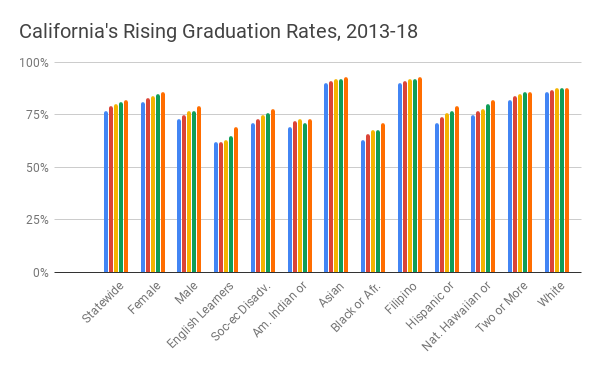 Graduation is important, but not all transcripts are of equal rigor. Not all grades are of equal value, either. In 2018 the Alliance for Excellent Education examined long-term data to look for evidence of the stability of meaning of a letter grade in high school courses. They found that grade inflation is real, and unequal. According to study author Seth Gershenson, grade inflation has had an unequal pattern: "it's gotten easier to get a good grade in more affluent schools, but not in less affluent ones."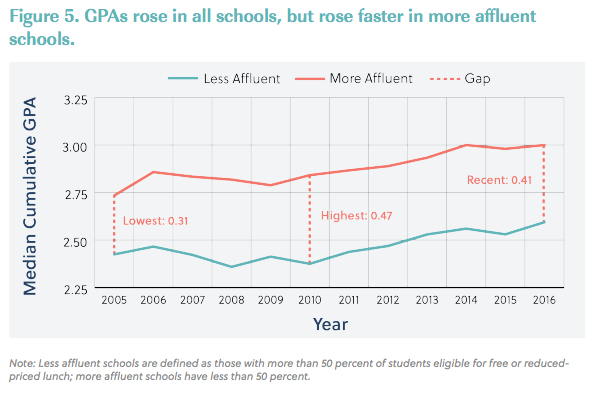 In order for high school students in California to qualify for admission to the state's four-year public universities, they must satisfactorily complete a set of courses known as the a-g requirements, as discussed in Lesson 6.2. More good news: students have been taking and passing these courses at rising rates.
High-Stakes Tests
Annual standardized tests such as California's CAASPP test are sometimes called "high-stakes" tests, but this is a misnomer. These tests are important to school leaders, certainly, but students actually have little stake in them. The truly high-stakes tests for students are the ones that determine whether and where they might be able to go to college:
The ACT / SAT. In high school, most students with their sights set on college take either the ACT test or the SAT test. These tests really matter. Colleges use the scores on these tests as a vital sorting tool. Imagine yourself as an admission officer facing piles of transcripts from thousands of students. Some high schools are more rigorous than others, so it can be difficult for admissions officers to evaluate the true value of a student's grades. The ACT and SAT exams are important because the tests are the same for everyone. Both exams charge a fee, but both the College Board and ACT waive the fee for students in poverty, with proper documentation.
AP Tests. Advanced Placement tests are subject-specific exams on a variety of subjects. Scores on these tests build a college applicant's resume. The Advanced Placement program, run by The College Board, offers college-level curriculum and examinations to high school students. Schools submit their curricula and apply for courses to get the AP designation. The program includes end-of-course exams. Many American colleges grant placement and course credit to students who score high enough on AP tests.