In every state, education funding comes from a combination of federal, state, and local sources. The mix varies a bit from one state to another.
Education is not a big slice of the federal budget pie. Federal funding isn't a big slice of overall spending on education, either. The federal government provides less than 10% of funding in most states, including California. The rest of the money usually comes about equally from state taxes and local taxes — especially property taxes.
California is different.
How Much Do Schools Get and Why?
Property taxes in California play an important role in funding K-12 schools, but the role is much smaller than most expect. Less than a quarter of the money for K-12 schools comes from property taxes, significantly less than in other states. The chart below shows the main sources of general operating money for K-12 education in the 2019-20 budget. The pie doesn't tend to change a lot from year to year.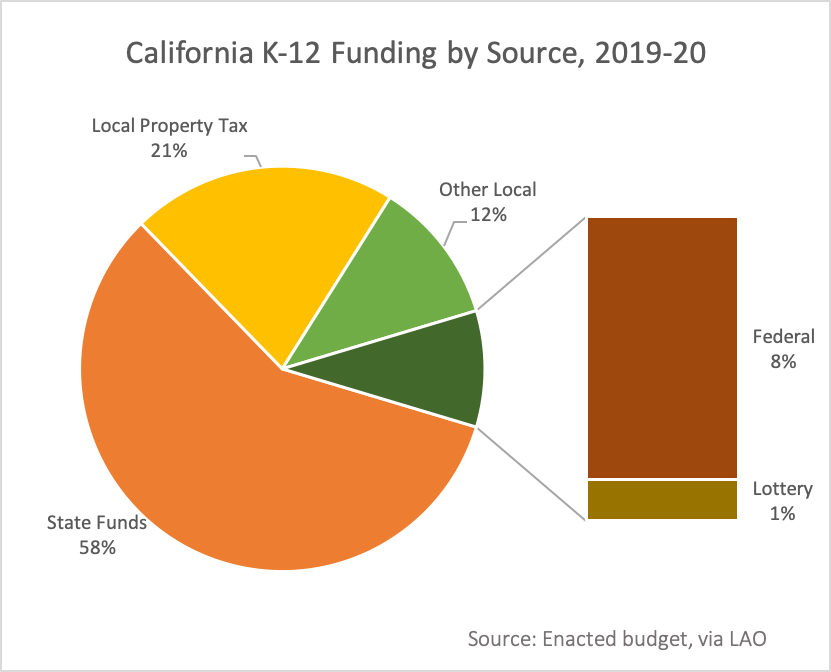 Property taxes fund less than a quarter of the cost of California's public schools
Less than a quarter of the funding for public schools in California comes from property taxes, which are also collected to support other local government functions. Most of the money for K-12 education does not come from property taxes. The big source of revenue for schools is state income taxes, especially taxes on the state's wealthiest earners.
The State Lottery brings delivers about 1% of the education budget. Enough said.
The "local misc funds" slice, about 5% of the funding pie, is generated and controlled by local school districts. This sliver includes interest income, income from leasing out unused property, oil wells on school district property, parcel tax proceeds, donations, and a salad of other miscellaneous sources. (You can find more about your own district's sources of revenues in the District Financial Reports on the Ed-Data website.)
With rare exceptions, the state apportions education dollars to districts based on a calculation known as the Local Control Funding Formula. Lesson 8.5 explains it.
To recap:
Property taxes are not the main source of funding for California schools, despite what people think. The biggest source is personal income taxes, especially on the state's wealthiest taxpayers.
Communities in California have very limited options for raising local revenue for schools. Other states differ in this way.
The amount per pupil your district gets is mostly driven by the rules of the Local Control Funding Formula (LCFF).
How did California end up with this approach to funding K-12 education?
The Courts and Voters Put the State In Charge
The source of funds for schools in California changed dramatically in the late 1970s. (chart data)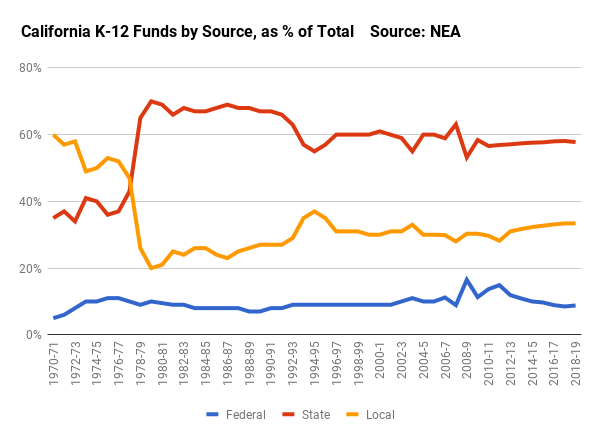 Until the late 1970's, schools in California were predominantly funded by local property taxes, as in most other states. The most basic function of a school board was to set the local property tax rate. Rates varied among districts, and receipts varied according to both the tax rate and the "assessed" (taxable) value of homes and commercial properties being taxed. Assessing the taxable value of property was an important function of county assessors.
This arrangement was great for property-rich districts, but rotten for communities with low assessed values and lots of students.
This arrangement was great for property-rich districts, but rotten for communities with low assessed values and lots of students. Those communities had to set very high property tax rates in order to provide schools with as much money per student as their more fortunate counterparts. The Serrano v. Priest case successfully challenged this arrangement. Is it really fair, the case asked, that some districts can tax themselves at a lower level and still enjoy more funding per student than others? After all, kids have no say in the wealth of their parents. The case led to court-mandated "revenue limits," which were meant to equalize funding per student at the district level over time.
The Serrano decision increased the state's role in determining public school funding. Voters continued this trend by passing Proposition 13 in 1978. Among other things, this constitutional amendment set a statewide limit on the property tax rate at 1% of assessed value. This caused an immediate and dramatic drop in the amount of local property tax available to support schools. The state legislature stepped in, using a budget surplus to protect schools from what would have otherwise been massive cuts. In doing so, over a period of years the state gained nearly full power over education funding. The state legislature and governor determine what portion of the budget would go to the education system, and how that portion would be distributed to local school districts. As the state became the center of power, school boards, once powerful and independent, were left with the narrower job of playing the hand dealt to them by fate and the state.
Another provision of Proposition 13 insulated property owners from higher taxes by freezing assessed values, allowing them to rise at a maximum annual rate of 2% regardless of market conditions. (For more on Proposition 13, see Lesson 8.4.)
California's Three-Part Tax System
California's overall tax system consists of three roughly equal parts: Personal Income Tax, Property Tax, and Sales and Use taxes. Education is funded by a mix of these sources, especially income taxes and property taxes. The Legislative Analyst Office (LAO) produced a high-level summary of California's tax system in 2018, well worth examining. (Click the image to visit the LAO report and learn a lot more about how public finance works in this state. The graphic is on page 3.)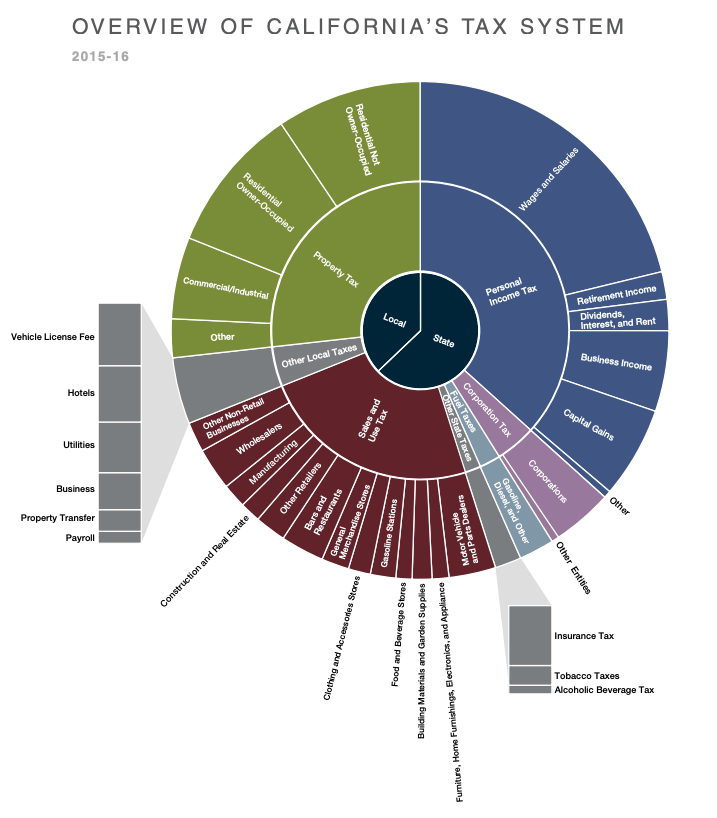 The Politics Shifted Along with Funding Control
Public schools in California are often referred to as "local" schools, but in many ways it is more accurate to think of them as state schools. As discussed in Lesson 7.1, it is the state that bears the constitutional responsibility for public education, not school districts.
School boards lost control over property taxes with passage of Proposition 13. As property taxes became less and less central to the funding of schools, state authority over education policy increased.
Nowadays virtually all school districts in California rely on state funding, but there are some exceptions. Some districts generate (and therefore receive) more property tax than others, and in rare cases local tax receipts are sufficient to fund a district beyond the state-guaranteed minimum level. Today, about 100 of California's nearly 1,000 districts can fund their schools above this minimum level on the basis of their local revenues, without state assistance. In California education jargon, these are known as "community funded" or (more commonly) "basic aid" districts. For more on these districts, see Lesson 8.5.
Until 2013-14, the rules apportioned funds to districts based on a system of "revenue limits." If you have a masochistic interest in the grim details of California's historical school finance laws, knock yourself out. If not, better to spend your time understanding the Local Control Funding Formula (LCFF), a simpler and fairer system established to replace the scary old plumbing of revenue limits and categorical funds. We will examine LCFF in Lesson 8.5.
California's skimpy funding for schools today is arguably the long-term outcome of the shift from a locally-dominated funding system to a state-dominated funding system... The old system was inequitable, but it was certainly better at raising money in total.
California's skimpy funding for schools today is arguably the long-term outcome of the shift from a locally-dominated funding system to a state-dominated one. Funding for schools in 1970 required an expression of local political will in the form of a vote of the locally elected school board or a local ballot measure. Taxpayers in each community had to reach agreement to shoulder taxes on behalf of the children in their own local school district. Though politically difficult, districts could change property tax rates in response to school needs, local changes in property values, or local tolerance for taxes.
Local Schools, Centralized Funding
Today, the responsibility for funding schools falls mostly on the state. Changes in school funding largely depend on statewide political support for increasing taxes to add resources for all schools. That kind of support has proven difficult to win. Developing the necessary political will to pass a tax measure is hard even in a small town; in a state as large as California it is very hard indeed. The old system was unacceptably inequitable, but it was certainly better at raising money in total.
Over the long term, the rising costs of college-educated workers, including teachers, have put continued pressure on the state budget to cover K-12 funding. And that has thrown school funding into the middle of the political process in Sacramento. Concerns about inadequate school funding started almost immediately after Proposition 13 was passed.
Dependence on Income Taxes Creates Volatility
As discussed above, Proposition 13 triggered a big switch in the source of funding for public education from property taxes to income taxes. This shift brought a new challenge to California school budgeting: volatility.
Property values (and therefore property tax receipts) vary with the economic cycle, but they don't tend to change massively. Income taxes, however, are significantly exposed to the booms and busts of the stock market. The top 1% of income earners in California generate around 40% of the state's income taxes, and their fortunes can change a lot from year to year.
To smooth out some of the effects of the high volatility in state revenues, California voters passed Proposition 2 in 2014, which requires the state to spend a minimum amount each year to pay down its debts. The proposition also changed the rules for the state's rainy-day fund, an amount the state puts into a budget reserve to protect against years when revenues fall.
Keeping reserves is politically difficult. There are always real needs and worthy investments — and if a district builds significant savings it carries the risk of becoming a lucrative target for a lawsuit. When the state rainy-day fund proposition passed, legislators negotiated a law that significantly prevented school districts from building up their own reserves. The LAO agreed with critics of this law, mostly school district officials, who argued that the lack of local reserves created unacceptable risks for districts in a downturn. The law was modified in 2017.
For people interested in funding for their local schools, the most important thing to know about California's system is that it can be terribly fickle. Education is an important priority, but not the only one. Especially in a stock market swoon, funding for schools cannot be assumed safe.
Beginning in Lesson 8.5, this chapter explains the allocation process, including how the state decides the amount each school district receives under the rules of the "Local Control Funding Formula."