The first two years for California teachers are make-or-break.
For their first two years, new teachers in California can be dismissed "at will" by their employer - usually a school district. After two years of employment, however, teachers in most districts enjoy strong due process protections commonly referred to as tenure. As a practical matter, districts need to make a decision in about 18 months whether to employ a teacher as a permanent member of the faculty.
California's tenure policy is unusually quick. Most US states require three years and evidence of competence.
As described in Lesson 3.2,demand for teachers is cyclical, and tied to the performance of the stock market. When budgets rise, California experiences teacher shortages. In those conditions school districts can find it hard to be picky about teacher candidates. They hire while they can.
Whenever hard times hit the stock market, by contrast, California's budget falls. Budget pressure leads to a flurry of springtime pink slips, the common name for a required notice sent to teachers when their position cannot be guaranteed. Seniority is usually the key element for determining the pecking order, at minimum as a tie-breaker.
Reforms that affect tenure usually seek to delay its onset or make it conditional on evidence of good work. There have been multiple attempts. Other reforms seek to reduce the role of seniority as a factor in layoffs or forced placements, or to streamline the steps involved in dismissing teachers. Dismissals for cause are quite rare in California, and the state legislature wrestled for years to streamline the process for dismissing teachers even for egregious misconduct.
Dismissals are rare
Rather than pursue a lengthy dismissal process, principals sometimes use a more expedient solution to remove unwanted staff: they make a deal. If a poorly-performing teacher agrees to move to another school, the principal agrees to give her or him a satisfactory rating. This practice, known as the dance of the lemons, is colorfully derided in Davis Guggenheim's 2010 film Waiting for Superman.
Teacher unions reject the word tenure and refer to these protections as a form of due process. In a down market, when layoffs are unavoidable, the CTA position is that seniority is usually the least unfair option, protecting teachers from dismissal for "arbitrary, unfair or unjustifiable reasons."
Seniority-based layoff policies are also known as last-hired-first-fired or last-in-first-out (LIFO) policies. The use of seniority as a factor in teacher dismissal came sharply into question in the lean budget year of 2010. The ACLU challenged the constitutionality of seniority-based provisions on the basis that such policies have a disparate impact on students in poverty. In 2011, California schools sent layoff notices to about 20,000 teachers on a seniority basis, and generally did not renew first- and second-year teachers.
In 2012, an advocacy group called Students Matter sponsored a set of lawsuits against the state of California, seeking to strike down state laws that codify tenure and seniority practices. The basis of the suit was that these practices thwart students' right to an education, which is guaranteed in the state constitution. The complaint makes for interesting reading. The case, called Vergara v California, went to trial in January, 2014 and was closed in August 2016 after failing on appeal. The proponents' and opponents' coverage of the proceedings include well-written explanations of each side's view of the issue.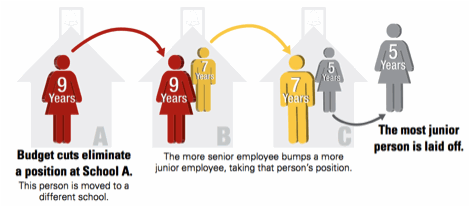 Education Trust West explained the impact of seniority-based employment rules coherently in its report Victims of the Churn. The report criticizes "bumping" rights with particular vigor (see graphic).