The world's most famous school is imaginary. In the Harry Potter series, J.K. Rowling introduces readers to Hogwarts, a school with tremendous personality.
The students are magically selected and sorted. Their robes and powers distinguish them from non-students. The teachers work tirelessly to make the school a safe and supportive place for learning, but they face challenges. Rivalries and prejudices divide the students. Dementors lurk beyond the gates.
Our schools and classrooms lack the magic of Hogwarts, but students don't need a sorting hat to separate themselves into groups. The cool kids hang out in this hallway. The serious kids go to that one. The kids who speak Spanish tend to assemble over here, and the kids into sports tend to gather over there.
To unify a group is hard, especially if it is diverse. School leaders, teachers and parent leaders can bridge differences, with effort, desire and time. The mechanics of school work better when each student is included and motivated, but it doesn't just happen. Great teachers succeed partly by creating a culture that "works" for learning in their classrooms. Great schools create a culture of learning beyond individual classes or grades.
A Climate of Learning
Many popular movies feature a teacher (real or fictional) who inspires students to great efforts. These teachers are usually portrayed as heroes or anti-heroes who somehow "get through" to students in unexpected ways.
These movies are widely appreciated by educators, but also resented. To succeed, must teachers be so selfless, or attractive, or demented? Does an effective school climate require teachers with Hollywood-grade charisma? If so, who will pay to send 300,000 California teachers to charisma school… and would it work?
Elements of School Climate
'Bully-victim behavior' is a public health problem affecting up to a quarter of students every year.
A growing body of research backs up the common sense observation that school climate matters, and it can be developed intentionally. The National School Climate Center assembled research on school climate in A Review of School Climate Research. This rather dense academic report suggests that "school climate" can be thought of in five dimensions. Here are the actionable conclusions:
Take bullying seriously. Although physical assault is rare in most schools, bullying is common and corrosive, and the effects are long-lasting. According to the Health Resources and Services Administration, "bully-victim behavior" is a public health problem affecting up to a quarter of students every year. On any given day, as many as 160,000 students may stay home from school because they are afraid of being bullied. Victims of bullying often remain quiet out of shame or fear. Among the more important priorities for a healthy school climate is to support the idea that trouble is best avoided before it happens. In particular, a school culture that demonizes "tattle-tales" or "snitches" is set up for trouble. It's hard to feel sympathy for bullies, but they warrant attention, too. Bullying behavior strongly predicts future trouble with the law, among other things.
Invest in relationships. School is personal. Students may or may not thrill to the subject matter of a class, but they decide quickly and intuitively whether teachers care about them and whether they care about their peers. Teacher absenteeism and turnover are measurable warning signs of troubled relationships in a school climate.
Take learning seriously. Successful schools make learning the central activity, and support teachers to make it so.
Light up the dark spots. Bad things happen less often in spaces that are supervised.
Create a plan to improve school climate. Don't leave it to chance. This turns out to be really hard to do unless you have a clear point of view about what improvement looks like and how to measure it.
Measuring School Climate
School climate clearly matters a lot, but many of its qualities are hard to measure. As part of the Local Control Funding Formula (LCFF), school districts are required to include plans for measurably improving school climate as part of the Local Control Accountability Plan (LCAP). (You can find it in "priority 6" of your district's LCAP.) The California Department of Education recommends a school climate survey as a model practice.
School climate surveys can help leaders inspire change by giving visibility to issues that matter to faculty, parents and students. Under the right conditions, these surveys can spark discussions that lead to insights and action. In order for surveys to perform this function usefully, however, they must be consistent and they must be used. Someone with credibility in the school community has to assemble the data and inspire people take time to look. Results must be delivered promptly in ways that are clear and relevant, or they will simply be ignored. This is hard to do.
In California, the most widely-used survey that relates to school climate is the California Healthy Kids Survey (CHKS), a component of the broader California School Climate Survey (CSCS). Many California districts have some experience with these surveys because they were briefly supported by federal Title IV funding in the 2008-09 school year. When this source of funding dried up, the survey became one of the many things that school districts can decide to invest in (or not) as part of the funds they receive under the Local Control Funding Formula (LCFF). Lessons learned from California's grant to improve school climate offer insight for school districts going forward.
California school districts are obligated to include information about school climate as part of their Local Control Accountability Plan (LCAP). The Healthy Kids (CHKS) and School Climate (CSCS) surveys provide an obvious mechanism to deliver on that requirement, so some school districts continue to use the Healthy Kids Survey or alternatives based on it. For example, survey results are available for California's largest district, Los Angeles Unified, in the form of PDF reports that can be downloaded and printed.
Students have a lot to say about their schools. Ironically, the California School Climate Survey does not include a model for collecting feedback from them. There are alternatives. For example, the National School Climate Center provides surveys that include students. Ed100 Lesson 2.10 explores practical approaches.
Not a Mandate. Just a Suggestion
A 2018 report by Fight Crime: Invest in Kids found that the state's guidance about school climate surveys is often ignored. The state of California doesn't check, and has no mechanism to collect information from school climate surveys that are conducted. Why? Because doing so would constitute a state "mandate" — and state mandates have to be state funded. More about state mandates in Lesson 7.3.
CORE and the SQII
In the final years of the No Child Left Behind era, some of California's school districts joined a coalition known as CORE. The coalition developed school accountability policies as part of an agreement with the federal department of education, enabling them to continue receiving certain federal funds. The CORE districts developed a School Quality Improvement Index (SQII) that includes some measures intended to reflect elements of school climate, such as attendance and discipline data. It does not include survey data. The image below summarizes how elements are weighted in the SQII Accountability Score.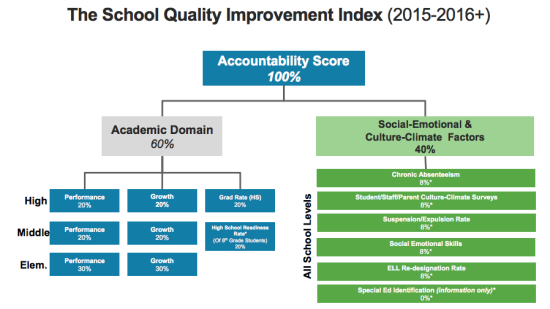 In 2016, related changes in Federal policy prompted the California State Board of Education to incorporate a measure of school climate into a new statewide school accountability system. After much debate, the rate of chronic absence is now included as an element of the state's accountability system to evaluate schools and districts.
School Uniforms
In order to create a distinct school culture, many private schools have long required pupils to wear uniforms. Uniforms create a visible shared identity among schoolmates, and reduce the visibility of wealth differences, at some cost to personal expression. In the early 1990s, California's Long Beach Unified became America's first public school district to require uniforms for its students. The students' strong improvement in academic performance drew national attention. Some charter schools have re-interpreted the idea in a more low-key style.
In part, uniforms are a strategy to reduce bullying. They also can play a role in reducing gang identification in schools. Many charter schools and private schools use school uniforms, which now generally consist of slacks and a polo shirt or sweatshirt with a logo. California law permits schools to establish uniforms but requires schools to help economically disadvantaged students pay for them.
Are uniforms a magic answer to urban school improvement? Of course not. There is no automatic correlation between uniforms and learning. Implementing uniforms can create a sudden and visible change in a school environment, but it is up to the school's leaders and faculty to create the less visible changes that drive student learning. Arguments and claims on all sides are summarized here by PublicSchoolReview and discussed more extensively on Greatschools.org.
The next lesson explores one of the major recurring themes of school reform: small schools.