No one goes into teaching to get rich, but it's stable work with good benefits, including health insurance. Non-salary benefits for teachers are a much-valued part of teacher compensation. They are also a complex area of public policy.
Health benefits are negotiated locally
Most public school teachers are employed by school districts and health insurance is included in the benefits they offer their employees. These benefits are negotiated locally between districts and unions, but they are also negotiated between employers and insurance providers. Like all employers, districts have struggled to address spiraling health care costs. Most districts are small, and lack the power to negotiate good terms with health insurers on their own. To keep costs down some districts band together to purchase benefits -- and some put a cap on how much the district will spend per employee.
At one time, many teachers received lifetime health insurance for themselves and even for their families as part of their compensation. Such benefits are now uncommon - by 2012 just 80 of California's ~1,000 districts provided any teachers with lifetime health benefits. Some districts and unions have been slow to drop these elements from their agreements, and now find themselves grappling with significant unfunded liabilities. This creates a problem not only for districts but also for current students; when liabilities grow large, a district's financing costs go up, which takes funds away from instruction. This process is of little interest to most community members, and even to many school boards and union leaders.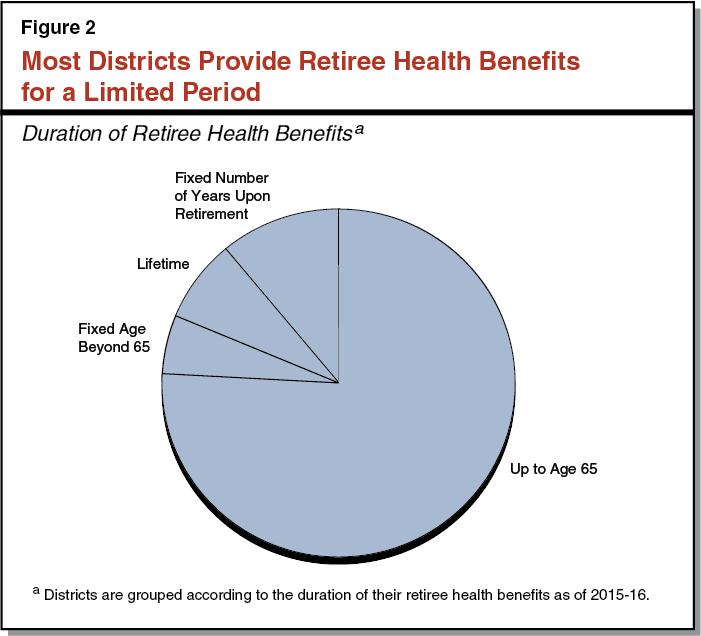 According to the California Legislative Analyst, "Adjusted for inflation, districts today are spending about twice as much on retiree health benefits as they did in the early 2000s. This added cost pressure comes at a time when districts are facing other pressures—most notably, rising pension costs and expectations to enhance services for low-income students and English learners."
If a district over-commits, the state is on the hook
Everyone has a shared interest in the solvency of school districts. The obligation to provide public education is enshrined in state constitutions. That obligation means the State of California is ultimately on the hook for providing students with an education. Liabilities incurred locally through district and union negotiations must fall within the means of the community, or the state steps in by taking away that community's right to govern its own schools.
Counties play a "watchdog" role
The job of evaluating district finances falls to County Offices of Education, which certify district budgets. In California, most County Superintendents of Education are elected, not appointed. Voters, understandably, tend to evaluate a candidate for this office based on experience in educational leadership rather than financial and organizational experience. The state's Fiscal Crisis and Management Assistance Team (FCMAT) provides counties and districts with technical support, but mistakes happen.
The "deal" for teachers
Non-salary benefits are a critical part of "the deal" for teachers. Teaching does not pay well relative to other employment, a topic we take up in the next lesson. It can be very hard for teachers to make ends meet, especially in the densely-populated areas of the state where property values are high. Districts do what they can to make the "deal" work out. For example, in some districts it is quite common for teachers to claim all of their "sick days" each year, not necessarily for reasons of illness. Tolerance of teacher absenteeism is not universal; the culture of each school and district determines whether "mental health breaks" are part of the "deal" or an abuse of the system.
Do you know where to find the formal benefits policies for teachers in your district? It might be difficult to find. Check with your district office to find a copy of the current teacher's contract. Don't be shocked if it's a thick document!