California's powerful initiative process was added to the state constitution in 1911.
With money for enough signatures, your idea for change to California law or even to the California constitution can be placed on a statewide ballot.
Paid signatures dominate the initiative process
In principle, the initiative process is about private citizens mobilizing. In practice, collecting signatures that actually matter is directly a function of dollars. Virtually all signatures for successful initiative petitions — over 90% of them — are collected by paid signature-gatherers, who typically earn several dollars per valid signature on their clipboard. (Have you noticed how genuinely they smile when you sign?)
Over 90% of signatures are collected by paid gatherers. In 2020 the average cost of a signature was $7.22
The value of a signature varies from one initiative to the next. If you ask a signature gatherer how much they will be paid for your signature, they are required to tell you. Often, they collect signatures for more than one initiative at a time. In 2018 the average cost per signature was $7.22 according to Ballotpedia.
The signature collection cost of an initiative in California can be several million dollars.
During the 2016 election season the Sacramento Bee featured a recorded phone call to signature gatherers with an update on the price being offered for signatures on various measures.
The California Secretary of State provides directions for qualifying an initiative.
With a majority vote, initiatives can directly amend the state constitution, bypassing the legislative process. When lawmakers want to change the state constitution they also have to get voter approval. To walk in the weeds about the difference between an initiative (bypassing the legislature) and a referendum (placed on the ballot by the legislature) read here.
Prop 13 and more
Your name /
on that petition /
for the sake
of future scholars
just made / the earnest
clipboard dude
a couple
extra dollars. Ask!
Initiatives have had an enormous impact on public schools in California. The most famous initiative was Proposition 13. Popular from the moment of its creation, Proposition 13 demonstrated the potential scope of initiative power in 1978. The main appeal of the measure was to limit property taxes but the net effect was to cut the level of school support that came from local property taxes and hand the control of school funding to the state. (See our full Ed100 Lesson on Prop 13.)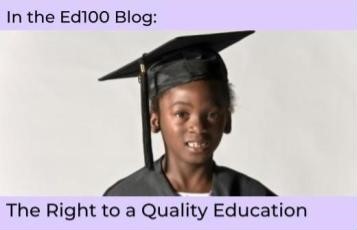 In the years that followed Proposition 13′s passage, voters grew frustrated with falling school budgets, which they blamed on legislative failure (Check out our blog post on California's constitution and the right to a quality education). Another initiative, Proposition 98, promised to put a floor under the funding for K-12 schools and community colleges. Prop 98 established a complex formula obligating the legislature to allocate a certain amount of the budget for the support of the education system. (See Chapter 8 for more on the effect of these propositions.)
Other initiatives have had an enormous impact on education in California. For example:
1984: Proposition 37 created the State Lottery, specifying that 34% of earnings would be earmarked for public education (which amounts to about one cent out of every dollar that goes to schools).
1990: Proposition 111 amended Proposition 98.
1998: Proposition 227 limited non-English instruction. (Repealed in 2016 by proposition 58.)
2000: Proposition 39, placed on the ballot by the Legislature, amended a part of Proposition 13 and enabled school districts to pass General Obligation bonds with a 55% vote.
Big Ballots
In more recent years, Governors Arnold Schwarzenegger and Jerry Brown also made use of the initiative process. While Schwarzenegger was unsuccessful in gaining voter support for his desired reforms, Brown managed to get voters to raise state income and sales taxes in 2012 in order to stabilize the state budget with passage of Proposition 30, renewed as Proposition 55 in 2016.
These powerful governors turned to initiatives rather than the legislature because the legislative process had proved insurmountable. Important policy in California is frequently enacted through the ballot. The dominant role of initiatives in California's education system has helped to prompt some thoughtful reflection about whether the initiative system needs a tune-up. In 2013, the Public Policy Institute of California released a study that looked at public opinion about initiatives and made policy recommendations.
Several bills that would have required at least ten percent of qualified signatures for an initiative to be collected by volunteers have come close to becoming law. AB 857 was vetoed by Governor Brown in 2013, and a similar bill was vetoed by Governor Newsom in 2019.
Initiatives, changes in law and other efforts don't arise spontaneously. The next lesson examines the ecosystem of organizations that variously support, inform, critique and cajole to create changes in the system.