In politics and government, the golden rule gets a new spin:
"He who has the gold makes the rules."
Not so long ago, California's education finance system was very centralized. Sacramento controlled the money, and doled it out to school districts with quite specific instructions about how it could legally be used. Today, however, most of the spending decisions in California's education system are made in school districts. (Technically, the state apportions funds to "Local Education Agencies", a term that includes districts, county offices of education and charter schools. Insiders call them LEAs.)
LCFF Provides Funds Based on Student Characteristics
Prior to 2013, California had an almost impossibly complex system for allocating funds to school districts. Developed without consistent principles over many years, it was loaded with inconsistencies and special arrangements. That system was erased when California lawmakers created the Local Control Funding Formula (LCFF), a much simpler and fairer set of rules.
The big idea of LCFF is that school districts and charter schools with "higher need" students get more money to invest in those students. Here is how it works:
All districts receive a "base grant" for each student. The base grant is larger for grades 9-12 than for other grade levels.
Districts receive 20% additional "Supplemental Funding" per student for students with higher needs — children Learning English, in poverty, and/or in foster care.
Districts with large concentrations of students with these identified needs get additional money. If more than 55% of children in the district are in poverty, in foster care, or learning English, the district receives an extra 50% of the base grant for each student beyond the 55% threshold. This is called "Concentration Funding". (For example, a district with 60% high need students receives 150% of base funding for 5% of its students.)
The end result is that districts receive very different levels of funding based on how many English language learners, children in poverty and children in foster care they have.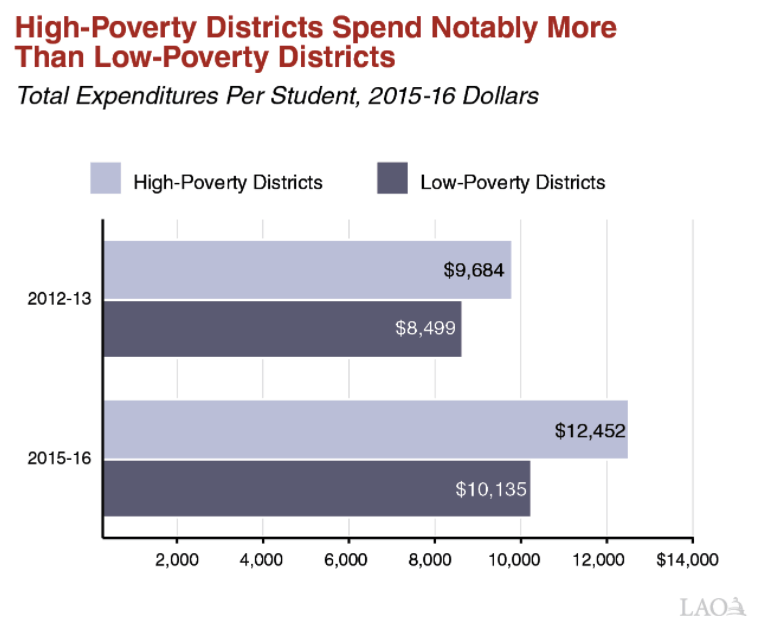 In the old system, funds were apportioned with strong restrictions on how they could be used. Under LCFF, those restrictions are gone: the use of funds is substantially left to school districts, subject to the intent of the LCFF law. This was a big change. Now it is school districts that hold the gold, and make the rules.
Now it is school districts that hold the gold, and make the rules.
There can be a big difference between intent and reality. Are districts actually following through on the intent of LCFF by investing more money in higher-need students? It's hard to know. The districts hold the gold, make the rules, and conduct their own accounting. The Local Control Accountability Plan (LCAP) is intended to provide information about the actual use of LCFF funds, but the accounting detail in the LCAP is minimal. In practice, it is up to community leaders to enforce the intent of the law.
Nonprofit law firms and advocacy groups like Public Advocates and the ACLU have begun playing this critical role, bringing cases against districts that use LCFF targeted funds in untargeted ways. These cases are difficult. Standard public reports don't necessarily show where school district money is spent. Organizations have had to use Freedom of Information Act requests and the threat of litigation to obtain the detailed information required. In 2017 Los Angeles Unified settled such a case (Community Coalition v. LAUSD) for $150 million.
All LCFF funds are technically "unrestricted," which means school districts have discretion over how they are used. However, as explained in Lesson 7.8, there are also new accountability rules that apply. An important element of the Local Control Funding Formula is that school districts must engage parents and community to create a Local Control and Accountability Plan (LCAP). See Lesson 7.10 and What's an LCAP? for more information on how spending decisions are made.
The Exceptions to LCFF
The transition to the LCFF system was unexpectedly rapid. Originally forecast to take seven years, the job was essentially done in three due to strong growth in California's tax receipts. http://fairshare4kids.org/ is a good site to see if your district is among the rare exceptions. EdSource also keeps a list of Basic Aid districts.
Some State Funds Are Outside of LCFF
There are several programs outside of LCFF for which a given district or charter school might be eligible. Together they represent more than 10% of the state funds that go to K-12 education. These funds come with strings attached. If a district does not run a particular program or have eligible students, it generally won't receive the funds.
The largest of these programs is Special Education, which has its own set of allocation rules and also requires the district to spend funds from its base allocation (see Lesson 8.6). Other programs include the Quality Education Improvement Act, the state's after school program, home-to-school transportation, and child nutrition (e.g. school lunches).
Lottery funds of about $150 per student are also outside of the LCFF funding formula, but they are uniformly distributed. In any given year the state may also provide some one-time monies for specific purposes.
A few districts continue to receive small amounts of funding through state grant programs, but these exceptions are small.
In addition, the federal government largely delegates to the state department of education the task of disbursing federal funding. Most of those funds are for specific programs as largely explained in Lesson 7.2.
Is LCFF Working?
In 2018 a major research project known as Getting Down to Facts II (GDTFII) examined a big, important question: How is LCFF working? The short answer is encouraging. According to the researchers, "The data provide initial evidence that money targeted to districts with the greatest student needs has led to improvements in student outcomes."
One of the associated studies, provocatively titled Money and Freedom, found that additional funds apportioned through LCFF were put to work in ways that made a distinct, measurable difference:
We find that LCFF-induced increases in school spending led to significant increases in high school graduation rates and academic achievement, particularly among poor and minority students. A $1,000 increase in district per-pupil spending experienced in grades 10-12 leads to a 5.9 percentage-point increase in high school graduation rates on average among all children, with similar effects by race and poverty. On average among poor children, a $1,000 increase in district per-pupil spending experienced in 8th through 11th grades leads to a 0.19 standard deviation increase in math test scores, and a 0.08 standard-deviation increase in reading test scores in 11th grade. These improvements in high school academic achievement closely track the timing of LCFF implementation, school-age years of exposure and the amount of district specific LCFF-induced spending increase. In sum, the evidence suggests that money targeted to students' needs can make a significant difference in student outcomes and can narrow achievement gaps.
The studies suggest considerable support for the funding formula's basic design, which directs more funding to districts where needs are greater. For example, one study for the GDTFII project surveyed Chief Business Officers, who oversee the deployment of funds in school districts. These officers generally expressed support and confidence for the changes brought about by LCFF, even in districts that did not get additional funds from the policy.
Of course there is still plenty of room for improvement, according to the research. In particular, the report finds weakness in the central idea of local control through the reporting and public discussion system known as the Local Control Accountability Plan (LCAP). We examine the LCAP in Lesson 7.10.