Some childhood gaps are welcome news, like that gap-tooth smile. Achievement gaps? Not so much.
Frustratingly stable patterns predict which groups of students tend to do better in school and which do worse. These differences, known as "achievement gaps," are usually quantified using standardized test scores, but they can also reflect graduation rates or other measures. Poverty strongly correlates with test scores, graduation rates, and other measures of educational outcomes. (See Lesson 2.2.) Students who qualify for free or reduced-price lunch service (a common measure of poverty) tend to score lower than the kids who don't. Race correlates, too: black and Latino students tend to score lower on standardized tests than white and Asian students.
Steady, uneven improvement
Over time, California students' scores on standardized tests have risen, slowly but significantly. This is good news, and yes, some important gaps seem to be closing. However, the rate of improvement has been uneven. Achievement gaps among the groups remain large.
The charts above relate show a decade of improvement on tests that no longer are administered, and it remains early to evaluate improvement using the CAASPP tests. However, it is clear that the gaps remain. Students from low-income families, English learners, and African Americans continue to have lower average scores. (Tables 4 and 5 in this summary of CAASPP scores show it in detail.)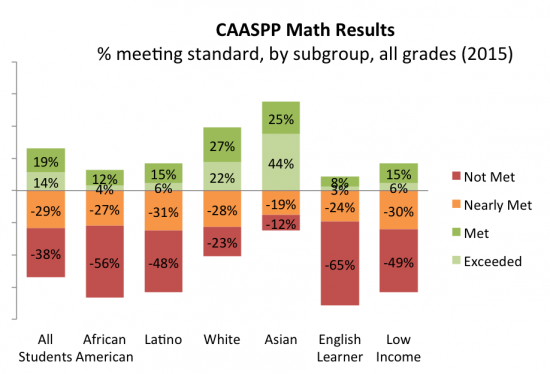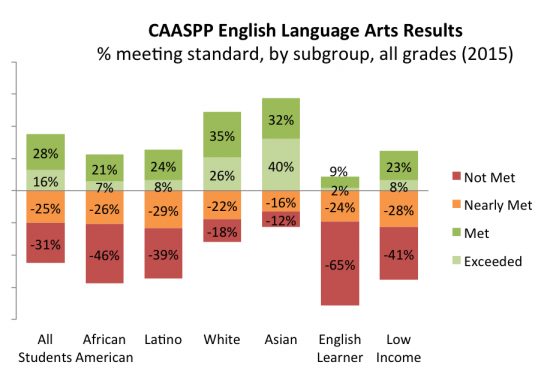 Score trends on the NAEP exam show the same trend.
Many influencers have called attention to achievement gaps, and reducing them has been an important policy goal. For example, the "Adequate Yearly Progress" provisions of the No Child Left Behind Act specifically targeted achievement gaps by establishing benchmarks for "Adequate Yearly Progress" at the subgroup level rather than merely at the district level. Former California Superintendent of Public Instruction Jack O'Connell drew strong attention to achievement gap metrics during his terms as Superintendent of Public Instruction. The Education Trust-West has been a consistent advocate for minding the gaps.
Test scores are going up /
and that is great good news /
But not enough /
to disrupt /
the gaps between the groups>
Cut-offs create illusions
When looking at any chart that compares "proficiency" rates, it is important to squint a little. Remember, it represents a very simplified statistic: do kids pass the cut-off score for "proficient" or don't they? It doesn't answer the question "by how much?" Even more seriously, it presumes that the cut-off score was well selected. By the nature of statistics, if a cut-off point stays put while a curve moves, metrics can exaggerate the scale of the change. If the cut point is anywhere close to the steep part of the curve, a little bit of change can cast an exaggerated shadow. Education statistics are loaded with metrics derived from cut-off scores.
Bell curves have two tails, and some critics argue that reducing gaps by boosting the learning of kids at the bottom of the learning curve isn't enough. They argue that long-term American competitiveness is at risk if challenging kids at the "top of the curve" isn't also encouraged as part of a school's mission.
The success of California's schools, districts, and public education system as a whole are often judged by how effectively they address these predictable gaps in achievement. The next lesson discusses the ways these systems' successes are measured.