Your chance to tell the district what you think
The end of each school year is crunch time for parent organizations in California for all kinds of reasons. One of those reasons has to do with education policy: each year it's the last chance to formally influence changes in the Local Control and Accountability Plan (LCAP), the school district's official plan for the three years ahead.
Plans, like budgets, reflect values. They direct how money and time will be spent. The LCAP (pronounced el-cap) is a public document, intended for public review and discussion. But there's a problem. On its own, the LCAP is often thick with legalese and edu-jargon. This post helps explain the key elements of the LCAP and why they matter.
Use our LCAP checklist
The heart of the LCAP is a list of priorities. Together with the California State PTA we have developed a checklist, matched with supporting documents, that you can use to cut through the jargon, weigh your priorities and plan your response. This checklist is a template — to use it, create your own copy and make it yours!
You can use the LCAP Checklist to contribute thoughtfully to your district's discussions on the best way to spend its money. First, though, here is some background to help you understand the Local Control Accountability Plan and how it affects you.
What is "Local Control", anyway?
Local control refers to decision authority, especially over the use of money. Prior to the implementation of LCFF under the Brown administration, state rules substantially dominated not only how much money flowed to which districts, but what districts were permitted to do with it. LCFF dramatically decentralized power over California education. As money has returned to the education budget, lawmakers grapple with the well-intentioned instinct to push programs from Sacramento. Terms like categorical programs or mandates point to requirements that your district spend funds in specific ways.
What is an "LCAP"?
The LCAP is a three-year plan that describes what the district plans to do to support student outcomes. It's a document with a required structure built around ten priority areas, as reflected in the diagram below. Your district's LCAP must include information about how it serves students with different backgrounds, particularly those living in poverty, foster youth, and students who are learning English.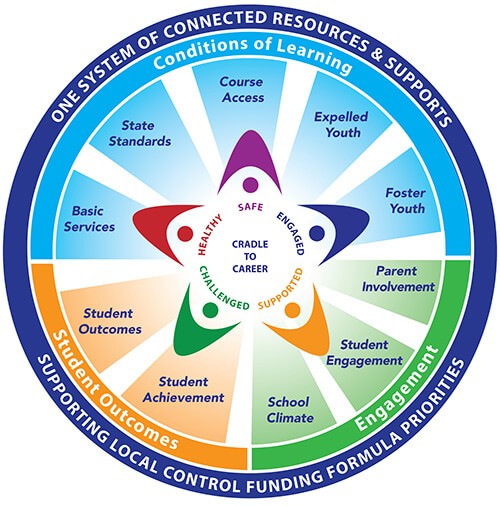 Why is the LCAP required?
Under California's main education finance law, a policy known as the Local Control Funding Formula (LCFF), your district has flexibility to decide how to spend funds it receives from the state. Your district receives extra money to invest in the education of English language learners, foster youth and children living in poverty.
Who is the LCAP for?
Want to take a guess? Well, actually, the LCAP's purpose is partly community accountability. For accountability to work, it's important for community members to scrutinize the LCAP, understand it, and speak up. If this shocks or disappoints you, sorry about that. The brave theory behind the LCAP is that communities will hold their schools accountable for getting education right, and hold their school district accountable for using the extra money as intended.
That's why we created the LCAP Parent Checklist. It contains all the background information you need to provide informed and thoughtful input. The checklist links directly to Ed100 lessons on all the state priorities.
Somebody in your school's parent community needs to be the one to drive a conversation about the LCAP. It's you, right? Be honest.
Community Engagement
This is your chance to let the district know what is important to you and your school. The LCAP requires school districts to consult with the District Parent Advisory Committee (PAC) and English Learner Parent Advisory Committees (DLAC) as well as parents, students, school personnel, local bargaining units, and the community. School Site councils and site based student and parent groups (PTSAs) need to understand how their work fits with the district's LCAP, too. Districts will put together a schedule (example) that includes when they will consult with the school community.
When must the district's LCAP be completed?
Your district is required to adopt its LCAP as part of its annual budget process, which must be done by the end of June each year in anticipation of the new school year. Planning for the next year begins in the fall.
Who actually writes the LCAP document?
The LCAP is officially completed by school district staff. Sometimes school districts get help from consultants, or from the staff of their county office of education.
Who is responsible for approving the LCAP?
Your district's LCAP will be complete when your school board votes to "adopt" it. If you think something is wrong with your district's plan, this will be your last opportunity for influence each year. Your county office of education is then responsible for reviewing your district's plan and either approving it or suggesting revisions. County offices in turn have their own LCAPs reviewed by the California Department of Education.
Do schools produce an LCAP?
Not exactly. The LCAP is required for districts, charter schools, and county offices of education. (Technically, all of these entities are Local Education Agencies.) Ordinary schools don't have to file an LCAP. However, the LCAP development process is meant to inspire useful conversation and reflection at the school level, too.
Where can I find examples of LCAP documents?
Districts are required to post them online… somewhere. Annoyingly, there is no LCAP Watch, a service of Education Trust-West, a non-profit organization. If you don't see your district's LCAP there, please upload a copy when you find it! An official collection of LCAP data is available at the State Department of Education.
Must charter schools produce an LCAP?
Yes.
What about private schools?
Nope.
What's the next step?
OK, now that you have the background, time to get to work. Somebody in your school's parent community needs to be the one to drive a conversation about the LCAP. It's you, right? Be honest.
Not to worry - you don't have to do it alone. Use the LCAP Checklist template to collect the information you need and work collaboratively with other parent leaders. The whole thing is set up in Google Docs, so it's easy to share.
One last item, just for fun...
Years ago, when LCFF and the LCAP were new, Jeff felt inspired to write a song about it. It's a little dated now, but still good edugeeky fun. Read the lyrics.