Each year consists of about 6,000 waking hours. Children in America, on average, spend about 1,000 of them in school.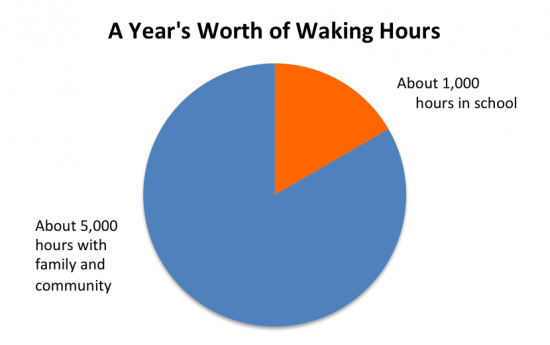 Not including after-school programs, most American children spend about six hours per day in school – fewer in lower grades and more in higher ones. How are those hours actually spent? Are they sufficient? Does changing the number of hours make any difference?
Yes, Time Matters.
As common sense would suggest, learning takes time. All other things being equal, places where students get more school hours with "time on task" are places where students tend to learn more. One elegant study found a clever way to verify the educational impact of time: it examined the effect of "snow days" (which vary in number by school and by year) on test results. Sure enough, when snow piles up, scores fall down. A day here or there actually does make a measurable difference.
The National Center for Time and Learning collects research about time in American education, and argues that there should be more of it: "While the expectations for how schools prepare the next generation of American workers and citizens have risen dramatically, education and policy leaders have usually not updated policies and practices around learning time to meet these mounting demands. The school calendar looks much the same as it did a century ago…" (From The Case For More Learning Time)
What exactly do we mean when we talk about school hours, or a school day, or a school week, or a school year? These things matter when trying to compare programs. How much time is enough to add up to a "course"? About a century ago, the Carnegie Foundation played a role in setting standards for course length, particularly for higher education. A "Carnegie unit" is 120 school hours of instruction. The standard is still in use.
Comparisons are Tricky.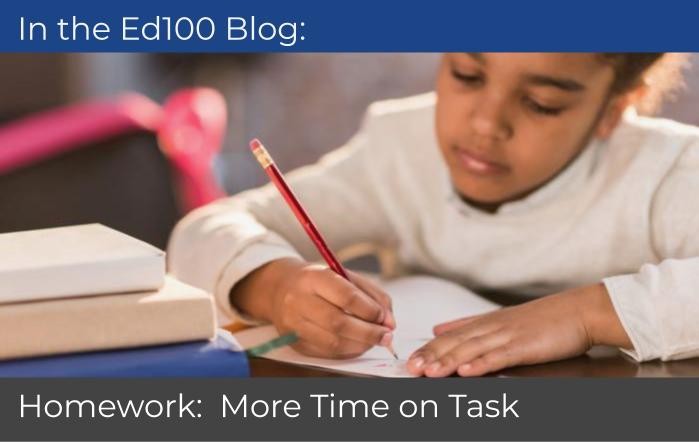 Schools in different parts of the country and around the world use time in very different ways, and also count it in different ways. In an effort to permit comparisons, or at least to spur inquiry, the Organisation for Economic Co-Operation and Development (OECD) collects global data about school hours. Most reports based on the OECD data make America look pretty good: they seem to suggest that American kids spend at least as much time in school as kids in other countries do. But the harder you scratch at the data, the harder it is to take the comparisons too seriously. The data is gathered by survey, and the methodology and even the questions vary from place to place. Grade level groupings used in the surveys are responsive to the different ways that schools are organized locally, and the surveys are massive.
International comparisons of education time are further complicated by the fact that not all learning time is part of the "official" system. In Japan and Korea, for example, formal school days are shorter, but there are more of them. Many families invest significant hours at private after-school and weekend "cram schools" that help their children prepare for standardized tests and college entry exams. Merely comparing school hours in this context kind of misses the point.
There's an apples-and-oranges problem, too. Does it make sense to compare school hours spent in systems that are teaching different things? In Japan and China, students spend many hours learning to write characters accurately and legibly, a skill not needed in western societies. The OECD survey suggests that most European countries invest about a tenth of primary-grade school hours in the study of international languages. Few American primary schools teach international languages at all. (See page 351 in the OECD's massive Education at a Glance report.)
If comparing school hours is too finicky, perhaps a broader approach can shed light: how many days per year is school in session? On this metric, America looks less impressive.
Most California schools are in session for 180 days per year. (The number dipped a bit in the Great Recession and rebounded in the recovery.) California's number of school days is similar to most other states. Unfortunately, there are no reliable, easily comparable statistics about the number of days schools are in session in other countries. UNESCO has assembled reports of varying detail on a country-by-country basis, but the days of instruction is not a standard item in the reports. National holidays differ from one place to another, as do traditions about seasonal breaks in the school calendar.
The number of days per year that school is in session for students is not an easy figure to come by. However, there is evidence to suggest that by international standards 180 days of school is a low number.
Does a Day Make a Difference?
Not all school hours are instructional hours. In 2009 the Education-Trust West investigated instructional time in California schools. This research found that the true instructional school year is significantly shorter than it seems on paper due to the "overhead" of school events, assemblies, testing days, birthday celebrations and the like.
Not all school hours are instructional. Students in a 180-day calendar only put in about 100 instructional days per year.
In the Great Recession, many California schools cut five days from their school calendar. Which five? Special days like testing days, or assemblies, or birthdays tend to be preserved. Almost by definition, the days lost were ordinary, unremarkable days with nothing special going on except teaching and learning.
Time for Relationships
School time is not all about academics. The school experience is also about relationships. Some charter school operators (like KIPP) regard a longer school day as a vital element of their program design. Beyond the academic effect of additional instructional time, a longer day in school may raise the likelihood that school serves as the central context for children's social relationships.
The National Center for Time and Learning is dedicated to significantly increasing learning time. It also provides research into how schools and districts are using time effectively, the core topic of the next lesson.