Far too many children, especially from low-income families of color, fall behind in school. It starts early.
A perennial question about education policy is "How can we close the achievement gap?" But let's ask a different and equally important question: "Are there ways to avoid the gap in the first place?"
There are never magic answers in education, but there is considerable evidence that an ounce of prevention is worth a pound of cure. Early learning programs are preventive: they head off achievement gaps before they happen.
In California, the early learning gap is a big issue. According to a high-profile study included in the Getting Down to Facts II research effort (GDTFII), California's achievement gap, one of the biggest in the nation, is not because of failures in K-12 education. Rather, it is because of "the disproportionate achievement gap when children enter kindergarten."
"California once led the nation in early childhood education. The currently large achievement gap is in part the result of a significant decline in the level of investment in its youngest children."
"Early learning" starts at birth
Learning gaps begin long before kindergarten. According to one Stanford study, for example, the language gap between rich and poor children begins in infancy. Stanford psychologists found that 2-year-old children of lower-income families may already be six months behind in language development.
Heading off gaps from the start implies helping parents prepare for their role as their child's first teacher. Nurse-Family Partnership programs begin even before birth, working with new mothers. These "home visiting" programs include a trained specialist who supports families with medical, parenting and family education to give children with a strong start in life.
Every dollar invested in high-quality early learning programs can save $7 later on.
Very few people doubt the value of early education. Families with enough money enroll their kids in preschool programs and activities, usually starting by age 3 or 4. Children who begin their formal education in a good preschool start life with an enormous set of advantages.
At a societal level, universal early education is almost universally acknowledged as a smart investment. Estimates of the long-term return on investment from preschool programs range from a low of 200%-400% (based on a meta-analysis of multiple studies) to 700% or more. These gains come in the form of fewer students being held back or getting involved in crime, and more graduating from high school and college and earning higher salaries in their careers.
Many developed nations have taken action on this research, as indicated playfully in the crayon chart below. American families that can afford it send their kids to private preschool, but most kids are out of luck.
Is Preschool a Magic Answer?
No, of course not. Preschool belongs on the long list of things-that-are-not-magic. Educating kids is hard, and there are ways to mess it up. Trial preschool programs can appear to work exquisitely in small-scale tests, then turn out to work more modestly at scale.
But the cumulative evidence is awfully persuasive. For example, logically it would make sense for the academic benefits of preschool to fade out over years of education. It ought to be hard to statistically discern the effects of preschool on seventh-graders. But more than a generation's worth of skeptical research on early education seems to prove otherwise: learning is cumulative. Like a snowball on a roll, knowledge tends to grow faster than it melts.
Early education isn't magic — but investing in it is good policy. Failing to provide early education is foolish and harmful.
In California, preschool is mainly for those who can pay
Public preschool is expanding all over America, but availability varies greatly by state. The National Institute for Early Education Research (NIEER) at Rutgers collects and publishes data annually to help understand the changes and differences. Some states, notably including Florida, now invest in near-universal public preschool for four year olds. Vermont and Washington, D.C. have taken the next step — they provide free public preschool to nearly all of their three year olds, too.
In California, by contrast, most kids still get their first taste of school in kindergarten. Why? It's a combination of the high cost of private programs and scarcity of public programs. In San Francisco, for example, the median monthly tuition for private day care and pre-school is $1,700 for in-home programs ($20,400 annually) and $1,588 for center-based programs ($19,056 annually). Yes, that's more than tuition at UC Berkeley.
Only one in ten three year olds in California attends a public preschool program. The story is more mixed for four year-olds because of a program known as "Transitional Kindergarten" (TK). Oversimplifying a bit, TK adds another grade level to the K-12 sequence, but only for students born in the months of September through December. (The image below shows enrollment in California TK, Federal Headstart, California First Five, and special education programs in 2018-19. Click image for full NIEER report.)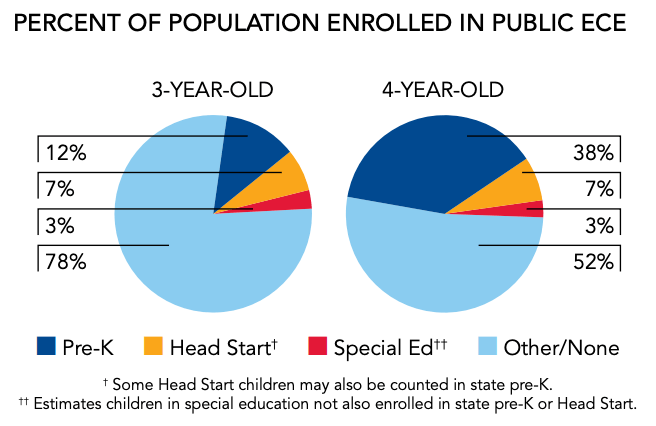 A Difficult Little Increase
The benefits of early education are rarely seriously disputed anymore. Expanding public education from 13 years (K-12) to 15 years would unquestionably make the state's education system more successful and more equitable. Of course it would cost money, but it's worth considering the big picture. In rough terms, making preschool universal would expand the public's direct investment in educating each student by something like 10%, not counting the one-time cost of new buildings and playgrounds.
So far, California has not managed to find the political will to make it happen. Efforts to expand access to preschool in California (such as Proposition 82 in 2006, an unsuccessful voter initiative to tax the state's wealthiest taxpayers to create a universal preschool system) have repeatedly failed on befuddling details, such as these:
Befuddling Details
What does it mean for a program to be "high quality" when children are too young to prove what they have learned through tests?
Should preschool be offered universally, like K-12 education, or should it be funded only for low-income families?
Should it be completely public, or is it okay to incorporate existing private preschools through a voucher-funded system?
If new schools or classrooms are required, who will pay for them?
Should the building requirements resemble the standards for school buildings or for private home-based preschools?
Should preschools be built as an expansion of the existing school system, or should they be separate institutions?
As the debates rage on about the perfect vs. the good, time passes, always clockwise. Each year, another half a million children are affected by this inaction.
The social science research about the characteristics of a "high quality" program leaves room for intelligent people to disagree. But as the debates rage on about the perfect vs. the good, time passes, always clockwise. In California there are about half a million children per grade level, so that is a good approximation of the scope of harm from inaction. The cost of year of public preschool in California (about $7,000 in 2018) is less than a twelfth the cost of a year of prison. In the big picture, expanding from today's 13 years of guaranteed basic education to 14 or 15 years may seem like a small addition, but the gap remains.
Crawling Back from Recession Cuts
California education suffered greatly in the Great Recession. As of 2017, the number of funded preschool seats in the state still had not recovered to pre-recession levels, despite the boom in the stock market and recovery in education funding.
In the long run, children and families are only protected from budget cuts by public will, as measured in voters' willingness to tax themselves. There are signs of a growing consensus to expand early education in California. In 2018 Gavin Newsom campaigned for Governor with universal access to early education as a key pillar of his platform.
Children Now, a non-profit organization, has been a consistent advocate for early education in California. Its web site is a good source of information about support for children in a variety of capacities including early education.
Defining Quality Programs
When California eventually finds a way to invest in preschool, it at least will have done its homework. The state won a $70 million federal Race To The Top Early Learning Challenge Grant that supported development of a Quality Rating and Improvement System (QRIS), a set of tools to help local agencies collect and disseminate information about the quality of early learning programs. According to EdSource: "As of February 2016, only 3,300 of the more than 50,000 centers statewide had been rated. Evaluators are focusing first on assessing preschools and childcare facilities that serve low-income children and those with special needs."
Are these programs any good? The Learning Policy Institute's report, The Building Blocks of High-Quality Early Childhood Education Programs, identifies 10 important elements of high-quality early childhood education programs.
Preschool Teachers in Poverty
Early learning program quality depends in large part on the support and preparation of the people who work in them. But early educators are among the lowest-paid workers in the country. Nearly one-half of child care workers are part of families that participate in at least one public assistance program, such as Medicaid or food stamps. The Center for the Study of Child Care Employment at UC Berkeley finds that policies in all 50 states and Washington, D.C. "shortchange the two million early educators who are shaping the future of 12 million children in childcare and preschool…"
How is California doing? Check their interactive map.
California's Kindergarten Gap
Outside California, virtually all kindergarten programs are "full day," which means they last five to six hours. Kindergarten attendance is not mandatory in California and in some schools here it remains three to four hours in length. The shift to full-length kindergarten is at last well underway in California, but in most other states this isn't even a conversation topic anymore. If your school still operates an abbreviated kindergarten program, you should be concerned.
As usual, a good shortcut for figuring out what constitutes good education is to look at what happens in wealthy communities: they send their kids to enriching preschools. When California gets around to investing in preschools for all children, the state's K-12 schools will be much better positioned to succeed.