Students learn when they are well. When they aren't well, well...
Learning is mental work. It requires presence and concentration, and a lot of things can get in the way. There is a powerful connection between education and health. This lesson summarizes many of the ways that schools play a role in health, and the ways that health plays a role in school.
Why do schools provide free lunch?
Children cannot concentrate on learning when they are hungry.  Food aid is one of the oldest and most basic interventions in public school systems — it began at scale in cities and states during the Great Depression era. The National School Lunch Program was authorized in 1946. Over the years the program has been expanded and modified multiple times. About half of California's students qualify for free or reduced-price lunch, and many children in poverty depend on school for at least five meals a week. Schools provide free or discounted meals for students well above the official poverty line, but statistics from the meal program are often used as a proxy measure of poverty. Beginning in 2022-2023, all California public schools, charter schools, and county offices of education must provide universal meals. This means each student is now eligible for free breakfast and lunch daily, regardless of household income.
Too many Americans do not eat well. Poor diet, combined with lack of exercise, contributes to obesity, which has long term health implications. Obesity rates in all states have risen, though less so in California.
Though obesity rates for adults have increased in many states, there is some good news for children. Increasing rates in obesity in preschool and school age children have slowed or reversed in recent years in many states including California. (For details, have a look at The Weight of the State, a report of the California Department of Public Health. It includes county-by-county data.)
Milestones in California nutrition policy
2004
Banned sales of sugary beverages on school grounds
2008
Limited calories and fats in school snacks
2008
Created the Fresh Fruit and Vegetable Program, a supplement to the nutrition programs supported by the federal and state government
2013
Research confirmed health impact of soda bans
Many organizations work to improve child nutrition including Nourish California and the Child Nutrition Program of Southern California. During the Pandemic, school food services scrambled to adapt. Although the work of serving food is thoroughly local, the money for it is mostly federal. It can be complicated.
Do schools have nurses?
Budget cuts have had a severe impact on the ability of schools to hire nurses. School nurses — if you have them — take care of a lot more than cuts and scrapes. They administer medications and vaccines, provide health counseling, support school wellness programs, and make health referrals.
The Robert Wood Johnson Foundation warns that the lack of nurses weakens school health services and puts children at risk. In every school, some children suffer from life-threatening conditions and diseases such as diabetes, seizures, asthma, bleeding disorders, mental health problems, and severe allergies. Medical advances have rendered many of these conditions treatable or manageable, but they do not manage or treat themselves.
California lags the nation in school nurses. According to KidsData.org, in California there were 2,410 children per school nurse in 2019. The National Association of School Nurses recommends a ratio of 750:1 for well children and 225:1 for student populations with special needs. And children with acute health care needs may require even more help to remain in school. School Health Services for Children With Special Health Care Needs in California, a report from PACE, points out the challenges facing our children and our schools, such as this eye-opener: "In the absence of nurses, a range of school personnel are being called on to provide health services, such as administering medication, treating life-threatening allergic reactions, performing gastrostomy tube feeding, injecting insulin, suctioning tracheostomies, and providing urinary catheterization."
School-based health care
Most children receive health care from whatever insurance their family can afford, which for many families is little or nothing. Schools would seem an obvious place to offer screening and basic care, but fewer than 20% of elementary schools in California offer health services for children.In 2018 Columbia University economics professor Randall Reback estimated in an important study of student health for the Getting Down to Facts II project that it would cost less than $100 per pupil annually for the state to provide basic physical and mental health coverage at all public schools. This figure includes "approximately $31 per student to provide enough counselors to provide basic mental health services at all K-12 schools and $59 per student for every public school to have either a school nurse at least one day per week, a school-based health center, or a mobile health van visiting for three to four hours per week.
Medicaid funding to support such investments is available, Reback notes, but school districts and county health offices rarely coordinate their efforts to take advantage of it. As of 2021, out of 10,000 California schools, KidsData identified only 291 school-based health centers.
What is the role of schools in vaccinations?
Vaccinations are a safe and effective way to prevent humanity from devastating diseases. They are a cornerstone of public health policy in California, which requires vaccinations for all students with very few exceptions. Prior to 2016, the law had allowed families to cite personal beliefs to opt out of vaccinations, a policy that led to outbreaks. The arrival of the COVID-19 pandemic increased public awareness vaccination policy. The Centers for Disease Control tracks disease outbreaks.
Certain exemptions are still allowed for a home-based private school or an independent study program with no classroom-based instruction. The California Department of Health provides a web site aptly titled Shots for School that enables you to check the immunization rate at your school.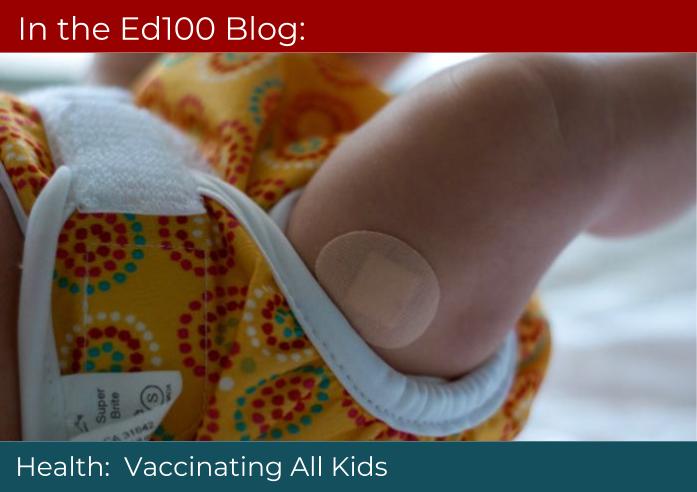 California's vaccination requirements protect students from school-based outbreaks of the following deadly and disfiguring diseases: Diphtheria, Pertussis, Tetanus, Polio, Measles, Mumps, Rubella, Hepatitis B and Chickenpox. For additional information about vaccinations in California schools, including a map that estimates your community's vulnerability to outbreaks, see this blog post.
Physical activity and "P.E."
Even though California mandates physical education (P.E.) for virtually every child virtually every day, most children do not get the daily physical activity they need.
According to the Centers for Disease Control and Prevention, physical inactivity is consistently linked to poor grades and lowered educational attainment. Among the campaigns to address this are ShapeUP SF and California Project LEAN. The Centers for Disease Control provides school health guidelines to promote healthy eating and physical activity.
P.E. classes aren't just for running around. For more about the role of P.E. in education, see Lesson 6.9.
Sex education
Most people agree that schools need to teach sex ed. But they don't necessarily agree about what sex education should include, what the goals of sex ed programs should be, and whether specific programs can achieve those goals.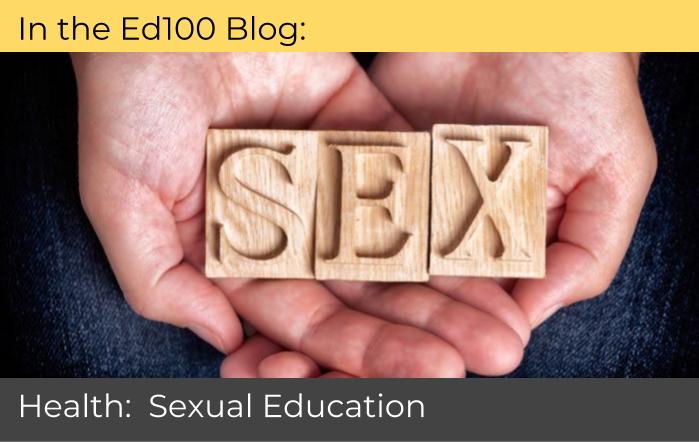 In 2015 the California legislature updated its policies for sex education and HIV/STD prevention. In doing so it significantly clarified what schools are obligated to teach. The California Healthy Youth Act requires public schools to provide all students in grades 7-12 with age-appropriate sexual health education that is "comprehensive and medically accurate," meaning that it includes content about human development, sexuality, pregnancy, contraception, and sexually transmitted infections including HIV. This definition still leaves plenty of wiggle room for big variations among schools because the minimum legally required "dosage" of sex ed is just one class session in junior high school and another in high school.
For more about sex education in California have a look at the Ed100 blog post on the subject. The post explores how California schools are dealing with puberty education, teen pregnancy, consent and other topics.
A healthy environment for learning
Health issues go far beyond a school nurse, healthy meals and physical activity. They include indoor air quality, asthma management and sun safety measures at school.
If you see peeling paint, suspect the worst. In a Reuters study of 29 communities all over the state of California, up to 13% of children were found to have elevated levels of lead in their blood. In one school in the Fresno area, blood data obtained showed that children had rates nearly three times higher than those in Flint, Michigan. You shouldn't assume that water at your school is safe, either. California regulations generally require that schools have at least one drinking fountain for every 150 students. In 2013, EdSource exposed data about lead in school drinking fountains across the state. By 2019 hundreds of schools had tested their taps, but gaps remained.
In order to increase overall family health and wellness, some communities use school sites to provide low-cost health services such as immunization and toddler wellness checks. (The most celebrated example is the Harlem Children's Zone in New York). 
Sleep!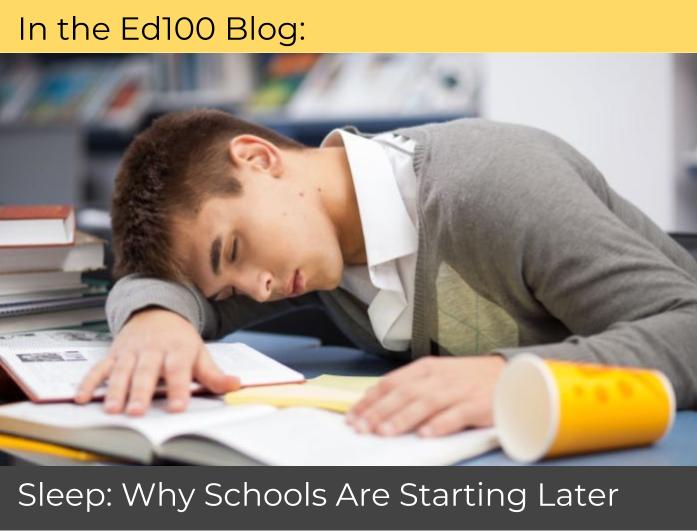 School calendars and hours are under the control of school districts, but in 2019 California enacted laws that limit on how early schools may start. Beginning with the 2022-23 school year, middle schools must begin no earlier than 8:00 am, and high schools no earlier than 8:30 am. This was a significant policy change, requiring perhaps 90% of California schools serving those grade levels to revamp their schedule.
Compelling research confirms the educational value of sleep. Children need 8.5 to 9.5 hours of it, and they learn poorly when they are fatigued. According to research by RAND corporation, starting school before 8:30am cost the state of California at about $1 billion per year (for perspective, that's about $150 per student per year). The laws enacted in 2019 were designed to be phased in over three years because school calendars are tied to everything from after-school programs to bus schedules. See the blog post for more information.
Mental health
Other than parents and family, faculty in schools are in the best position to notice mental health issues in children and take supportive action, if they know how. Anxiety and depression are common maladies for adolescents, especially girls. Not all childhoods are happy. Some children come to school with symptoms of trauma, and few schools prepare their faculty to offer the help children need.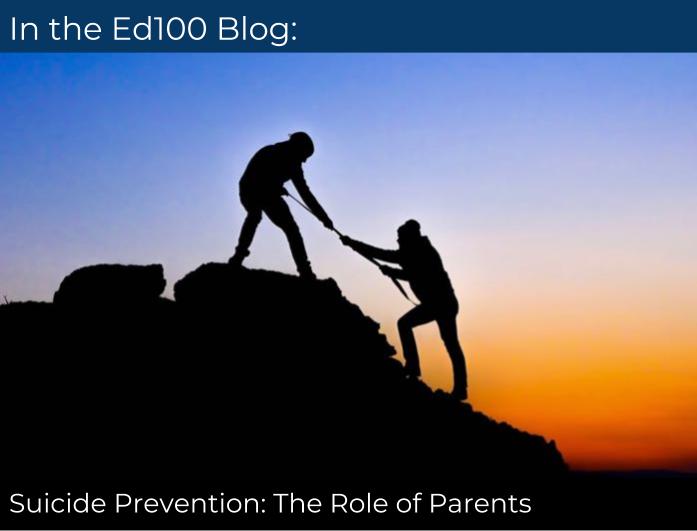 Untreated, mental health problems can completely derail learning, or worse. Suicide is the second leading cause of death for adolescents, a topic we explore in greater depth in the Ed100 blog.
Unhealthy California
Health is vitally important to learning, but there are many ways that health can go wrong, especially for students living in poverty.
The separation of health services and school services is not a church-and-state issue. Schools already play a major role in student health through food aid and vaccination, and they could play a significant role in basic health screening, at an incremental cost of about $100 per student according to Randall Reback, who examined the issue for the 2018 Getting Down to Facts II project. The state has not stepped up in a big way to impose program requirements on school districts, but there is no fundamental barrier blocking school districts from including student health in their mission. Under the Local Control Funding Formula, school districts can choose to spend on school-based health programs if they want to.
Drugs, Tobacco and Vaping
Many life habits are formed in youth. Unfortunately, young people don't always make healthy choices.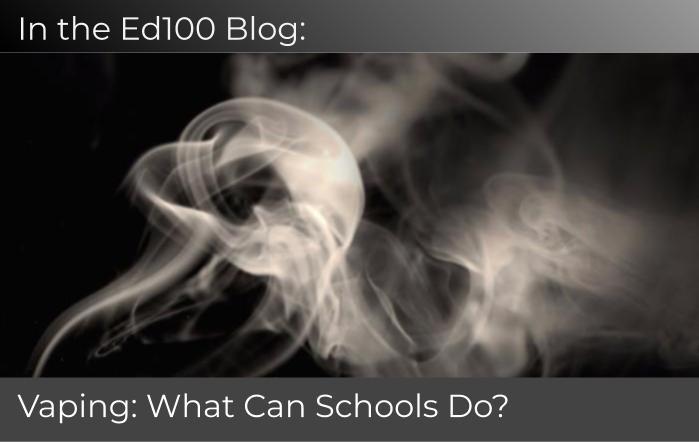 The good news is that the long-term trends in this area have been mostly good for the last several decades. Since 1975 the National Institute on Drug Abuse (NIDA) at the National Institutes of Health has measured drug and alcohol use and related attitudes among adolescent students nationwide through a huge annual study called Monitoring the Future. Over time, teen usage rates of many very dangerous drugs have been trending downward.
The bad news is that some of these trends seem to be reversing. Teen smoking has largely been replaced with vaping, which is cheaper and stealthier than cigarettes, but every bit as addictive. The legalization of marijuana in California for adults 21 and older has changed public attitudes about the drug and its derivatives. Vaping products make nicotine and marijuana consumption harder for schools to detect and discourage.
The Ed100 blog contains much more information about vaping.
Next Steps
All school districts that participate in the National School Lunch Program are now required to have a school wellness policy developed with community input. These policies set goals for nutrition as well as physical activity and other school-based activities that promote student wellness. If you are trying to boost wellness in your school, reviewing this policy can be a place to start.