Tests (more formally known as assessments) have become an important part of the school experience in America.
Tests come in two main flavors: formative and summative. It's worth understanding the difference.
Formative Assessments
Teachers use formative assessments to check whether students understand material they have been taught. These tests are generally short, focused, and used to guide instruction. ("OK, students, it looks like some of you are fuzzy on the difference between a simile and a metaphor. What's the difference… Andre?")
Traditionally, teachers created formative tests themselves. Here's the problem: writing good test questions is really hard. Some teachers are good at it, but it's an area of expertise distinct from teaching, and it's time-consuming. As instructional materials have become more tightly aligned with standards, it has made sense for textbook publishers to include unit tests as part of their content. Bubble-test versions of these assessments can speed up scoring and give teachers rapid feedback. These assessments can also help teachers compare the effectiveness of their lessons, so that they can work together to improve.
Testing jargon: "Formative" assessments are like quizzes. Usually short, and used during a course to see if you're on on track. "Summative" assessments are like final exams that happen after the course is done to render a grade.
Summative Assessments
Summative assessments are end-of-course or end-of-year tests. These tests assess cumulative knowledge of the content taught. All of the big standardized tests (CAASPP, SAT, ACT, TOEFL, HSE, AP, NAEP, PISA and more) are summative. These tests permit comparisons between schools, teachers, programs and the like. They are also widely disliked.
Teachers do not get much useful feedback from the big annual standardized tests, which tend to deliver scores late and without much detail. Critics of testing aren't necessarily anti-test. Many simply argue that summative standardized testing takes up too much time for too little practical benefit.
Although there is a great deal of emphasis on summative tests (after all, they count, right?) students and teachers spend more of their time on formative work. Because good test questions are hard to create, publishers have increasingly found schools and districts to be eager buyers of formative assessment tools for classroom use. Overall spending on formative (classroom) assessments surpassed spending on state tests in about 2011, according to Simba Information, a consultancy. Technavio (another consultancy) estimated in 2022 that the market for products in the area of educational assessment is growing at a rate of more than $1 billion per year.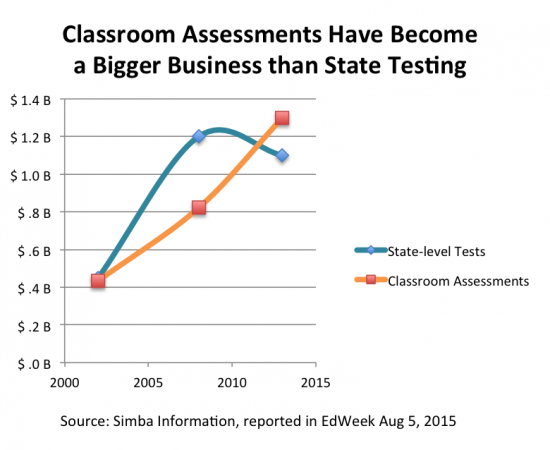 Technology for better testing
The distinctions between formative and summative tests have blurred. In the same way that games adapt to challenge the skills of the player, adaptive assessments adjust to find the boundaries of a student's readiness, avoiding questions that are either way too easy or way too hard.
If you feel as though your school is spending too much time and energy on tests, you might want to consider working with your principal or PTA leadership to gather some data. It is easier to have a productive conversation about the issue with facts in hand. Some have found it helpful to estimate the dollar value of time spent on testing. As discussed in Lesson 4.4, one way to go about this is to document the number of student-hours involved and multiply by the current hourly pay rate for an entry-level barista.
What gets tested gets taught
In business, there is a saying that "what gets measured gets managed." In education, the equivalent is "what gets tested gets taught."
Over time, tested subjects such as math and English have received more focus than those that are measured less often. The tendency to spend more energy, time, and resources on tested subjects can result in a phenomenon called narrowing the curriculum, which has been observed in many developed nations.
One response to this narrowing has been to create more standards in other subject areas, as the later lessons in this chapter describe. Standardized assessments exist for science and history/social studies. The standards for physical education, visual and performing arts, world languages, and career-technical education may guide instruction but they get much less attention from state leaders or the public. To provide comparable structure for other subjects and skills, some proponents of a well-rounded education suggest standards should be adopted and tested for life skill learning such as time management, self-control, teamwork, and personal finance.
How did the Pandemic change testing?
The pandemic upended many aspects of the educational system, including test-taking. The shift to online classrooms made it impractical for educators to administer assessments in schools. California's Department of Education announced that it would shorten the annual CAASPP tests because of the challenges presented by online learning.
Administration of tests was spotty in the pandemic. No one was very surprised when the benchmark NAEP test, delivered in abbreviated form, showed widespread declines. Yep, kids tend to learn more in person than they do over video. The academic damage was uneven though, leading to a fair amount of head-scratching.
The pandemic triggered a sudden and perhaps permanent change in the role of standardized testing in college admissions. Before the pandemic, most selective colleges required students to take the SAT or ACT as part of the application process. Many colleges and universities waived this requirement for 2020 applicants, then abandoned the requirements altogether.
For many years, colleges found standardized tests helpful as a way to identify strong applicants and defend their admissions decisions from charges of bias. By the time the pandemic began, however, many colleges were already looking to move beyond test scores in admission decisions in service of goals like diversity and inclusion.
In the next lesson, we delve into the use of technology in education, which was transformed by the Pandemic.