Tests (more formally known as assessments) have become an important part of the school experience in America. Tests come in two main flavors. It's worth understanding the difference.
Formative Assessments
Teachers use formative assessments to check whether students understand material they have been taught. These tests are generally short, focused, and used to guide instruction. ("OK, students, it looks like some of you are fuzzy on the difference between a simile and a metaphor. What's the difference… Andre?")
Traditionally, teachers created these tests themselves. Here's the problem: writing good test questions is hard. Some teachers are really good at it, but it's an area of expertise distinct from teaching, and time-consuming. As instructional materials have become more tightly aligned to standards, it has made sense for textbook publishers to include unit tests as part of their content. Bubble-test versions of these assessments can speed up scoring and give teachers rapid feedback. These assessments can also help teachers compare the effectiveness of their lessons, so that they can work together to improve.
Testing jargon: "Formative" assessments are like quizzes. Usually short, and used during a course to see if you're on on track. "Summative" assessments are like final exams that happen after the course is done to render a grade.
Supporters view these tests as a key to improving schools. They create clarity about standards in core academic areas. They strip away excuses, and provide focus to faculty discussions about effective instruction. Many outstanding schools make strong and consistent use of formative assessment data at all levels, from teacher to principal to district. These schools use assessment data to direct attention and resources to help specific students.
No educator would claim that formative assessment is unnecessary. Some argue, however, that the job of designing and delivering formative assessments belongs with the teacher, not the district or publisher.
Summative Assessments
Summative assessments are end-of-course or end-of-year tests. These tests assess cumulative knowledge of the content taught. All of the big standardized tests (CAASPP, SAT, TOEFFL, GED, Achievement, AP, NAEP, PISA and more) are summative. These tests permit comparisons between schools, teachers, programs and the like. They are also rather broadly disliked. Teachers do not get much useful feedback from the big annual standardized tests, which tend to deliver scores late and without much detail. Critics of testing aren't necessarily anti-test. Many simply argue that summative standardized testing takes up too much time for too little practical benefit.
Although there is a great deal of emphasis on summative tests (after all, they count, right?) students and teachers spend more of their time on formative work. It's hard work to write good assessments, and publishers have increasingly found schools and districts to be eager buyers of formative assessment tools for classroom use. Overall spending on formative (classroom) assessments exceeds spending on state tests, according to Simba Information, a consultancy.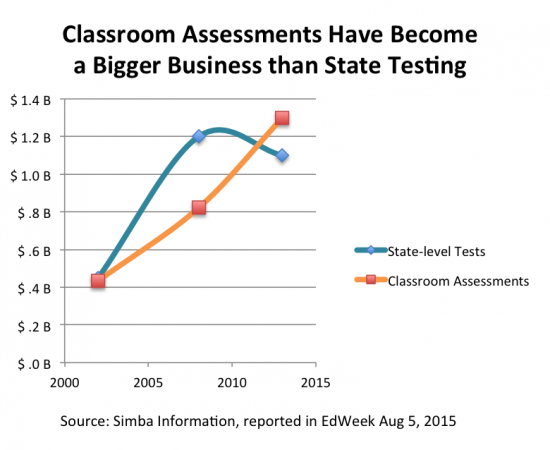 Technology for Better Testing
The distinctions between formative and summative tests have blurred slightly through the use of technology-assisted adaptive assessments such as the CAASPP, California's main state test. In the same way that games adapt to challenge the skills of the player, adaptive tests adjust to find the boundaries of a student's readiness, avoiding questions that are either way too easy or way too hard. Some supporters of adaptive testing compare summative testing with old-time grocery stores that had to close in order to take inventory. With better data systems, they can take stock on the fly.
If you feel as though your school is spending too much time and energy on tests, you might want to consider working with your principal or PTA leadership to gather some data. It is easier to have a productive conversation about the issue with facts in hand. Some have found it helpful to estimate the dollar value of time spent on testing. As discussed in Lesson 4.4, in California the average value of a student-hour (based on the operational cost of education) tends to roughly track the minimum wage.
What gets tested gets taught
In business, there is a saying that "what gets measured gets managed." In education, the equivalent is "what gets tested gets taught."
Over time, tested subjects such as math and English have received more focus than those that are measured less often. The tendency to spend more energy, time, and resources on tested subjects can result in a phenomenon called narrowing the curriculum.
One response to this narrowing has been to create standards in other subject areas, as the later lessons in this chapter describe. Standardized assessments exist for Science and history/social studies. The standards for physical education, visual and performing arts, world languages, and career-technical education may guide instruction but they get much less attention from state leaders or the public. To provide comparable structure for other subjects and skills, some proponents of a well-rounded education suggest standards should be adopted and tested for life skill learning such as time management, self-control, teamwork, and personal finance.
How did the Pandemic change testing?
The pandemic upended nearly every aspect of the educational system, including test-taking. The shift to online classrooms made it extremely difficult for educators to administer assessments in schools. As a result, many in the educational community tried to reduce – at least temporarily – the role of standardized testing. For example, many colleges and universities waived their ACT/SAT requirements for 2020 applicants. In November 2020, California's Department of Education announced that it would shorten its yearly CAASPP tests because of the challenges presented by online learning.
No one knows whether this trend will continue. Summative assessments, and their enormous role in K-12 education, have been under fire for years. Some believe that the pandemic may trigger a permanent change. For many years, colleges found standardized tests helpful, partly as a way to defend their admissions decisions from charges of subjectivity. If colleges find that the tests don't serve this purpose, they will stop requiring them, or perhaps even stop accepting them. Some argue that this would be a very difficult decision.
In the next lesson, we delve into the use of technology in education, which was transformed by the Pandemic.