California's student body is diverse
California has the largest and most diverse population in America. Diversity has many forms, and this lesson explores several of them — Ethnic and racial diversity, linguistic diversity, religious diversity, sexual orientation, and gender identity.
About six million of California's nearly 40 million residents are students in K-12 schools. Relative to other states, California's population is fairly youthful.
Ethnic and racial diversity
People from all over the world move to the Golden State to live, work, and learn. People also move away, as summarized in a data-rich visual report from CalMatters titled California Migration. Currently, California's level of population inflow/outflow is generally comparable to other states according to this analysis, but the demographic history of the state has been dominated by growth through immigration.
More than half of California's K-12 students are Latino/Latina (Latinx). Over a period of roughly 30 years, the state's K-12 schools added about 2 million Latino students, accounting for all of the net growth in California K-12 enrollment.
As of 2023, Latinx students make up 56% of the student body of California's public schools. Non-Latinx white students account for 20%. Most of the remaining students are Asian (9.5%), African-American (4.7%), or Filipino (2.2%). About 7% of California students associate themselves with none of the above or a blend of two or more.
Over ~30 years, California's student body grew by more than 2 million Latinx students. This huge shift accounted for all of the net growth in California enrollment.
California's student body is very different than that of the United States as a whole, as this chart shows:
Diverse, but not necessarily blended
As a whole, the student body of California is impressively diverse. In practice, people tend to live in clusters.
For example, only a tiny percentage of California's total student body is Armenian or Persian, but these are the largest cultural groups in Glendale. In Pacifica, many students speak Tagalog. In Westminster, many students speak Vietnamese. Yuba City is home to many Punjabi speakers.
San Francisco Unified School District has a diverse student body, in total, but each school is its own community. Some schools are very diverse and others less so. In southern California, more than 250,000 students attend schools where more than 95% of students are Latinx.
Demographers often measure ethnic diversity using the Diversity Index, a statistical evaluation of the odds that two people selected at random from a sample will be of a different ethnicity. Statewide, California's diversity index in 2022 was 46, implying that there's about a coin-toss chance that the next person you bump into randomly will be the same ethnicity as you. Obviously, there's a big difference between statistical diversity at the state level and lived experience as an individual. You can check the diversity index of your school and district on Ed-Data.org.
California's linguistic diversity
Nearly half of California's students speak a language other than English at home. The vast majority successfully learn English through their education; less than a quarter of California's students are classified as English Language Learners (abbreviated EL or ELL), still in the process of reaching proficiency in English.
California's public schools educate students from virtually every cultural and linguistic background on the planet.
Most of California's English Learners speak Spanish at home, but any given school might have a cluster of English Learners who speak Vietnamese (1.9% of English Learners), Mandarin (1.8%), Arabic (1.4%), Cantonese (1.2%), Russian (1.0%), or any of dozens of other languages. (Click image for 2022-23 data.)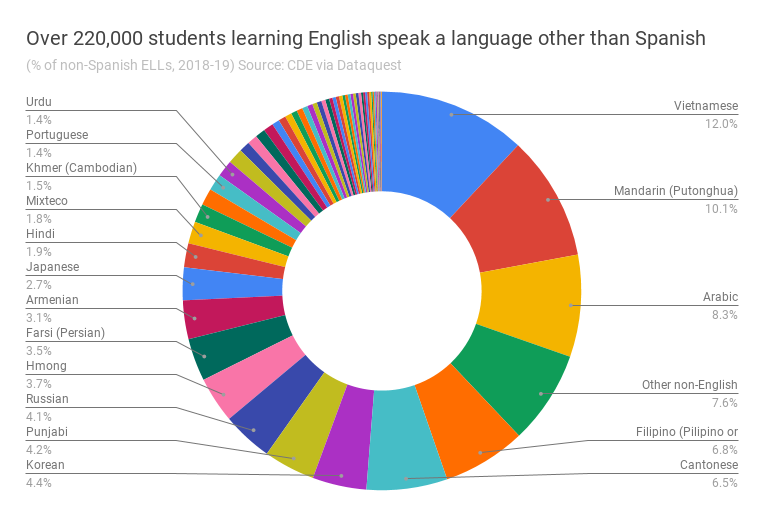 Immigration status diversity
How many students are undocumented?
The biggest changes in California demographics have been driven by immigration, primarily from Mexico. Statistics regarding the immigration status of California's students and their families are imprecise. As discussed in Lesson 2.9, undocumented students are a small part of this shift, accounting for perhaps one in every 30 students enrolled in California public schools.
In 1982 the US Supreme Court ruled 5-4 in Plyler v. Doe that immigration status cannot serve as a condition for enrollment in American public schools. Access to public education is open to all students residing in the US, regardless of immigration status. This right includes higher education; the California Dream Act extended in-state tuition benefits to all residents. After about a decade of litigation, in 2010 this policy was upheld by a unanimous ruling of the California state Supreme Court.
Religious identity
Most young people adopt the religious affiliation of their parents. It follows that California's religious diversity reflects the history of immigration to the state. Catholics are the largest single group, reflecting the long history of immigration from Latin America. For more information about religious diversity in California, visit the Pew Research Center.
Sexual Orientation
California has played a leading role in moving the American public toward accepting of another kind of diversity: sexual orientation and gender identity. For most young people, the struggle for marriage equality is history. Students are likely to know teachers or other adults who don't conceal their orientation.
The Williams Institute, a think tank at the UCLA School of Law, studies changing public views of sexual orientation and identity. What percentage of adults are gay, bisexual, or something else? What can be reasonably predicted about the future identities of today's students? It's hard to know, partly because people don't always feel inclined to disclose their feelings to themselves, much less some random researcher!
Gender Identity
Part of the experience of growing up is figuring yourself out, including sexual orientation and gender identity. In the past, these topics were widely taboo, but with each generation, the levels of acceptance and candor appear to be roughly doubling:
These big numbers, in total approaching a fifth of the youngest adult generation, are driving new understanding. In terms of sexual orientation and gender identity, American society is far more diverse than it lets on.
School systems play a critical role in supporting all children through their adolescence, in part by encouraging them to accept and respect themselves, as well as people different from themselves.