As discussed in the previous lesson, California is a chronically skimpy spender on public education.
This is bad news for California students, especially because California is an unusually expensive state in which to run a school. Most of the costs of a school are "people" costs. Salaries in California are higher than in other states, and that means California school districts can afford fewer of the things that make up a school -- such as teachers, school leaders, counselors, aides, and support staff.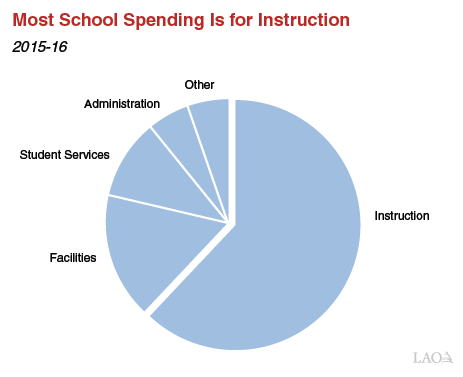 Context Matters A dollar's a dollar, some folks tell ya / As if it were really true / But teachers cost more in California / Than teachers in Texas do.
Because California is a high-wage, high-cost-of-living state, education dollars don't go as far here as they do in Texas or Florida, which fund students at a level roughly comparable to California. Other high-wage, high-cost states such as New York, Connecticut, New Jersey and Massachusetts invest considerably more per student than California does.
These differences make it confusing to compare spending on education among the states. What should be compared, the dollars spent? The dollars spent per pupil? The relative purchasing power of the dollars spent per pupil? The funding for education relative to other priorities? When publications rank the states, they take different approaches to this question — EdWeek even restates the value of money in each state, publishing a widely-read report that can lead to a lot of confusion. (To become a fully-qualified nerd on this subject read this issue brief from the California Budget & Policy Center.)
In the above chart, the "bubbles" represent states, each sized according to the number of public K-12 students enrolled. The vertical axis shows expenditures per student in each state. The horizontal axis shows average teacher salary. Generally, the bubbles align diagonally; states with high teacher salary costs spend more per student, and states with lower teacher salary costs spend less. The color of the bubbles reflect the student-teacher ratio in each state; warmer colors represent states with more students per teacher, an indicator of larger average class sizes.
The student-teacher ratio in California is much higher than in the rest of the US
California stands out as a big orange bubble: a high-cost state with low expenditures per student, resulting in high student-teacher ratios.
Fewer Adults
The math is unavoidable. Higher salaries and less money to pay for them means California children have fewer adults involved in their education. In January 2017, the California Budget and Policy Center explained the impact in a data-rich Fact Sheet: As usual, California ranked last in the nation in the number of K-12 students per teacher in 2015-16. California's student-to-teacher ratio was greater than 22-to-1, a massive 40% higher than the national ratio of 15.5 students per teacher. National figures are strongly influenced by California, which educates about an eighth of America's students. The ratio in the US excluding California is about 14.8 students per teacher.
Along with having the worst student-teacher ratio in the country, California ranked last or near last in terms of other school and district office staff as well, including administrators. So no, it is not a problem of "too much bureaucracy."
Comparing resources in schools (Based on California Budget and Policy Center Estimates for 2015-16 or *2012-13)
| | | | |
| --- | --- | --- | --- |
|   | California | Rest of USA | California rank |
| Students per teacher | 22.1 | 14.8 | Worst in USA |
| Students per counselor* | 790 | 414 | Worst in USA |
| Students per librarian* | 7,834 | 851 | Worst in USA |
| Students per administrator* (school site and district admin) | 315 | 192 | 47th in USA |
Parent groups, local education foundations, and philanthropists in California try valiantly to support their schools with fundraising of many types. But they cannot plug an operating gap of this magnitude.
The next two lessons explain the sources of school funding in California and how the state got into its current situation.