Nearly nine out of ten students in California finishes high school, eventually. But averages are dangerous abstractions. Imagine that you are in a Starbucks when Bill Gates walks in.
On average, you just became a billionaire. Right?
In order to make sense of averages, it is useful to find meaningful subgroups within a data sample. In the Starbucks example, we can probably refine our understanding by taking Bill Gates out of the sample - he is clearly an outlier. But that still would give us a flawed understanding of the wealth in front of the counter vs. behind the counter.
"Dropouts" are not random
Let's leave the coffee shop and return to education. The classic symptom of educational failure is when a student stops coming to school. Students that "drop out" are not random – they are disproportionately African American and Latino, and they disproportionately come from low-income families. (Persistent, systematic differences in educational attainment by ethnicity, income or gender are known as achievement gaps, a subject much studied in California by Education Trust-West.)
In the dry, neutral language of social science: low educational attainment is correlated with various social costs, including unemployment, low taxable earnings, homelessness, crime, and poor health.
The social costs are real, and high
"When a black male graduates... on average taxpayers benefit to the tune of about $294,000." -RAND
It's pointless to be neutral, though. When children don't get the education they need, everyone loses. The cost of failure is enormous. Scholars have tried to quantify the social costs.
In 2009 the RAND Corporation evaluated the likely average long-term benefit to taxpayers when a student graduates from high school rather than dropping out, adjusting for gender and ethnicity. When a black male graduates rather than dropping out of high school, RAND estimated that on average taxpayers benefit to the tune of about $294,000 (about $350,000 in 2018, adjusted for inflation). A 2013 report by Fight Crime Invest in Kids summarized the costs with a report from the perspective of law enforcement under the provocative title I'm the Guy You Pay Later.
Work by McKinsey found similar effects, characterizing achievement gaps as the economic equivalent of a "permanent national recession."
In 2011 the NAACP issued a report, Misplaced Priorities, to "track the steady shift of state funds away from education and toward the criminal justice system." In 2012, the White House Council for Community Solutions picked up the topic, commissioning research and coining the rather optimistic term "opportunity youth" for youth aged 16-24 who are neither in school nor working. The term changed again, (to "disconnected youth") in a series of reports from Measure of America, a project that compiles data about this costly, hard-to-serve segment. (See interactive charts.) In the aggregate, if America could persistently "connect" all young people as full participants in America's economy, our nation's balance sheet would expand on the order of about $5 trillion in taxes paid and direct costs avoided. That was trillion, with a "T," in case you missed it.
The cost of a year of prison is about seven times the cost of a year of education. This ratio is even higher in California than in most other states, but the long-term rising costs of incarceration are a national challenge. Since 1970, in every state expenditures for incarceration have grown faster than investment in education.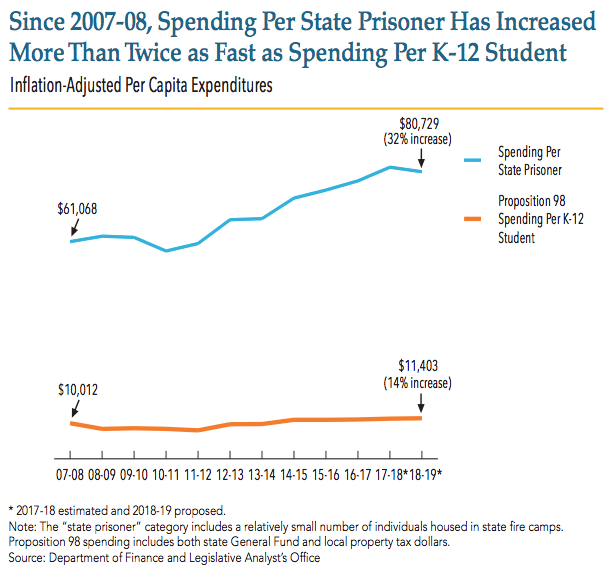 It's important not to be confused by this statistic. Keeping someone in a prison for a year is much more expensive than educating a student for a year, but happily there are far more students than prisoners. Governments spend significantly more on their education systems than they do on their prison systems.
Taxpayers are not the only ones to benefit, of course, when an at-risk student (or "opportunity youth" or "disconnected youth") persists in school. The biggest beneficiary is the student. The personal stakes of educational attainment are huge. According to year after year of data from the US Census Bureau, economic prospects improve dramatically with every additional year of educational attainment.
Educational success benefits everyone
The College Board updates its ambitious Education Pays report every three years. According to the 2013 report, "during a 40 year full-time working life, the median earnings for bachelor's degree recipients without an advanced degree are 65% higher than the median earnings of high school graduates." In the 2016 report this advantage was unchanged.
As in the coffee shop, averages can lie. The Education Pays report does a good job of sketching the broad systematic variations. For example, at any given level of educational attainment, earnings for women and minorities lag earnings for white men.
Deficit-Attention Disorder
Because the social cost of failure is so high, it's easy to hyper-focus on the problems, ignoring the experiences of the young people who do quite well. Dr. Robert K. Ross, President and CEO of the California Endowment, calls this phenomenon "Deficit-Attention Disorder." In a 2016 report "The Counter Narrative," UCLA Professor Tyrone C. Howard flips the focus, exploring patterns of resilience and success among black and Latino males in Los Angeles County.