Attracting talented people to the teaching profession in sufficient numbers has become difficult in California. Part of the challenge is demographic.
The National Center for Education Statistics (NCES) regularly surveys the demographics of teachers. Women comprise more than 80% of the teaching workforce in elementary grades and more than half of it in secondary grades. Less than one in five elementary-grade teachers is a man. This ratio has remained stable for generations.
Over 80% of teachers in elementary grades are women
In 1964, over half of working women with college degrees were teachers. But by 1996 the ranks of working college-educated women had grown dramatically. The teaching profession's share of educated women's work fell to 15%.
In movies and TV shows, teachers are usually cast as white women. There's a reason. According to California's Department of Education, white women account for nearly half of California's teaching staff (47% in 2016-17). The second largest group is white men (17%).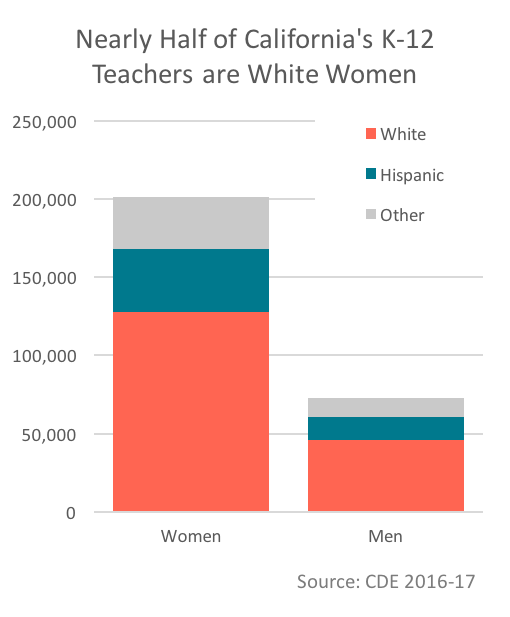 It's not just a California thing, either. Across the country, most teachers are white, and it's not changing quickly.
The lack of diversity in the teaching profession is bad for kids. There is evidence that students benefit from having teachers of diverse backgrounds. In particular, black male students tend to do better in school when they have at least one black male teacher.
Teaching is a Choice
With increased professional options for women, the teaching profession has struggled to attract top candidates. In the 1960s, about a quarter of all female teachers graduated in the top 10% of their college class. By the 1990's, only a tenth did so.
K-12 education is very labor-intensive, and therefore expensive. Staff-related costs (wages and benefits) are by far the largest category of expense in the school system. As the US economy has grown more productive, wages for jobs requiring a college degree have risen at about twice the rate of inflation. Teacher pay, which has merely kept pace with inflation in the last 40 years, has failed to keep up with this trend.
Wages for jobs requiring a college degree have risen at about twice the rate of inflation. Teacher pay has merely kept pace with it.
As young people make choices about their future career, the relative attractiveness of pay makes a difference. Over time, in most states wages for teaching have failed to keep pace with the average growth in wages. California is a rare exception.
Teaching is Attracting Fewer Top Students in America
Ultimately, the supply of teachers depends on the attractiveness of the teaching profession. As these demographic changes have taken place, teaching has become less attractive relative to alternative professions.
In an analysis of 2001 data, McKinsey, a consultancy, compared teachers in the US with top-achieving school systems such as Finland, Singapore, and South Korea. They found that these education-focused countries consistently attract teachers from the top ranks of college graduates, and that teachers in these countries earn salaries comparable to lawyers and engineers. In the US, by contrast, they found that teaching disproportionately attracts graduates from the bottom third of college graduates.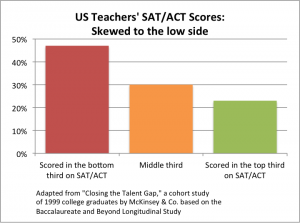 Research by ACT in 2015 confirmed the conclusion. Many high school students take the ACT exam as part of the process of applying for college. Along with the exam, students are asked to fill out a survey indicating their interest in various college majors. "Interest among ACT-tested graduates in becoming educators continues to decline at an alarming rate," reports ACT in its 2015 Conditions of Future Educators. "Students interested in education have lower-than-average achievement levels, particularly in STEM areas." The declining interest in education as a profession is more acute in California than in other states like New York. Nationally, ACT found that about five percent of those taking the ACT test were interested in teaching or other education-related professions. In California, only three percent expressed interest in education-related work.
Does it actually matter whether teachers have strong academic qualifications before they begin teaching? California doesn't collect the necessary data to answer the question. Research from Missouri, however, suggests the answer is a resounding yes, at least for mathematics. Better-scoring teachers deliver better-scoring students.
How to get great teachers. Even men.
If you want brilliant people to become teachers, ask them. They might say yes. The power of asking is a core part of the recruiting success of Teach for America, a non-profit organization that actively encourages top talent from top colleges to enter the teaching profession.
Asking is also a key strategy of the EnCorps STEM teachers program, which recruits experienced STEM Experts to become teacher-leaders serving high-need students. If you're wondering whether teaching is for you, and what would be involved in making a career switch, have a look at Teacher.org.
The United States could learn a lot from other countries about how to make teaching a highly sought-after profession. A 2015 report by the Center on International Education Benchmarking, How High-Performing Systems Shape Teaching Quality Around the World, examines the recruitment and selection practices in five countries with a reputation for good teaching. It finds that money and status count:
Because teaching is generally a well-respected and well-paid profession that many individuals want to join, top-performing education systems have an abundance of candidates from which to choose.
The selection process for teachers in these countries extends beyond academics. These countries select for a variety of skills and personal qualities, such as:
Ability to work well with children and to collaborate with adults.
Personal and communication skills.
Conceptual, analytic, and problem-solving abilities.
Self-selection plays an important role in the teaching workforce, and cultural norms can play a limiting role. More women than men work as teachers, particularly in early grades and especially in preschools. American culture doesn't routinely or automatically suggest to men that teaching can be a good career choice for them. It's not an easy impression to change, but not impossible, either. For example, changes in the nursing profession offer some hope. In 1980, less than 3% of registered nurses were men; today the percentage is closer to 12% according to the American Community Survey of the US Census Bureau.
Teachers Have Better Work Stories
In 2018, the Ad Council launched a campaign in support of the teaching profession under the theme "Teachers have better work stories." Here's a sample: