Attracting talented people to the teaching profession is difficult in California.
This lesson opens our chapter about teachers with the basics: who teaches?
Who teaches? Mostly women.
It probably won't surprise you to hear that 3/4 of public school teachers in America are women. The ratio varies with grade level. In elementary grades, nearly nine out of every ten teachers is a woman, with an even higher fraction in the earliest grades. In high schools, the ratio is lower — about 2/3 of teachers are women.
The National Center for Education Statistics (NCES) keeps track of national trends in the teaching workforce. Changes have been very gradual. Overall, eight out of ten teachers are white, and white women make up about half of the teaching force in America. In California, the picture isn't all that different — nearly half (45%) of teachers in public schools are white women. (For comparison, about 10% of students in California public schools are white girls.)
Nearly 90% of teachers in elementary grades are women
The gender skew in teaching has deep historical roots. Before the civil rights era, American culture and policies discouraged or forbid women from working in most job categories other than teaching and nursing. In 1964, more than half of working women with college degrees were teachers. As other job categories gradually opened to women, teaching lost its privileged access to college graduates. By 1996, the teaching profession's share of employment for female college graduates had fallen to 15%.
It's not just a trend in California, either. Across the country, most teachers are white, and it's not changing quickly.
The lack of diversity in the teaching profession is bad for kids. There is evidence that students benefit from having teachers of diverse backgrounds. In particular, black male students tend to do better in school when they have at least one black male teacher.
Self-selection plays an important role in the teaching workforce. American culture doesn't routinely suggest to men that teaching can be a good career fit for them. It's not an easy impression to change, and teaching isn't the only profession facing this challenge. In 1970, less than 3% of registered nurses were men; as of 2022, the percentage remained stuck at 12%.
Teaching is a choice
K-12 education is labor-intensive and therefore expensive. Staff-related costs (wages and benefits) are by far the largest category of expense in the school system.
Teacher pay has merely kept pace with inflation.
As the US economy has grown more productive, wages for jobs requiring a college degree have risen at about twice the rate of inflation. The average teacher's salary, which has merely kept pace with inflation in the last 50 years, has failed to keep up with this trend.
There's much more to know about teacher compensation, which will be further explored in Ed100 Lesson 3.8 (Teacher Pay) and Lesson 3.11 (Teacher Pensions). For now, the big point is that pay for teachers isn't high enough to be much of a force for diversifying the profession or sustaining the quality of future educators.
Is teaching attracting fewer top students?
Nobody expects to get rich as a teacher. Pay isn't the only thing that matters to talented young people as they choose a profession, luckily. But it does matter, and not just for rent and college loans. As young people make choices about their future career, the relative attractiveness of pay contributes to the reputation of the profession. Over time, teacher pay has tended to grow more slowly than pay in other work. It's a contributing factor to a real problem pointed out in a study by McKinsey in 2010: "The quality of an education system cannot exceed the quality of its teachers." …and the strongest students don't tend to choose to become teachers.
Research by ACT in 2015 confirmed this conclusion. Many high school students take the ACT exam as part of the process of applying for college. Along with the exam, students were asked to fill out a survey indicating their interest in various college majors. "Interest among ACT-tested graduates in becoming educators continues to decline at an alarming rate," reported ACT in its report, 2015 Conditions of Future Educators. "Students interested in education have lower-than-average achievement levels, particularly in STEM areas."
In 2022, a study by a team of researchers at the Annenberg School at Brown University again found a serious reason for concern: a precipitous and broad decline in overall interest in a teaching career:
Perceptions of teacher prestige have fallen between 20% and 47% in the last decade to be at or near the lowest levels recorded over the last half century. Interest in the teaching profession among high school seniors and college freshman has fallen 50% since the 1990s, and 38% since 2010, reaching the lowest level in the last 50 years. The number of new entrants into the profession has fallen by roughly one third over the last decade, and the proportion of college graduates that go into teaching is at a 50-year low. Teachers' job satisfaction is also at the lowest level in five decades, with the percent of teachers who feel the stress of their job is worth it dropping from 81% to 42% in the last 15 years.
Do teachers' qualifications and 'smarts' matter?
Does it actually matter whether teachers have strong academic qualifications and general ability? California pointedly doesn't collect the necessary data to associate teachers with student outcomes, but the answer is obvious.
Big-picture economic research suggests that across the globe, students tend to have higher reading and math skills when their teachers have better cognitive skills in literacy and numeracy, and the difference drives the economic future of states and nations. In a study of teachers and students in the U.S., celebrated economic researcher Raj Chetty demonstrated patterns of strong connection between the quality of teachers and the learning outcomes of students. On a smaller scale, research from Missouri also confirmed the finding, at least for mathematics: Better-scoring teachers deliver better-scoring students.
How to get great teachers. Maybe even men.
If you want brilliant people to become teachers, ask them. They might say yes. The power of asking is a core part of the recruiting success of Teach for America, a non-profit organization that actively encourages talented people to enter the teaching profession.
Asking is also a key strategy of the EnCorps STEM teachers program, which recruits experienced STEM Experts to become teacher-leaders serving high-need students. If you're wondering what would be involved in making a career switch, have a look at Teacher.org.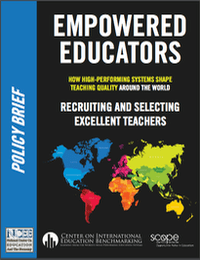 The United States could learn a lot from other countries about how to make teaching a highly sought-after profession. A 2015 report by the Center on International Education Benchmarking, How High-Performing Systems Shape Teaching Quality Around the World, examines the recruitment and selection practices in five countries with a reputation for good teaching. In those countries, the researchers report that money and status count:
"Because teaching is generally a well-respected and well-paid profession that many individuals want to join, top-performing education systems have an abundance of candidates from which to choose."
The selection process for teachers in these countries extends beyond academic signals. These countries select for a variety of skills and personal qualities, such as:
Ability to work well with children and collaborate with adults.
Personal and communication skills.
Conceptual, analytic, and problem-solving abilities.
The next lesson in this chapter explains California's systems for preparing and certifying teachers.