Attracting talented people to the teaching profession in sufficient numbers has become difficult in California. Part of the challenge is demographic.
The National Center for Education Statistics (NCES) regularly surveys the demographics of teachers. Women comprise more than 80% of the teaching workforce in elementary grades and more than half of it in secondary grades. Less than one in five elementary-grade teachers is a man. This ratio has remained stable for generations.
Over 80% of teachers in elementary grades are women
In 1964, over half of working women with college degrees were teachers. But by 1996 the ranks of working college-educated women had grown dramatically. The teaching profession's share of educated women's work fell to 15%.
In movies and TV shows, teachers are usually cast as white women. There's a reason. According to the NCES, about 2/3 of teachers identified as white in the 2014-2015 school year. As for the remaining 1/3, about half of them were Hispanic or Latino.
Teaching is a Choice
With increased professional options for women, the teaching profession has struggled to attract the strongest candidates. In the 1960s, about a quarter of all female teachers graduated in the top 10% of their college class. By the 1990's, only a tenth did so.
K-12 education is very labor-intensive, and therefore expensive. Staff-related costs (wages and benefits) are by far the largest category of expense in the school system. As the US economy has grown more productive, wages for jobs requiring a college degree have risen at about twice the rate of inflation. Teacher pay, which has merely kept pace with inflation in the last 40 years, has failed to keep up with this trend.
Wages for jobs requiring a college degree have risen at about twice the rate of inflation. Teacher pay has merely kept pace with it.
Teaching is Attracting Fewer Top Students in America
Ultimately, the supply of teachers depends on the attractiveness of the teaching profession. As these demographic changes have taken place, teaching has become less attractive relative to alternative professions.
In an analysis of 2001 data, McKinsey, a consultancy, compared teachers in the US with top-achieving school systems such as Finland, Singapore, and South Korea. They found that these education-focused countries consistently attract teachers from the top ranks of college graduates, and that teachers in these countries earn salaries comparable to lawyers and engineers. In the US, by contrast, they found that teaching disproportionately attracts graduates from the bottom third of college graduates.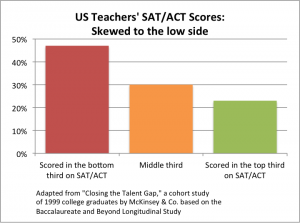 Research by ACT in 2015 confirmed the conclusion. Many high school students take the ACT exam as part of the process of applying for college. Along with the exam, students are asked to fill out a survey indicating their interest in various college majors. "Interest among ACT-tested graduates in becoming educators continues to decline at an alarming rate," reports ACT in its 2015 Conditions of Future Educators. "Students interested in education have lower-than-average achievement levels, particularly in STEM areas." The declining interest in education as a profession is more acute in California than in other states. Nationally, ACT found that about five percent of those taking the ACT test were interested in teaching or other education-related professions. In California, only three percent expressed interest in education-related work.
How to get great teachers. Even men.
To overcome this macroeconomic challenge to the attractiveness of teaching, take a direct approach. If you want brilliant people to become teachers, ask them. They might say yes. The most prominent example of this strategy is national college-campus recruiting powerhouse Teach for America, which actively recruits top talent from top colleges to begin their careers by teaching at least for two years.
Teaching is not always a first career, however. For example, California-based Encorps (founded by a former member of Full Circle Fund) recruits talent among experienced professionals who want a meaningful next career. If you're wondering whether teaching is for you, and what would be involved in making a career switch, have a look at Teacher.org.