America is a tossed salad of languages.
California's population has grown through immigration from all over the planet, and its students reflect that diversity. America's multi-lingual character has everything to do with the recent history of immigration.
Unfortunately, it has rather little to do with education that children receive in schools.
Learning a language takes time. But few American K-12 school systems seriously embrace the multi-year work of preparing students to build proficiency in a language other than English. Mastery of a second language is simply not expected of most American children.
This is quite a blind spot.
Patricia Kuhl studies language acquisition in babies. She has found that children learn the sounds of language very early, and that the aptitude for identifying the sounds of language declines sharply with age. Her TED Talk on the subject is well worth watching.
In the last two decades, China has transformed itself from being economically isolated to being vitally connected to every part of the world market, including America. Arabic-speaking countries have become vitally important to America. But few American students even have the option to learn these languages during their pre-teen years, when they are linguistic sponges.
California requires zero years of world language instruction in elementary and middle school.
Research on language and brain development finds that until about age six or seven, children are "linguistic geniuses". This ability steadily declines as you grow older. It is incredibly important to start to learn a second language when you are young. America's current tendency to leave world language instruction to middle and high school years is devastating from the perspective of results. Most nations require foreign language instruction in several elementary and middle school grades, when kids are good at learning them. California requires zero years of world language instruction in elementary and middle school.
Many California school districts require students to study a world language for at least one year, though the state does not require it. To qualify for a public four-year college in California, students must take at least two years of world language in high school.
Signs of Change: Biliteracy
Even though California's original state constitution was written in both English and Spanish, public opinion has not always embraced multilingualism. Proposition 227, passed in 1998, required that most classes in California be taught in English. This initiative was overturned by another, Proposition 58, in 2016.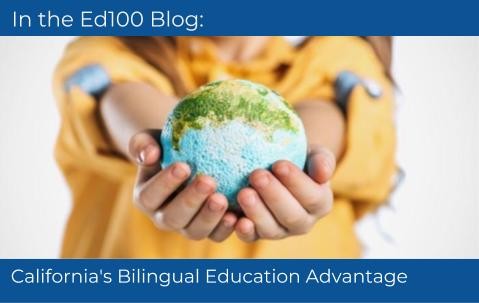 The new rules remove some obstacles to creating a bilingual or two way immersion program in your school. They also should contribute to demand for multi-lingual teachers, which are in short supply. School districts with large numbers of English Language Learners are recognizing the bilingual advantage and creating more dual language learning opportunities, a topic we explore in more detail in the Ed100 blog.
California is attempting to embrace second language learning. In 2018, the state passed a law to use the term "world language" in the education code. This change is a nod to the huge diversity in the state and an effort to be more inclusive. This change recognizes that there really is no "foreign" language in California.
The state took another symbolic but meaningful step to highlight the value of knowing multiple languages by creating The State Seal of Biliteracy. This program recognizes high school graduates who have attained a high level of proficiency in speaking, reading, and writing one or more languages in addition to English.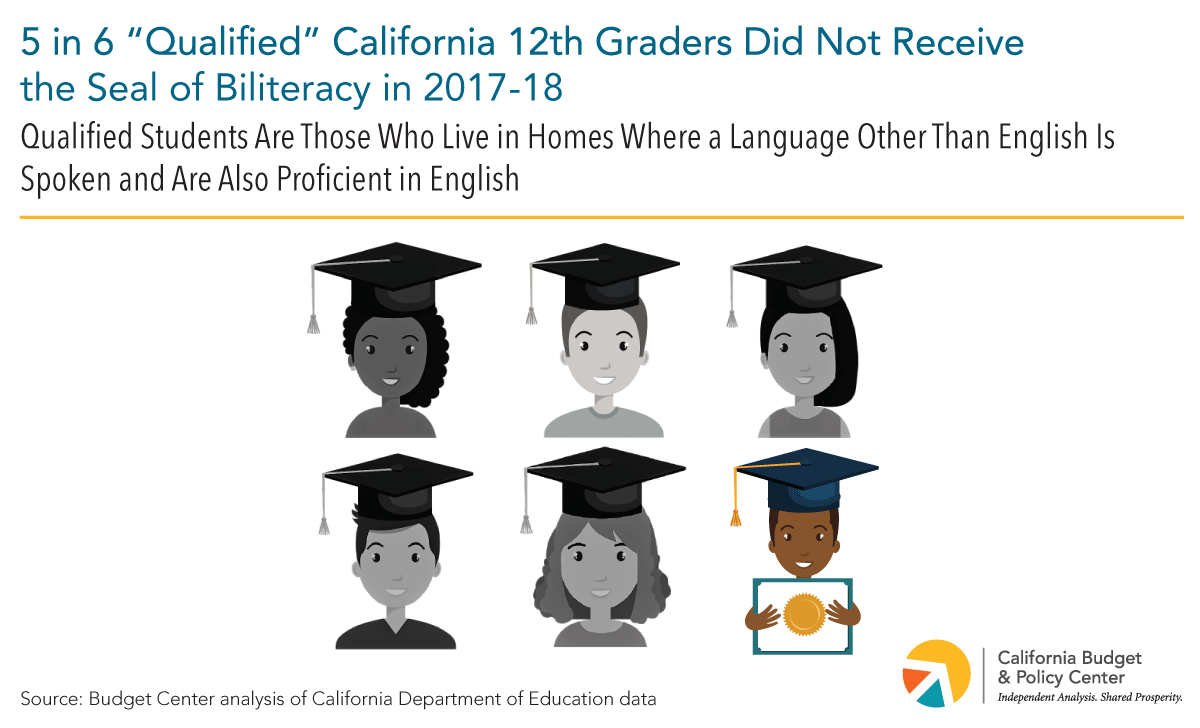 In 2018, more than 55,000 students earned this seal on their diploma, but many should have. Districts have been slow to implement the program. By 2030, the California department of education hopes to expand to 150,000 students through the Global California 2030 program. If you want to request seals for graduating students at your school, you need your school district to use the request form.
Speaking American
Almost all countries in the European Union require foreign language study beginning in elementary school
Outside the United States, multilingualism is widespread. In China, for example, students learn their local dialect as well as Mandarin and, more recently, English. Almost all countries in the European Union require foreign language study beginning in elementary school, and many choose English. Hey, why not just expect the rest of the world to learn English? (Yes, that was rhetorical.)
America has a long history of "assimilating" immigrant groups, including linguistically. Preserving the language skills that immigrant children bring with them has not been consistently viewed as important. For decades, "foreign" language instruction, when offered, was an academic elective.
For English speakers, some languages are more difficult to master than others. According to the Foreign Service Institute, which trains American diplomats, it takes an average English speaker 2,200 hours to become proficient in Mandarin or Arabic, but only 600 hours to learn Spanish, French or Italian.
And the hardest language in the world for native English speakers? Japanese. The written language uses ideograms based on Chinese characters, but the characters can be pronounced in different ways depending on context. It also features nuances to express humility and respect that flummox many Americans.
Next Steps
Learn more from these sites: