Are California's schools behind? It's a fine question, but let's back up a little. How can we know?
Each year, a statistically rigorous sample of 4th and 8th graders takes tests for the "Nation's Report Card." Education insiders rarely call it by that name. To insiders, these tests are known as the National Assessment of Educational Progress, or NAEP. (It's pronounced "nape." So now you know.)
Very few children actually take the NAEP tests.
Very few children actually take the NAEP tests. These are not the tests that all students are required to take each year. The purpose of the NAEP is narrow: it is meant to serve as a statistically meaningful barometer for the system as a whole, without regard to individual schools. As a sample of all schools, it suggests how well students know the basic academic content associated with their grade level. It is designed to be consistent from place to place and from year to year. The scores, though imperfect, enable researchers and policymakers to monitor and health of the overall education system, and to compare student achievement between states, grades, subgroups and years.
NAEP scores don't tend to change quickly, though. Frankly, almost nothing in the education system changes quickly -- and this is a recurring theme of Ed100.org. Each year, scores bump up or down a point or two, but the best predictor of next year's score tends to be last year's score. It makes sense, right? The education system is like an armada of giant ships, each rowed by thousands of little oars. Each year the people rowing have a lot in common with those who rowed the year before. The underlying currents surrounding a school community tend to change slowly, too. Books and tools might change a little. Teachers evolve their lessons, or move, or retire, or shift grades. But on the whole, change tends to happen slowly in each school system.
California's children tend to score poorly on the NAEP tests. The chart below shows the overall rate at which children in each state have scored "proficient" or better over time. (It averages fourth and eighth grade math and reading scores.)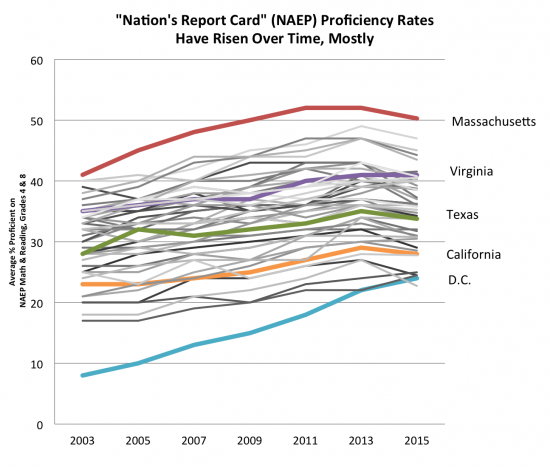 Unfortunately for California kids, these stubborn scores appear to matter. Most education researchers reckon that a ten-point difference in NAEP scores represents about a year of difference in academic learning. If true, California's students are years behind those in top-scoring Massachusetts.
Perhaps these tests aren't quite fair to California students. For example, in 2013 the design of the NAEP test differed quite a bit from the state test California used at the time, but the Massachusetts test design was closer. Administration of the test varies a little my state, too -- for example, some states provide extra testing time to English learners. Texas exempts students from the test if they are so new to English that they would bomb it. These small differences in administration probably matter a bit; small differences in state scores shouldn't be taken too seriously. Also, maybe the rule of thumb is wrong. Maybe ten points of difference isn't equivalent to a year, but more like nine months. Or six. Anyway, tests don't tell the whole story, right? There are many ways to measure Success.
California's children are not within quibbling distance of the skills of children elsewhere in the country.
These quibbles miss the point. The fourth grade reading assessment evaluates whether children can read short passages and understand them. Based on the numbers, California's children are not within quibbling distance of the skills of children elsewhere in the country. Ask a family that has moved to California from the east coast for their perspective. They will probably tell you that California's schools feel easier, and that class sizes are a lot bigger. The differences are statistically significant, but also personally significant.
Does it matter if California children start off slowly, one might ask, so long as they catch up later? Unfortunately, they don't. For many years, research has shown that children not reading at grade level by the end of third grade are at serious risk of never graduating from high school. California's 8th grade NAEP reading scores remain consistently among the worst in the nation.
Are poor results somehow better for California, or for kids, if they can be "explained...?"
Could California's awful results be explained by demographics, some ask? This question begs another in return: should it matter? Are poor results somehow better for California, or for kids, if they can be "explained" by the state's larger numbers of non-white children and children in poverty? The children in our schools grow up to become the workers and leaders of our communities. If we want California to have a bright future, can we afford to accept demographics as an excuse for bad scores?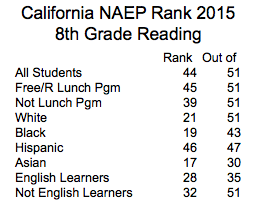 In any case, the data leave no room for denial. California's children in poverty generally score behind those in other states, as do California's Latino students. But the rest of California's children aren't exactly leading the parade, either.
Is there someone to blame? Is there a villain in this tale? Is it the fault of the students themselves, or their parents? Or perhaps lawmakers, or unions, or voters, or teachers, or administrators, or the courts? Or perhaps teacher training systems, or textbooks, or the health system? Is it because California is too big?
Themes of Ed100
As you read Ed100, a few themes will emerge. California's education system is massive, but education is personal. Easy answers are tempting, but usually wrong. For education to work well, many things have to work well at the same time.
You are reading Ed100 because you want to do something about these facts. There are many approaches to change, and we will explore them one by one. But the purpose of chapter one is to lay the groundwork first. So let's broaden the context a bit. The next lesson examines how California compares not just to America, but to the world.