Most Californians, when asked, express concern about the public school system. The concern isn't limited to California. Gallup, the polling company, reports that public confidence in schools has fallen by half since its peak in 1975.
"I know the system has problems"
Beneath this general concern about the quality of public education, however, lies a paradox: parents generally think that their own school is just fine.
The Public Policy Institute of California (PPIC) conducts an annual survey that asks Californians to rate the quality of the schools in their neighborhood. About half award a grade of A or B. These numbers are very stable from year to year. Public school parents are even more sanguine than residents generally: in 2012, 60% gave their neighborhood schools a grade of A or B. In 2017, 61% did so.
In other words: "The system is broken, but I guess my school is fine."
"...but my school is OK"
Less than 30% of African American and Latino students qualify to even apply to a four year college
Unfortunately, this confidence is misplaced. Improving College Pathways in California, a 2017 study by PPIC, collected data on what actually happened to 472,324 California high school students on their journey to and through college. (Not an easy task, as we will discuss in our lesson about California's flimsy education data systems.) Using this data, they predict the future fate of students that entered 9th grade in 2017. According to their estimate, "only 30% of 9th graders will earn a high school diploma and complete the a–g college preparatory courses." (More about these courses later).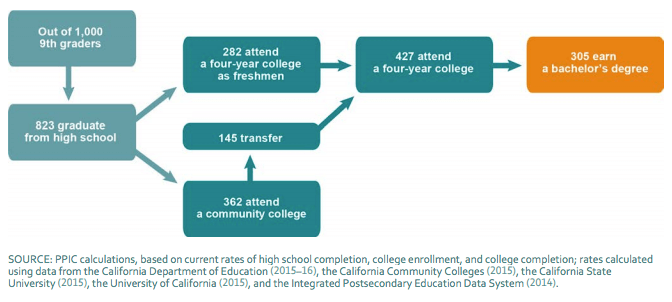 The 30% prediction conceals significant variations. Girls are more likely to graduate high school ready for college than than boys are, for example. Students from higher-income families succeed at higher rates. Race and ethnicity have predictive power, too. According to the model, "Only 25 percent of African American 9th graders will complete both high school and the a–g courses, compared to 65 percent of Asian Americans."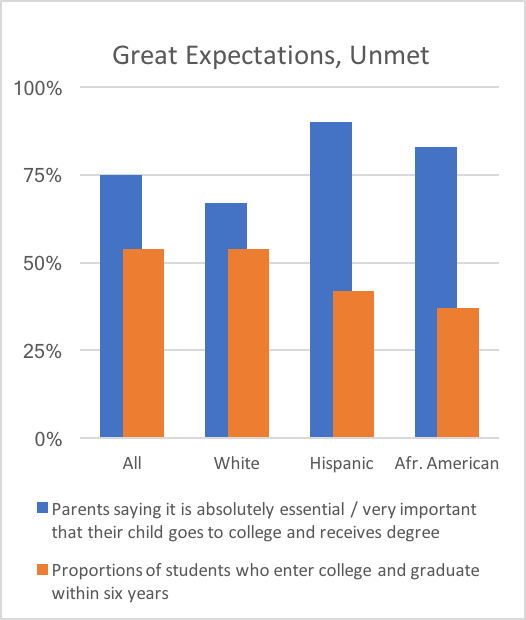 In other words: "Kids in general aren't getting the education they need, but I guess mine will be fine."
It's human nature to hear what you want to hear, and to look at what you want to see. Parents want to believe the best about their kids. It's also human nature (and good manners) to prefer to deliver bad news gently, with an emphasis on the positive. Teachers are no exception. Is it any wonder that parents prefer to draw conclusions about how their kids are doing from report cards and parent-teacher conferences, rather than from their kids' scores on standardized tests?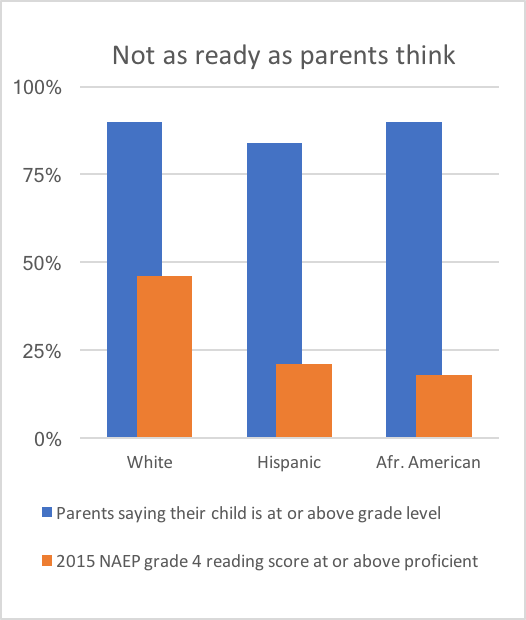 Standardized tests aren't the only things that matter, but they deserve unflinching attention. These scores deliver straightforward information about your child's learning progress without preamble or excuses. These scores are the clearest way to tell if your student is on track, academically. It can be awfully tempting to look away.

Choice-supportive bias in action
The tendency for wishful thinking (perhaps more accurately choice-supportive bias) does not seem to vary much with results. Communities whose schools have been chronically ineffective nevertheless give their schools passing grades. Over half of students who repeatedly failed the high school exit exam (now defunct) still said in surveys that they expected to go to college. In the movie Waiting for Superman, Davis Guggenheim colorfully points out the huge gap between American students' confidence of their success and the reality of their results.
This disconnect is human nature. Virtually everyone behind the wheel sees him or herself as an above-average driver. Teachers and parents rate themselves as above-average, too, and extend their beliefs about themselves to the students in their care, like a nation of Lake Wobegon kids. Unfortunately for kids, in this case human nature doesn't serve them well.
The next lesson explores some good news: there are reasons to believe that California's school results are getting better.