Most Californians, when asked, express concern about the public school system.
This sense of concern isn't limited to California. Gallup, the polling company, reports that public confidence in schools has fallen by half since its peak in 1975. Public education is not the only institution that has suffered a loss of confidence, but it is a strikingly consistent finding: Americans are broadly concerned that the education system isn't working very well.
Beneath this general concern about the quality of public education, however, lies a paradox: parents generally tend to say they think better of their own local schools.
"I know the system is broken, but…"
The Public Policy Institute of California (PPIC) periodically asks Californians to give their local school a letter grade. Year in, year out, even in the thick of the Pandemic, about half of public school parents give their school an A or B. There are important patterns beneath the averages, though. For example, African-American respondents are much less likely to give an A or B to this question.
"…I guess my school's fine, right?"
Confidence in local schools, while it remains high, is slipping over time. Parents have real reasons to question whether their schools will deliver their child a future of bright opportunities. For example, college has become our society's primary gateway to a secure economic future, but an awful lot of students don't emerge from their K-12 years college-ready, despite increasing parental confidence.
Who delivers bad news in education?
It's human nature to hear what you want to hear, and to look at what you want to see. Parents want to believe the best about their kids. It's also human nature (and good manners) to prefer to deliver bad news gently, with an emphasis on the positive. Teachers are no exception. Is it any wonder that parents might prefer to draw conclusions about how their kids are doing from report cards and parent-teacher conferences, rather than from their kids' scores on standardized tests?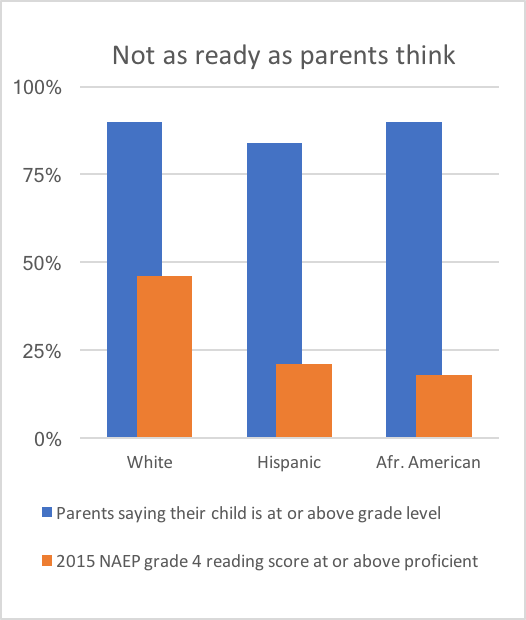 Standardized tests aren't the only things that matter, but they deliver straightforward information about your child's learning progress without preamble or excuses. These scores deserve unflinching attention. They are the clearest, most honest way to tell if your student is on track, academically.
Choice-supportive bias in action
The tendency for wishful thinking (perhaps more accurately choice-supportive bias) does not seem to vary much with results. Communities whose schools have been chronically ineffective nevertheless give their schools passing grades, for example. Decades ago, California used to require all students to pass a test of basic skills to earn their high school diploma. Over half of the students who repeatedly failed the test still said in surveys that they expected to go to college. In the movie Waiting for Superman, Davis Guggenheim colorfully points out the huge gap between American students' confidence and their results.
This disconnect is human nature. Virtually everyone behind the wheel sees themself as an above-average driver. Teachers and parents rate themselves as above-average, too, and extend their beliefs about themselves to the students in their care, like a nation of Lake Wobegon kids. Unfortunately for kids, in this case, human nature doesn't serve them well.
The next lesson explores some good news: there are reasons to believe that California's school results are getting better.