Most Americans, when asked, express doubts about the overall quality of public schools. They tend to think more highly of their own schools, though. And their own kids' education? No problem.
Wishful thinking is human nature. Unfortunately, problems are hard to address if you think everything is OK.
And who wants to tell you otherwise? From gentle, ambiguous feedback in parent-teacher conferences to systemic grade inflation, the education system suffers from a lack of candor. It's a huge challenge.
Nationally, people are worried about the quality of education
"I think the system is broken, but…"
Americans are broadly concerned that their education system isn't working very well. Gallup, the polling company, reports that national confidence in public institutions peaked in 1975 and has fallen dramatically since then. Public education is very much part of this trend.
Californians are concerned, too.
California fits this pattern. In a 2023 poll of likely voters, the Public Policy Institute of California (PPIC) found that just 9% of Californians felt the quality of education in public schools was "not much of a problem". The rest were evenly divided about whether it was a "big problem" or "somewhat of a problem".
People have more confidence in their local schools
"…I guess my school's OK, right?"
Beneath this big-picture concern about the overall quality of public education lies a paradox: parents generally tend to think somewhat better of their local schools.
The same PPIC survey asks Californians to give their local schools a letter grade. Nearly half of public school parents give their local schools an A or B.
Parents believe their kids will succeed in college
"Anyway, my kid's doing well enough"
When it comes to their own kids' prospects, parents tend to be blinded by optimism. It's a natural bias. Parents want to believe the best about themselves, after all, including the belief that they are good parents.
Learning Heroes, a non-profit organization, commissioned research that shines light on this harmful cognitive error. Through surveys conducted in multiple years, including parents from different backgrounds, they found that a huge percentage is under the impression that their kids will finish high school, advance directly to college, and graduate.
Most kids don't go to college
These hopes are way out of line with reality. About a tenth of students don't finish high school. Of those who do, only a fraction pass the college-track courses they need to apply for a four-year college. Based on recent trends, about a third of California students will go on to earn a college degree, with huge variation by race/ethnicity and gender. For example, Asian girls are more than five times as likely to become college graduates as Black boys.
Grade inflation is real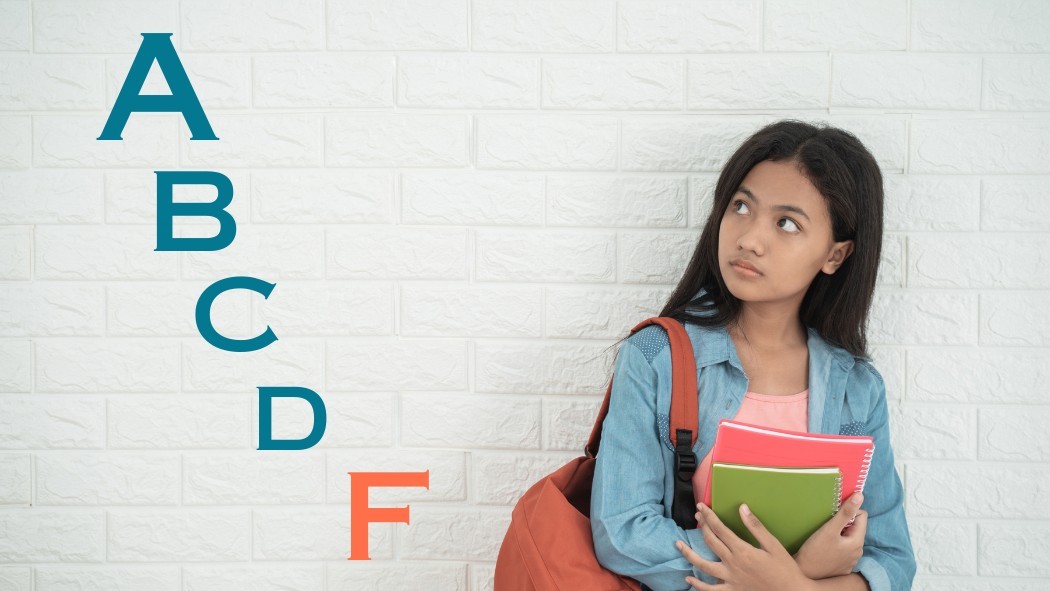 Over time, average high school grades have risen for all course types, from electives to advanced academic courses.
The average grade point average in high schoool has floated upward from a C-plus to a B-minus. For non-academic subjects, a grade of B is now average.
Part of this increase can be seen as authentic. Over decades, average scores on statewide standardized tests have improved a bit, which suggests that today's average students are probably learning somewhat more than their predecessors did.
But this certainly isn't the whole story. The bigger issue is that teachers, like most people, would prefer to positive encouragement rather than hard knocks.
Standardized tests keep the system honest
Standardized tests play a crucial role in keeping the education system honest. Without excuses, they deliver straightforward information to parents about kids' learning progress relative to grade-level expectations. These scores are the clearest, most honest way to tell if your student is on track, academically, and they deserve unflinching attention.
Both California and the federal government pay attention to these scores. They use patterns of test score improvement (well, actually the lack of it) to quietly direct resources to the five percent of schools most desperately in need of intervention.
Oddly, parents and teachers often tend to shy away from test scores. It's human nature to hear what you want to hear, and to look at what you want to see. Is it any wonder that parents might prefer to draw conclusions about how their kids are doing from grade-inflated report cards and cordial parent-teacher conferences, rather than from their kids' scores on standardized tests?
Choice-supportive bias
Rightly, parents feel responsible for the decision to enroll their children at the school they attend. Wrongly, this decision leads to a form of wishful thinking known as choice-supportive bias. Communities whose schools have been chronically ineffective nevertheless give their schools passing grades, for example, or resist efforts to make significant changes.
California has tried various approaches to "raise the bar" for learning expectations. For a decade, all students had to pass the California High School Exit Exam (a test of basic skills) to earn their high school diploma. Much too easy for most students, it was scrapped in 2015. In a triumph of wishful thinking, more than half of the students who repeatedly failed the test nevertheless still said in surveys that they expected to go to college. In the movie Waiting for Superman, Davis Guggenheim colorfully points out the huge gap between American students' confidence and their results.
The disconnect between self-perception and reality is human nature. Virtually everyone behind the wheel sees themself as an above-average driver. Teachers and parents rate themselves as above-average, too, and extend their beliefs about themselves to the students in their care, like a nation of Lake Wobegon kids. Unfortunately for kids, in this case, human nature doesn't serve them well.
Standardized test scores deserve your unflinching attention.
Standardized tests based on grade-level standards are the education system's defense mechanism against wishful thinking, including grade inflation. Love them or hate them, these tests deliver straightforward information about your child's actual learning progress. These scores deserve unflinching attention. They are the clearest, most honest way to tell if your student is on track, academically.