Teacher pay is by far the largest cost of operating a school. People choose to become teachers for many reasons, but getting rich is not among them.
As a job, teaching is steady, secure work, but it doesn't pay very well — especially for new teachers. Many new teachers struggle to find places they can afford to live, and it is common for teachers to work second jobs.
In decades long past, teaching was once perceived as a relatively lucrative profession for women, whose professional options were constrained. This premium has evaporated.
Since about 1980, teacher pay in America has lagged comparable employment, as described in Lesson 3.1. Dr. Sylvia Allegretto, an economist at the University of California, Berkeley, has studied teacher compensation for many years. Her analysis incorporates data from all over the US, including hours worked, salaries, bonuses and benefits earned. Her models examine differences in compensation by gender, age, experience, union membership and geography. According to Dr. Allegretto's 2018 analysis, the scale of the American "teacher wage gap" has been expanding for years. In terms of weekly wages, teacher pay lagged comparable work by 18.7% nationally. Including the value of benefits, the annualized total compensation gap reached a record 11.1%. (Note: The gap is smaller in California than it is in most states.)
Pay for teachers in America is also low in comparison with pay for teachers in other countries. The Organization for Economic Cooperation and Development (OECD) collects international data about public education, which it summarizes annually in its monumental publication Education at a Glance. In the following chart look waaay over to the the right to find the United States.
According to OECD research, teacher pay has fallen below the average for college-educated workers in virtually all countries, but the gap in America is unusually large. For example, in its 2017 edition (Table D3.2) the OECD report estimated that pay for primary teachers in America was about 57% that of comparably educated workers. California teacher salary levels tend to be a little higher, but then California is an expensive place.
Teacher Pay Varies by School District
Teacher pay and compensation are typically negotiated between school districts and teacher unions. The graphic below from the California Legislative Analyst shows the average package offered by districts in each county (Click image to view interactive version). Benefits in this view include health, dental, and vision coverage. Other benefits are not included, most notably pension contributions or benefits.
The District Salary Schedule Sets Teacher Pay
Teacher pay is usually determined by just two things: years worked in the district and number of postgraduate credits earned as recognized by that district.
Teachers in virtually all American public schools are compensated according to a rigidly defined "single salary schedule." If you know the number of years a teacher has worked in a district ("step") and the number of postgraduate credits the teacher has completed ("column" or "lane"), you can determine his or her pay, perhaps with the addition of a few small adjustments or incentives. Many districts offer a salary increase to teachers who obtain a master's degree.
Those steps and columns can differ significantly from one district to another. For example, the graphs below show the basic salary schedules for Oakland Unified and San Mateo / Foster City in 2016. When teachers make a career move, pay is one important factor.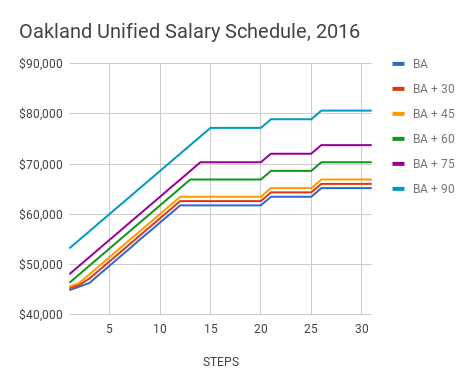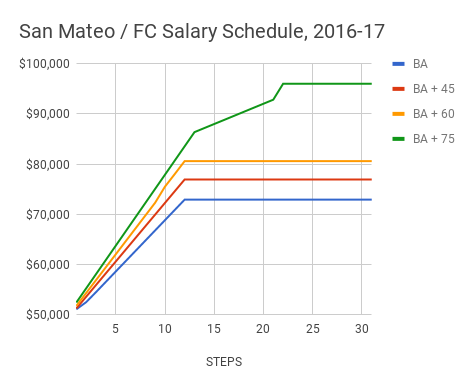 Are these salary schedules good or bad, you might ask. As usual, the answer is mixed.
The good news is that the widespread use of a single salary schedule has reduced or even erased discriminatory pay practices related to gender and ethnicity.
Seniority is generally counted in terms of the number of years a teacher has worked in a specific district. Taking a job in a different district usually resets the teacher's seniority. Districts generally do not match an experienced teacher's pay when "stealing" a teacher from another district, reflecting the power of seniority-based pay systems in teacher contracts. At the high end of the experience curve, teachers are paid more than they would be in a strictly competitive marketplace, and there is a real penalty to changing employers. Especially when paired with the teacher pension system the salary schedule delivers very strong "stay-put" incentives that contribute to the stability of district faculty. Teachers have economic reasons to stay with a district, even if it is a tough place to work.
The bad news is that the single salary schedule system is indifferent to expertise, effectiveness, and market conditions. Teachers typically earn the same regardless of whether they teach effectively or ineffectively, whether they teach a subject that requires general knowledge or specialized knowledge, whether they teach many children or a handful, and whether or not they bring out the best in their colleagues. Also, as discussed in Ed100 Lesson 3.5 there is little or no evidence that students benefit when teachers earn advanced degrees. This may be money that could be better spent.
Alternative Approaches
In the past few years a growing number of voices have argued that major changes to the salary schedule should be "on the table" in district and union dialogue about strategies for change.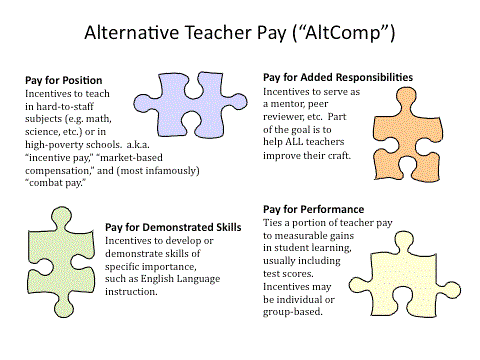 Reforms related to teacher pay revise the salary schedule (or replace it altogether) in order to change the incentive structure. (See puzzle graphic for examples.) All elements of an alternative compensation (altcomp) program are controversial, but none more so than performance pay, sometimes also known as "merit pay".
Federal programs have offered competitive grants to accelerate adoption of alternative teacher pay systems, particularly performance pay systems. Under the Bush Administration, the Teacher Incentive Fund (TIF) committed several hundred million dollars to support programs that include a performance pay component. Under the Obama Administration, the much larger Race to the Top (RTT) and School Improvement Fund (SIF) programs also provided support for alternative compensation plans in schools with high concentrations of low-income students.
Pay-based incentives are common in business. Many businesspeople regard it as self-evident that teacher pay should vary with performance, too. Many teachers, by contrast, regard it as self-evident that teachers aren't in it for the money and find incentives patronizing. In 2009 Daniel Pink brought attention to the motivational risks of pay for performance in his bestseller Drive: the Surprising Truth About What Motivates Us. The heart of Pink's thesis is that intrinsic motivation comes from a desire to achieve mastery, autonomy, and purpose. He presents evidence that conditional pay incentives can actually interfere with that drive.
Does It Work?
If your school or district is considering changes to the way teachers are paid, prepare for a bumpy ride, particularly if the program involves judgments about performance. You can add a lot to the California teacher salary conversation by doing your homework.
Evaluations of pay-for-performance trials have not shown widespread results in terms of student learning gains, though the results appear to vary according to program design. Those who hoped for magical results from pay-for-performance trials have been disappointed in Denver, New York and Chicago.
A study of schools using a prominent alternative compensation system, TAP, documented some student learning gains in early trials, but the effects seemed to fade.
Perhaps those experiments were merely too tentative. An evaluation of the most aggressive of all pay-for-performance plans, the IMPACT program in Washington, D.C., appears to show results, mainly by spurring low-performing teachers to quit. Bruce Baker, a professor at Rutgers who comments extensively on flaws in the interpretation of data about education results, questions whether getting teachers to quit actually counts as a positive result.
With support from the Gates Foundation, Aspire, a charter school network, implemented a multi-faceted teacher evaluation system that includes a pay component. Jill Tucker, a California journalist with long experience covering education, describes the Aspire approach in SFGate.
If your school or district is considering changes to the way teachers are paid, prepare for a bumpy ride, particularly if the program involves judgments about performance. You can add a lot to the conversation by doing the homework that others may avoid. It is a much more complex topic than most believe, and the evidence of impact from past attempts is weak compared to the certainty of distracting conflict associated with attempting it. It's instructive to view Laney's story, the video at the top of this lesson, and consider what she needs to be successful.
Complex... yet Skimpy
Varying models of teacher compensation can lead to passionate conversations, but California teacher salary conversations tend to return to the context: funding for education in California is persistently skimpy. California teacher salary levels suffer ultimately from a lack of funding. Varying the form of pay can't make up for the gap.