There's a limit to the amount of time and attention a teacher can give each student in their care. Class sizes vary dramatically among schools in different states and districts. It matters.
Class size in school systems is measured by the student-teacher ratio. In a small class there is more teacher-time available because it's allocated among fewer students. One strategy for improving educational quality is to hire more teachers, which lowers the student-teacher ratio.
Compared to other states, class sizes in California are abnormally big.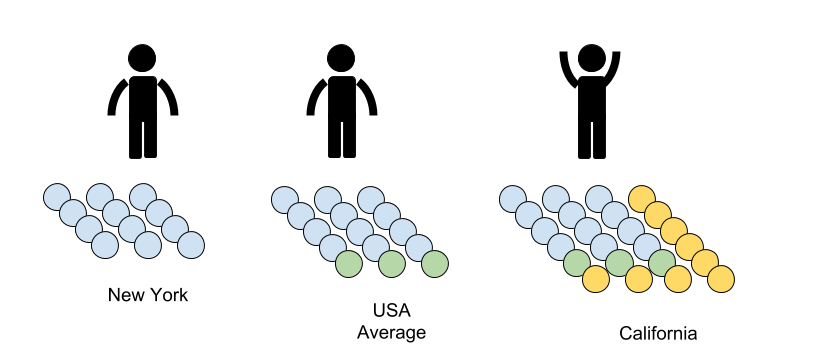 Large class sizes (measured by comparing the number of students to the number of teachers on staff) are nothing new for California. The graph below shows the average student-teacher ratio in each state since 1970. As of 2020, California was second in the country for highest student-to-teacher ratio in public schools, with 22.7 students per teacher.
The student-teacher ratio can be used as a proxy for "class size,", but it isn't quite the same thing. Most actual class sizes are larger than this statewide benchmark because not all certified teachers working at a school are in classes all day. Still, it is safe to expect that the higher the number of students per teacher in a state in any given year, the larger class sizes must be, and vice versa.
Clearly, smaller classes cost more than big ones. But does it make a difference?
Smaller class size is better, but...
Like anything in social sciences, context matters. If all teachers were equally effective, then it would be obious: smaller class sizes are better. But teachers aren't all the same. Some thrive even with a large class. Other teachers struggle with larger classes, but might do better with smaller ones.
Still, research suggests that, on average, class sizes matter, a lot. Student-teacher ratios have the largest measurable effect on learning outcomes in early grades.
Virtually all research about class sizes reaches a consistent conclusion: minor, uniform changes in the student-teacher ratio make no measurable difference. It's not like a magic dial that immediately delivers better learning results. But California's class sizes are dramatically larger than those in other states.
From the perspective of student outcomes, one promising approach to using class sizes would be to optimize for classroom effectiveness, allowing class sizes to vary according to how well individual teachers can accommodate them. This is a very difficult policy to put into a contract, though.
...the greatest benefits accrue for disadvantaged students in grades K-3, and when there are 18 or fewer students per teacher.
Class Size Matters, an advocacy organization, provides additional information and research on class sizes, including cost-benefit analyses. International comparisons provide additional perspective.
Unintended consequences
In 1988, California voters passed Proposition 98, which required the California legislature to increase spending on public education. Then-governor George Deukmejian, who had opposed Prop 98, argued that a sudden influx of money would change nothing if it merely raised teacher salaries. As an alternative, he argued that the money should be invested in reducing class sizes for grades K-3, capping class size at twenty students. 
This policy change had a strong basis in research, but it turned out badly. Implemented without a phase-in period, the class-size reduction mandate created a sudden boom in demand for K-3 teachers. As school districts rushed to fill the new teaching positions, experienced teachers had lots of schools to choose from. Unsurprisingly, they tended to choose positions in schools and districts that offered the best salaries and working conditions.
Schools serving low-income communities, meanwhile, had a hard time attracting qualified candidates. Smaller class sizes backfire if schools are forced to hire worse instructors. This dislocation inflicted a lasting and unequal impact on California's schools. The policy serves as a cautionary tale for education reform: beware unintended consequences.
The California Department of Finance estimates that the state spent over $22 billion on incentives for K-3 class size reduction from the program's inception until it was changed in 2009-10. In the lean budget years leading to 2013, the incentives were reduced and the rules effectively eliminated. Elementary class sizes rose steadily as a result.
The Local Control Funding Formula, which defines how the state allocates funds to school districts (more about this in Lesson 8.5), provides districts about 10% more per K-3 pupil if they either commit to reducing class sizes down to 24 or reach agreement with their teachers' union for a larger class size. Keen-eyed readers will note that the research referenced above showed a benefit to much, much smaller classes of 20 students or less.
Should classes vary in size?
In virtually any school, the number of students in each class tends to be pretty uniform. Walk into two 4th grade classrooms in a school district at random, and the number of students will probably vary little. Is this uniformity a mistake? Should classes vary in size?
Under the Local Control Funding Formula, which provides extra money for high-need students, local school districts have the power to implement varying class sizes if they want to, for example by reducing class sizes in schools that serve the highest proportions of low-income students or English learners. Research undertaken for the Getting Down to Facts II project identified this as a promising practice. For this reason, it's difficult to determine an "ideal class size"– each district and school has different needs.
School time varies a great deal among the states and around the world. The next lesson, 4.3: School Hours, takes up the question of how much time students spend learning.