The number of students in a class is a time-related idea, a proxy for how much time and attention a teacher can give each student.
In a small class there is more teacher-time available because it's allocated among fewer students. One strategy for improving educational quality is to cut class sizes.
Let's start with the basics. Class sizes in California are abnormally big.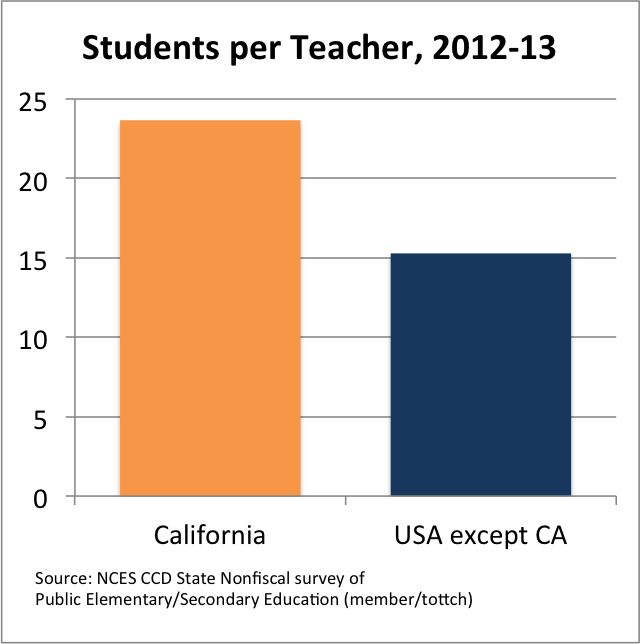 Large class sizes (measured by comparing the number of students to the number of teachers on staff) are nothing new for California. The graph below shows the average "student-teacher ratio" in each state since 1970. This statistic is a proxy for "class size," but it is really just a best-case statistic. Most actual class sizes are larger than this statewide benchmark. Still, it is safe to expect that the higher the number of students per teacher in a state in any given year, the larger class sizes must be, and vice versa.
Clearly, smaller classes cost more than big ones. Does it make a difference?
Yes, Smaller is Better
Like anything in social sciences, context matters. The Center for Public Education (CPE), an initiative of the National School Boards Association, analyzed 19 studies on the subject. They concluded "most of the research shows that when class size reduction programs are well-designed and implemented in the primary grades (K-3), student achievement rises as class size drops." One general conclusion was that the greatest benefits accrue for disadvantaged students in grades K-3, and when there are 18 or fewer students per teacher. A research review by the National Education Policy Center (2014) reaches the same conclusion, and analyzes the different research approaches that have been brought to the question.
...the greatest benefits accrue for disadvantaged students in grades K-3, and when there are 18 or fewer students per teacher.
Class Size Matters is an advocacy organization that provides additional information and research on class sizes, including cost-benefit analyses. International comparisons provide additional perspective on this question.
In 1996, California increased school spending to implement a dramatic class size reduction policy for grades K-3, capping class size at twenty students. This policy change, which was implemented without a phase-in period, created a sudden shortage in K-3 teachers, and schools struggled to find qualified teachers. In the rush to fill positions, schools serving low-income communities were most likely to have to settle for less qualified and less experienced candidates. This dislocation had a lasting and unequal impact. This is a cautionary tale for education reformers:  beware of unintended consequences.
The California Department of Finance estimates that the state spent over $22 billion on incentives for K-3 class size reduction from the program's inception until it was changed in 2009-10. In the lean budget years up until 2013, the incentives were reduced and the rules effectively eliminated. Elementary class sizes rose steadily as a result, keeping California in last position in the country as far as class sizes.
As part of the new Local Control Funding Formula beginning in 2014, the state is offering districts about 10% more per K-3 pupil if they either commit to reducing class sizes down to 24 or get their teachers' union to agree to a higher class size. Keen-eyed readers will note that the research referenced above showed a benefit to much, much smaller classes.
Should Classes Vary in Size?
In virtually any school, the number of students in each class tends to be pretty uniform. Walk into two 4th grade classrooms at random, and the number of students will probably vary little. Is this uniformity a mistake? Should classes vary in size?
In an influential speech in 2011 Bill Gates encouraged education leaders to re-examine the rationale for maintaining consistent class sizes, arguing that some teachers are better than others at getting results in large classes. "Conservative estimates suggest that we can save more than $10,000 per classroom by increasing class size by just four pupils. If we pay some of that money to our best teachers for taking in more students, we accomplish three goals at once – we save money, we get more students in classrooms with highly effective teachers, and we give our best teachers a real raise, not just for being good, but for taking on more work."
Given the very high student-teacher ratios in California, Gates' comments could be taken as an argument for reducing class sizes selectively, rather than continuing the uniform K-3 class size approach the state took in 1996. Under the provisions of California's new funding system, which provides extra money for high-need students, local school districts might consider reducing class sizes in schools that serve the highest proportions of low-income students or English learners.
School time varies a great deal among the states and around the world. The next lesson takes up the question of how much time students spend learning.