A Conference for Student Leaders
California's student leaders are essential — now more than ever. The Ed100 Academy for California High School Student Leaders is an online summer conference that prepares California high school student leaders with the knowledge and connections they need to make a difference in their school, in their community and beyond.
Apply now for early decision and attend free.
We invite California's high school student leaders to join together at the Ed100 Online Academy for Student Leaders, a virtual conference for students who either serve in leadership roles or aspire to do so. Examples include service:
on a school site council or ELAC
on their school board,
on a PTA board or nonprofit school organization
in other student led or student-focused organizations
Leadership comes in different forms and styles, and we take a broad view.
Early decision applications for this conference are being accepted through Feb 14, 2021. If you apply early, we guarantee there will be no fee to participate.
Student Leaders Ask: Why Should I Apply?
You don't want to miss this conference. It will put you "in the same room" with California experts and leaders who have deep experience and context. You will learn from them directly, with the opportunity to ask your own questions. California's education system is complex: they will help you untangle it so that you can make a difference.
To help you translate what you learn into action, a key goal of this conference is to connect you with amazing, inspiring organizations that need and want your help. The timing of this conference — the beginning of summer — is quite intentional: it will leave you well-positioned to connect with other rising student leaders ahead of the school year so you can do more together and make a difference.
Participating in this conference may also serve as evidence to help you add something new to your resume: the California Certificate of Civic Engagement, a new endorsement currently under development.
Friends of the 2020 Ed100 Student Academy
The Ed100 Student Academy debuted in 2020.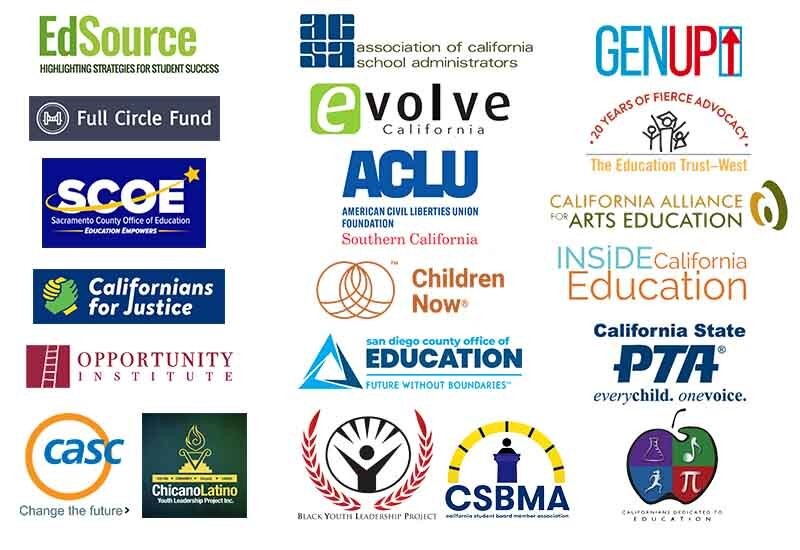 Speakers and Sessions
Speakers and sessions for the 2021 Ed100 Academy have not yet been announced. However, you can learn a great deal about the 2020 conference here:
Learn More About the 2020 Ed100 Academy for California Student Leaders

Program Guide:

Preview:

Day 1:

Day 2:

Day 3:

Day 4:
We Need Your Help
Getting the word out to every high school is really hard. We are starting early because we are serious about making this conference inclusive. Here's how you can help:
Please share this post directly and individually with student leaders in your high school community, including students from each grade level. We are happy to accept applications from students currently in 8th grade who want to begin their high school experience ready to serve as leaders.
Sometimes students need encouragement to realize their leadership potential. Administrators, counselors, PTA leaders and peers can help a great deal by individually nominating students to apply. To nominate a student, send them a message like this:
Dear student leader:
I'm writing to nominate you to apply for early admission to the Ed100 Summer Online Academy for California High School Student Leaders.
Student leaders from hundreds of high schools throughout California will participate in this free conference, which will include a who's-who of amazing speakers and organizations. It's an opportunity to learn about California's education system, to examine the ongoing role of racism and inequality in it, and to collaborate on productive options for student leaders to take action. This conference will be held June 20-23. Early applications are being accepted NOW, and if you apply by February 14 you can attend free.
I hope you will accept the honor of representing your school at this conference. It is my honor to nominate you.
Thank you,
Hundreds have already applied for this conference. Last year, over a thousand students applied. Hundreds of schools were represented — but hundreds were also left out. This year we have selected a small team of student Outreach Ambassadors to reach out personally to every school. If you want to be connected to your outreach ambassador, please contact academy@ed100.org.
We are actively seeking donations and sponsors. If this project speaks to you and you want to support it, please email us: student-academy@ed100.org.