Don't let students miss out!
Student leaders are essential — now more than ever. Every high school in California should be well-represented at this important annual summer conference. Here's what you need to know.
The Ed100 Online Academy for Student Leaders is a massive, free online conference for leaders from all of California's 2,000+ high schools. Each California high school is invited to involve a delegation of student leaders consisting of at least one freshman, at least one sophomore and at least one junior.
Students must individually apply for admission.
The conference for 2021 was held online June 21-23, 2021. Save the date for 2022! It will be held June 20-22, 2022. Students who apply and are admitted early are also eligible to join pre-conference online events. Late applicants will miss out on these opportunities.
Students ask: Why should I apply?
You don't want to miss out on this conference. It will put you in the "same room" with California experts and leaders who have deep experience and context. You will learn from them directly, with the opportunity to ask your own questions. California's education system is complex: they will help you untangle it so that you can make a difference.
To help you translate what you learn into action, a central goal of this conference is to connect you to opportunities. You will learn about inspiring organizations that want your help.
Make a difference!
The timing of this conference — the beginning of summer — is intentional: it will leave you well-positioned to connect with other rising student leaders before the school year begins so you can do more together and start making a difference quickly. You will have the opportunity to form friendships and connections with student leaders from all over the state.
Participating in this conference may also serve as evidence to help you add something new to your diploma: the California Seal of Civic Engagement, a new endorsement currently under development.
To apply, click here or use the button below:
How much does it cost to attend?
Zero. Every high school needs to be well-represented at this conference, and we decided that it's just not OK for money to be a barrier. Obviously, we're taking a risk here. Please donate to help us make this conference work out. Every bit helps, and it only takes a minute!
How many students should be in a school's delegation?
We encourage each high school to be represented by at least one freshman, at least one sophomore, and at least one junior.
Some schools and community organizations are using the event to involve a larger delegation, including faculty advisors of student organizations. This is great. Please communicate with us so that we can learn from your efforts, and please donate to support the conference.
How do I nominate a student to apply?
Students can apply without being nominated, but it helps a great deal for students to receive clear support. To nominate a student, copy the message in the box below and send it to the student as email. If you can, it helps to follow up by sending a text message.
How can I tell whether our school will be represented?
Have a look at this Google sheet. It lists every California public high school with enrollment of at least 100 students, and shows whether we have received at least one application from that school. If you've nominated a student and your school doesn't show on this sheet as represented, the most likely reason is that no student has yet applied. In that case, we suggest that you (a) nudge the student to act, and (b) nominate another student.
Can students earn a certificate from this conference?
The Ed100 Academy for Student Leaders is strongly connected to Ed100.org, which is the fastest way for anyone to learn quickly and deeply about California's education system. We encourage all student leaders to sign up for Ed100.org, which is free, and begin taking the lessons. Each lesson that you pass earns a ticket in your profile; pass all of the lessons to earn your certificate as an Ed100 graduate. Dozens of student leaders have already done it, and you can too. We are also keeping tabs on ways for this conference to help student leaders earn the California Seal of Civic Engagement.
Who can attend the Ed100 Academy for Student Leaders?
California students rising to grades 8 through 12 are the primary focus for this conference, but others may also apply. If you are a teacher, counselor or PTA leader who works with high school student leaders, by all means please apply! Your support and encouragement can make a big difference in follow-through actions beyond the conference. The same guidance applies to college students. We ask that adult participants choose to be generous when considering how much to donate in support of this conference.
Not from California? Some of our speakers will be focused on the California system, but not all of them. Please apply and include a proposal for how you will support our work. Let's talk about it.
What's on the agenda? Who will speak?
We are really excited about the agenda, which is packed with inspiring speakers. To view the sessions and speakers for the 2021 conference, visit our Program Guide. As speakers are confirmed, we are announcing them on our Instagram page. In general, sessions will be held daily from 10am to noon and 2pm to 4pm, with the following themes:
10am - noon

2pm - 4pm

June 21
Monday

① California's system

② Equity in Education

June 22
Tuesday

③ Tools for Informed Leaders

④ Issues that Need Student Voice

June 23
Wednesday

⑤ Organizations that Need You

⑥ Uniting for Impact

June 24
Thursday

(optional meetings with partner orgs)

June 25
Friday

(optional meetings with partner orgs)
You can get a sense of what to expect at the 2021 conference from what happened last year. The links below connect to the 2020 presentations, summaries and video:
Overview of last year's Ed100 Academy for California Student Leaders (2020)

Program Guide:

Preview:

Day 1:

Day 2:

Day 3:

Day 4:
Can I apply to help run this conference?
Yes! Ed100 and the Ed100 Academy for Student Leaders are only possible because volunteers make them happen. If you are interested in joining the Ed100 team for the 2021-22 school year please stand by. There are many roles, including outreach, media, technology, CRM, project management, marketing and development.
Can I apply to speak at this conference?
Yes. Please complete this profile form and contact us at student-academy@ed100.org
Can I suggest a speaker for this conference?
Yes. If you have ideas for speakers or organizations that you think would be a good fit for this conference (now or in the future) let us know with this suggestion form. You can also contact us at student-academy@ed100.org
What are Student Engagement Partner organizations?
An important objective of the Ed100 Academy for student leaders is to help students learn about organizations that need them. We invite organizations that run programs with significant leadership opportunities for students to work with us as Student Engagement Partners. Most of our partners are education-focused, but others may emphasize climate change, justice, housing, media, or other areas of concern to students. Engagement Partners don't just speak at the conference — they commit to follow through, with opportunities for student leaders during the summer and the school year beyond.
Who funds this conference?
Tickets to the conference in 2021 were free. Students did not have to pay to attend. Schools did not have to pay to be represented. We are grateful to Zoom Communications for sponsorship of this conference, and we are grateful for the support of volunteers and individual donors. Thank you!
Does this conference need sponsors?
Yes, absolutely… and unfortunately we don't have "development" staff to go beat the doors down. We could really use help in this area! Sponsoring this conference would be a logical fit for institutions or systems of higher education, education technology providers, and county offices of education, to name a few. We would love to connect with families with donor-advised funds. Please contact jeffcamp@ed100.org. (You can also help us by using this form.
Become a Friend of the Ed100 Student Academy
Friends of the Ed100 Student Academy are organizations or individuals that commit to specific actions (including modest ones) to help the conference achieve its core goal: intentionally developing student leadership in each of California's high schools. There are many ways to help! Here are a few examples:
It's really easy to make your organization (or yourself!) a Friend of the 2021 Ed100 Academy. Use this form. You can also contact us at academy@ed100.org.
Here are some organizations that were Friends of the Ed100 Student Academy in 2020: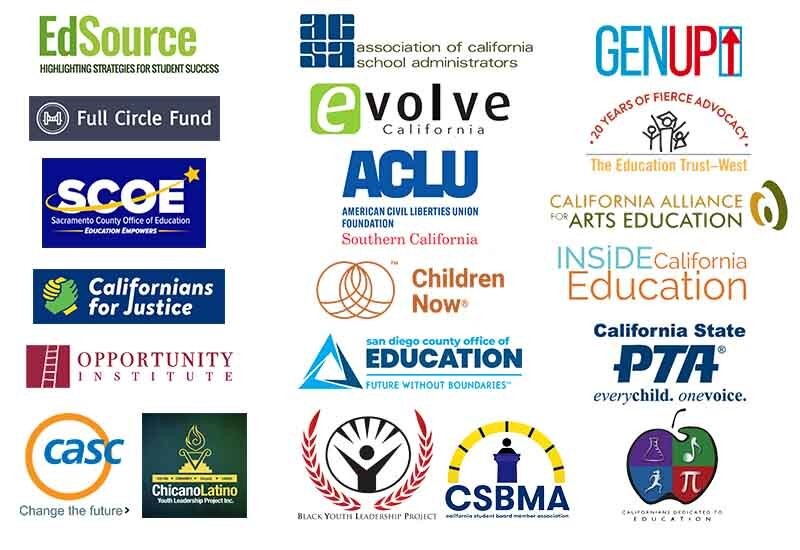 Thank you
If you have questions or ideas for the Ed100 Online Academy for Student Leaders, please contact academy@ed100.org. For other matters please contact jeffcamp@ed100.org.