Don't let students miss out!
The Ed100 Academy for Student Leaders is a free, year-round membership program for students who have an interest in leadership. To join, students complete this brief application for students. There is no cost.
We urge educators and PTA leaders to sign up to help student leaders in this program so that we can support them even more effectively.
Adult involvement is a new element of the Ed100 Academy program in 2021-22. In order to include every California school community, we aim to enlist the help of at least one adult ally in each high school. There is no cost.
Why should students apply?
Student leaders who are well-prepared and well-informed can make a big difference in their school, in their community, and beyond. The purpose of the Ed100 Academy is to help rising student leaders learn, connect, lead, and identify opportunities to make a difference.
Peer connections: Students who are admitted to the Ed100 Academy are notified within a week or two by the Director of Admissions. They also receive an email from at least one new connection: a peer leader from the team of students who have been selected to serve as Ed100 Outreach Ambassadors.
Discussions: As accepted members of the Academy, students are invited to join monthly student-led online discussion sessions to learn, connect, and develop their own plans to make a difference. In the process, students learn about organizations and projects that need student voices or student help.
Certificate: At the end of the school year, student members of the Academy are invited to participate in the Ed100 Academy Summer Conference. When it's over, students can download their Ed100 Academy certificate for the year. It documents and celebrates their participation in the program through discussion sessions and the summer conference. This certificate can serve students as evidence of civic engagement. (Note: like adults, students can also earn a different certificate by passing all of the lessons in Ed100.org to become graduates of the Ed100 online course.)
Discord Server: Students accepted to the Academy are invited (not required) to join the Ed100 Academy server on Discord. It's a student-moderated platform that helps students connect, share insights and get timely information about opportunities and projects.
Ed100 Academy Summer Conference: June 20-22, 2022
The capstone event of the year for members of the Ed100 Academy is the summer conference. It's a free, life-changing, student-led, don't-miss-it event that takes place online shortly after schools let out for the summer. It is exclusively for student members of the Academy and for adult allies who are connected with one or more participating students. In past years it has involved students from hundreds of high schools all over California. In 2022 the summer conference will be held June 20-22. There is no cost. (Check out last year's program guide for information about past speakers and sessions.)
Why should adult allies sign up?
The only way that a student hears about the Academy is if someone they know (usually an adult) personally tells them, "Hey, you should apply for this program. It will help you as a leader." To get that message to student leaders in each high school, at each grade level, each year, we need the help of adults in each high school community. No high school should be left out of this program. Last year hundreds of students participated in the summer conference. It was a good start, and we have a long way to go.
Who can be an adult ally? Anyone who works with high school students or high school communities can be an ally for student leaders — an administrator, for example, or a teacher, counselor, or PTA volunteer.
How can adults support participating students? When students mention you in their application, you become part of the circle of communication about their participation in the program. We'll let you know when they are accepted so you can cheer them on. Later, when they earn a certificate for completing the free summer conference, we will inform you so you can get feedback about the program directly from them. Along the way, both you and your students will receive occasional emails from Ed100, including updates about the summer conference plan.
Can adult allies attend the summer conference? Yes, adult allies who are named by student members of the Ed100 Academy will be invited to attend the summer conference. There is no cost. Adult participants are encouraged to donate in support of the program.
How much does it cost to be a member of the Academy?
Zero. Our vision is to help every high school community develop a diverse pipeline of rising leaders. After considering complex solutions (scholarships, etc.) we decided to just keep it simple. It's free.
How many students should be in a school's delegation?
We do not limit the number of students from a school that can apply to or participate in the academy. Some schools are big, some are small, and leadership can take all kinds of forms. We encourage each high school to be represented in the Ed100 Academy by at least one freshman, at least one sophomore, and at least one junior.
Some schools and community organizations have used the Ed100 Academy as a no-cost extension of their leadership program, which is great. Please let us know so we can learn from you!
Who is eligible for admission to the Ed100 Academy?
Any student aged 13 and up may apply, and admission will be based on the content of their individual application. The Academy welcomes aspiring student leaders as well as those currently serving in leadership roles. The conference welcomes students from any kind of school including traditional public schools, charter schools, and private schools. The program tends to emphasize support for students in California, but if leaders from other states want to get involved, we are open to ideas. If you are interested in a major collaboration, please contact jeffcamp@ed100.org.
How do I sign up for discussion sessions?
When you are accepted as a member of the Academy you are added to the invitation list for the monthly discussion sessions. RSVP to the invitations to receive the Zoom link. The agenda will be announced each month through email, Instagram and the Academy's private Discord server for members. (Tip: For your participation in each discussion session to be accurately reflected on your certificate, be sure to promptly complete the survey for each one you attend.)
What happens at monthly discussion sessions?
Monthly discussion sessions are short — just an hour — and the time passes quickly. The specific topics discussed vary by meeting. Suggested pre-reading or viewing is communicated ahead of time via Discord. The deepest way to prepare is to read lessons on Ed100.org. A quick way is to watch chapter summaries using the Ed100 channel on YouTube.
Some discussion sessions include brief appearances by guest speakers, but discussion sessions are first and foremost about discussion. We prioritize time for members of the Academy (students) to connect in small breakout sessions.
How is the Ed100 Academy funded?
We keep costs low. The work of the team is substantially done by volunteers (students and adults). For better or worse, we have no budget for marketing — we depend on students and adult allies to spread the word. There are, however, unavoidable costs. We have great plans for how we would expand our impact with money if we had it. Please consider making a donation!
How do I recommend a student for the Academy?
Students must individually apply for admission to the Academy. Here's a message you can copy and send to them to help them take action:
What organizations do students learn about?
An important objective of the Ed100 Academy for Student Leaders is to help students learn about opportunities to get involved with organizations that need them. We invite organizations that run programs with significant leadership opportunities for students to work with us as Student Engagement Partners. Most of these partners are education-focused, but others emphasize climate change, justice, housing, media, or other areas of interest to students. Engagement Partners don't just speak at events like the summer conference — they commit to follow through, with opportunities for student leaders during the summer and the school year beyond.
Student Feedback
Students leaders are the focus of the Ed100 Academy for Student Leaders, and also a big part of the team. At the summer conference in 2021, we collected a lot of feedback. (At the risk of over-sharing, here's a 12-page report summarizing findings from all the surveys we did about it.) The feedback was hugely positive, and also included a ton of ideas for improvement. Some of those ideas are being implemented, like transitioning from a summer program to a year-round program.
Learn more about past Ed100 Academy summer conferences
You can get a sense of what to expect from the 2022 summer conference for members of the Ed100 Academy by looking at the 2021 program guide, or from this series of posts about the first Ed100 summer conference in 2020. Summaries and videos of some of the speakers from the summer 2021 conference are available on the Ed100 blog.
Become a Friend of the Ed100 Student Academy
Friends of the Ed100 Student Academy are organizations or individuals that commit to specific actions to help the conference achieve its core goal: intentionally developing student leadership in each of California's high schools. There are many ways to help! Here are a few examples:
It's really easy to make your organization (or yourself!) a Friend of the 2021 Ed100 Academy. Use this form. You can also contact us at academy@ed100.org.
Here are some organizations that were Friends of the Ed100 Student Academy in 2020: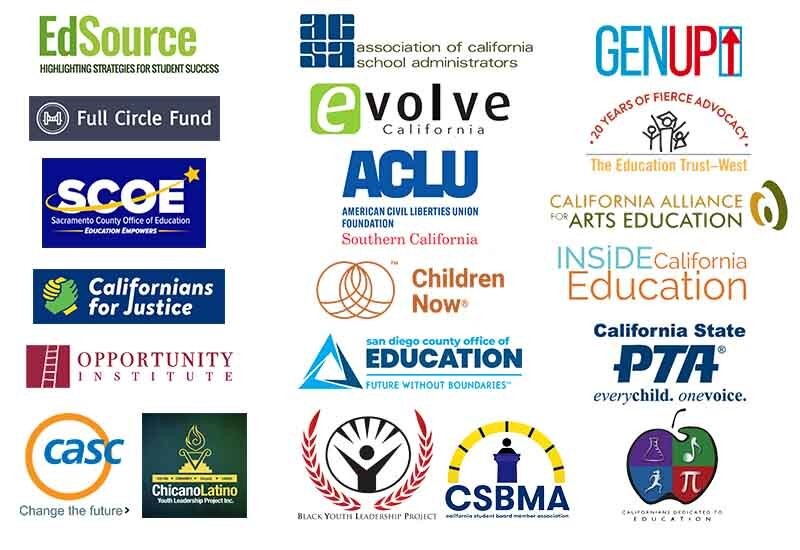 Thank you
If you have questions or ideas for the Academy, please contact academy@ed100.org. For other matters please contact jeffcamp@ed100.org.