School systems require facilities: buildings, desks, networks, labs, performance spaces, practice spaces and the like. These spaces need to be safe, sufficiently spacious, and equipped with the right stuff. Nothing is free, and in California there have been many gaps.
How School Facilities are Financed
Like homeowners who borrow to buy or upgrade a home, school districts generally borrow money to build, buy or upgrade facilities. Unlike homeowners, instead of borrowing from a bank, school districts borrow money by selling bonds.
The language used to describe bonds can be confusing: when school districts "sell" or "issue" bonds to "raise money" what they are really doing is borrowing money. Just like a mortgage, money borrowed with a bond must be paid for over time, with interest. Investors lend money to school districts as a business transaction: they make a little money on the deal. The specific rules (the "structure") of a bond can vary, including the amount borrowed, what the money may be used for, the interest rate, and the timing of when money changes hands. Voters approve bond debts through measures that appear on the ballot. The debt is paid using taxes collected from property owners based on the assessed value of their property. In most cases, a citizen oversight committee is created to ensure that the funds are used for their intended purpose.
The costs related to the purchase, construction or modernization of school facilities are known as "capital" expenses. These costs are accounted for in a way that spreads out the expense over time. Capital expenses are a significant aspect of the overall cost of education, but they are handled and reported separately from the normal day-to-day "operating" expenses.
Changing Rules about school bonds
Rules and limits for raising funds locally for school construction were established in California's constitution in 1871. The rules have changed significantly over time, and there have been successive booms and busts in school facilities investment. The state began playing a role in the funding of school facilities in California generations ago, with passage of the Field Act in 1933. In the post-Sputnik 1950s and '60s, the rapidly-growing state began issuing bonds to encourage and support the building of new public school facilities. In the 1970s the state began addressing the aging of those no-longer-new buildings with programs to support school modernization and earthquake readiness.
The most well-known change in the finance of school facilities happened in 1978, when California voters passed Proposition 13. This measure raised the threshold for passage of local school facility bonds from a majority to a 2/3 vote. The higher threshold contributed to a plunge in investment in construction and maintenance of school facilities, even as rapid population growth increased the number of students.
Schools filled to overflowing, and inexpensive "portables" filled the former playground areas in many schools. In 1996, legislation to reduce class sizes further increased the pressure. Some communities (especially wealthier ones) mustered the votes to pass school construction bonds, but others failed to do so. To make more intensive use of space, some overcrowded schools shifted to year-round overlapping school calendars, which proved unpopular.
55% passes a bond measure.
In 2000, voters approved Proposition 39, which gave school districts the ability to pass a school facility bond with a 55% "yes" vote. The combination of this measure and a series of four statewide general obligation bonds for school construction between 1998 and 2006 contributed to a boom in school construction and repair. Some districts found it easier than others to raise funds, but a series of state bond measures helped to support the work in higher-poverty districts. The stock market climbed, and sunshine warmed California schools. Then...
Fickle Fairness in Facility Funding
When the market swoons, school funding crumbles, especially including funds for facilities. According to research conducted as part of the 2018 the Getting Down to Facts II set of studies, the Great Recession undermined state bond funding for school facilities, especially "in districts with larger shares of disadvantaged or nonwhite students."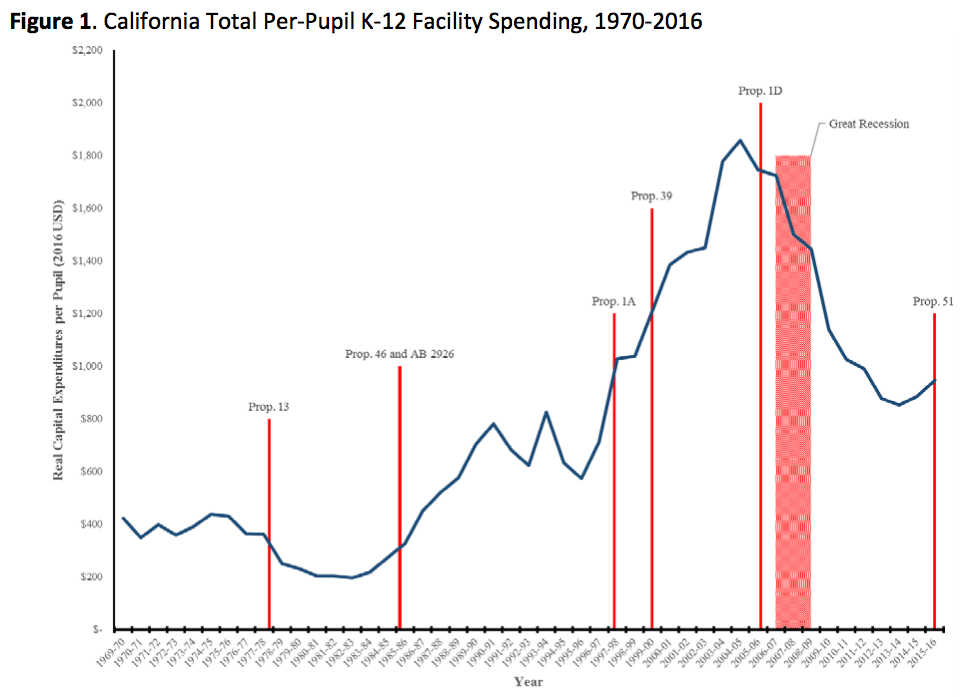 The report, Financing School Facilities in California, concludes that the impact of bond financing policies for schools in California has routinely advantaged communities best able to pay, to the detriment of the school districts where students need the most help. The report suggests ways in which California lawmakers could address this inequitable variation.
Some conditions are unacceptable
Deplorable conditions in some schools prompted the Williams case (filed in 2000, settled in 2005), which successfully argued that California has a responsibility to provide every child a school where he or she has a reasonable opportunity to learn. The plaintiffs in this case championed measurement of health and safety factors (such as vermin or broken toilets) and disadvantages (such as missing textbooks and inexperienced teachers) in order to increase the odds that children in every school can apply their energies to learning. The expression "opportunity to learn" came to be used as shorthand for the connection between facilities and learning.
If schools lack
good facilities
they hold back
kids' abilities
In California, these same learning conditions must be described in each school's annual School Accountability Report Card. Basic learning conditions are also among the priorities that school districts must report on as part of their Local Control Accountability Plan (LCAP). Safe schools facilities include things such as lighting, temperature, safe bathrooms and playgrounds, and accessibility for handicapped persons.
Charter schools in California use widely varying facilities. Proposition 39 also required school districts to provide charter school facilities "sufficient to the charter school's needs."
The physical space
California's public dialogue about school facilities has included plenty of local variation, but taken as a whole the main themes have been basic, such as spaces for children to learn that won't collapse in an earthquake. 
The way school buildings are designed makes a difference in how schooling happens. If the space is divided into uniform-size classrooms that hold about 30 students it's likely that's how instruction will be organized. Some programs, such as laboratory science and performing arts, require spaces for rehearsals and performance. PE programs are strongly influenced by facilities: a school with access only to paved spaces for recreation will emphasize basketball, but a school with ready access to a grass field might offer more soccer.
Facilities are rarely a school's highest priority, unless there is an acute problem.
The Digital Facilities Gap
One essential element of a school facility is digital infrastructure. Internet connectivity is enormously valuable for instruction, research and homework. But many schools remain substantially off the grid. This is a facility problem, and since investments in facilities tend to happen only occasionally, in connection with passage of a bond measure, California schools are falling far behind in terms of digital access.
The direction of change is obvious; only its pace is in question.
As always with things that cost money, schools in higher-wealth communities tend to be ahead of those serving lower-wealth communities. At the national level, the FCC's E-rate program tries to bridge this divide, but its resources are limited. Some school districts are moving faster than others to make digital readiness part of their facilities plan. San Diego's i21 Interactive Classroom initiative stands out as an example that started earlier than most. In 2009 the district began a five-year bond-funded project to make wireless internet access reach every corner of every room of every school - and, crucially, to reach the place of residence of every student. It also invested in training for teachers, so that they could use the new tools effectively.
The role of technology in education is changing quickly, a topic that will be explored further in Lesson 6.6. There remains plenty of disagreement about how and when computers and devices should be used, but hardly anyone would argue anymore that schools should be "off the grid." Many schools have spotty, slow or missing internet access, and most districts don't know for certain where their facilities have "dead zones." Many students' families have access to web services, but not all. The direction of change is obvious; only its pace is in question.
When you walk into a school, the buildings might not be the first thing you notice: it might be the kids. What are they wearing? The next lesson explores the evidence about uniforms as an element of a school environment.