Put this under the list of "I wish it weren't so." Schools in California are opening without enough teachers. This problem has been brewing for years. There are many reasons why this is happening. Here are some of the most important:
Compared to other college graduates, teachers are not paid very well.
During the Great Recession, funding for schools in California dried up. Many school districts stopped hiring, and over a five-year period the total teaching workforce in the state shrank by 9%.
Teaching was once considered a stable middle class job. Lay-offs during the Great Recession changed that perception.
California's low education funding contributes to lack of sufficient teacher training and support.
Let's take a closer look
Teacher Pay
A recent study from the Economic Policy Institute finds that the teacher pay gap is wider than ever. This is a big deal. College graduates, particularly women, now have job options that pay more.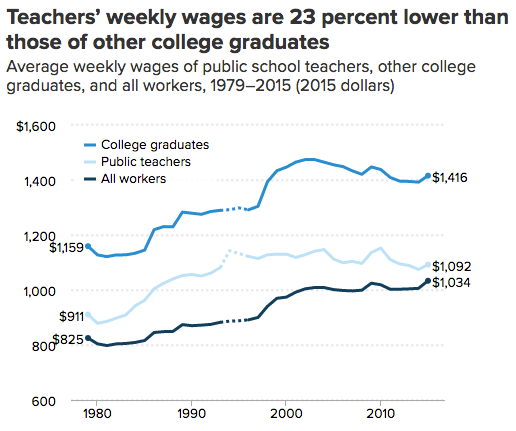 But… what about benefits? Teachers get both wages and benefits. Don't those make up the difference? The short answer is "No." The Economic Policy Institute study finds that "although teachers on average enjoy better benefits packages than similar workers, benefits only mitigate part of the wage gap. Including benefits, teachers are still left with a record-high 11.1 percent compensation gap compared to similar workers."
Teacher Job Loss and Fewer New Teachers
In the Great Recession many new teachers lost their jobs, which created a very real sense of job insecurity for students considering the teaching profession. Between 2007 and 2010, there was a drop of 11 percent in California's teacher force -- and a much bigger drop in California's future teacher force.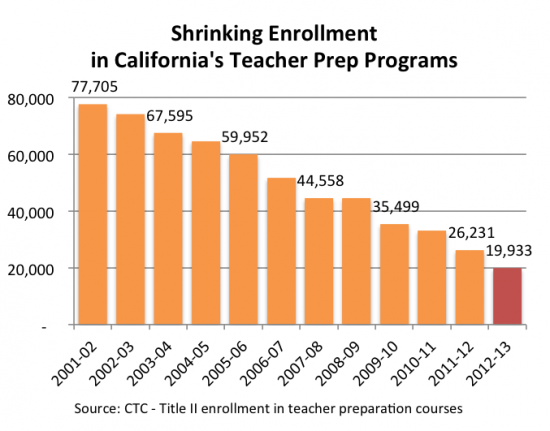 The pay gap and job insecurity have led fewer and fewer people to enroll in California's teacher preparation courses. Slim funding has caused school districts to defer or forego expenses like on-going teacher training and support. Increasingly, teaching and other education-related work fail to attract above-average students.
Will This Be Changing Fast?
Based on a recent ACT survey of incoming college students, the news is not so good. It found:
"Interest among ACT-tested graduates in becoming educators continues to decline at an alarming rate.
Students interested in education have lower-than-average achievement levels, particularly in STEM areas. (STEM = Science, Technology, Engineering and Math)
Interest in pursuing an education career is low among males.
In general, there is a lack of diversity among students interested in education."
An Underfunded System
The teacher shortage is not just about not enough people wanting to become teachers. It is also about not enough people continuing as teachers. The rate of attrition in teaching in California is higher than in other places, and there is evidence that it has increased recently.
Teachers need good preparation, training and support. They need to feel the love. Alas, over the past years, this too has been the victim of an underfunded system.
California is a high-cost state. Per-student funding, when adjusted for cost of living, still remains near the lowest in the nation. Unfortunately, this combination of low funding and high costs translates into the largest class sizes in the nation. It also means that school districts struggle to provide the training and support teachers need to do their job well.
The Good News
There are solutions.
For strategies for better preparation, training and support read Ed100.org and The Learning Policy Institute's brief on Addressing California's Emerging Teacher Shortage.
Part of solving this chronic shortage involves a change in mindset. School community leaders can build an intentional discussion about the important role teachers play in our society and the importance of this commitment to investing in the future of our children.
Comments or suggestions? Send me a note at Carol@ed100.org