A Resource for Transformative Monthly Meetings for PTA boards and Student Councils
This year, reserve 15 minutes of each month's meeting for learning with Ed100. Here's the plan.
The mission of Ed100.org is to help you understand the education system so that you will have great ideas and the credibility to be heard. You can read Ed100 on your own, of course, but it's even more helpful as a basis for conversation. With feedback from PTA leaders, the Ed100 team has developed the Chapter of the Month Program, a way to support learning within PTA boards. (Or other groups of learning leaders.)
We know you meet regularly throughout the year. We want to help you plan ahead for those board meetings to help your board become well informed and up-to-date about California's education system. It can be fun. We even made a game out of it, which you can use.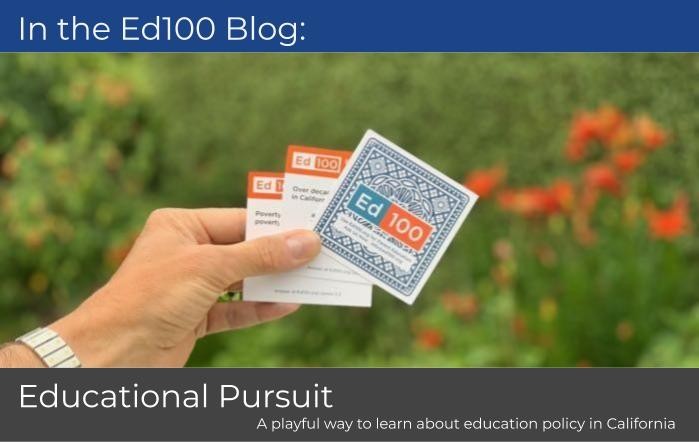 But the way to really make it happen is with consistency. Try the Ed100 Chapter of the Month Program, an online kit of ten Ed100 learning modules based on the ten chapters of Ed100.org. These modules are short: about 15 minutes each, a size that can fit in your monthly PTA board meeting. Used in this way, the modules will help your board learn about California's changing education system. Knowledge builds confidence for discussion, and discussion builds engagement.
(Ahem: Hey, student leaders — we suspect you could outpace the parents. Would you agree?)
Each Ed100 CHAMP module includes:

Pre-reading
Each month, the pre-reading for your meeting is chapter of Ed100.org. The lessons within each chapter take about five minutes each to complete, including the quiz that earns you a chance to win $1,000 for your PTA.
A Short Video
A short video summarizes the content of each chapter. You can use this video to bring your whole leadership team onto the "same page" — even if they haven't done the reading and earned their tickets.
Discussion Guide
A discussion guide helps you develop a conversation for each chapter. Great meetings lead to action: each discussion guide includes prompts to help you clarify steps to take next.
As usual from Ed100.org, all of this is free and PTA-safe. Our mission is to help you develop a well-informed, engaged school community that develops future leaders. That's what we do.
How to Make It Happen
Here's some sample wording to explain this plan to your PTA board:
Ed100.org is a free website that explains the California education system. It's being used in about 1,500 PTAs in California. It's an online, self-paced course. Ahead of our meeting each month, we'll read a chapter of Ed100.org. Each lesson takes about 5 minutes to read, and about half of participants take the lessons on their phone. At the end of each lesson there's a one-question quiz. By answering it, each of us will earn a ticket in the next Ed100 drawing. We could win up to $1,000 for our PTA. By end of the school year, we should all become Ed100 graduates.
At our board meetings we'll set aside 15 minutes to discuss key insights from the chapter of the month. We can decide together which lessons we want to bring to our members' attention.
Recommended Schedule
If your board uses the schedule recommended below, by the end of the school year you will all become Ed100 graduates. You will also be on pace to benefit from discussions with other people taking the course at the same time. Look for their thoughts in the comment section of each lesson and on the Ed100 Facebook Page.
(Want to customize the schedule? No problem. It is TOTALLY realistic to alter or compress the schedule. Here's a version you can clone, modify, share and print: Ed100 Rollout Schedule.)
 

Month

Read It on Ed100

Discuss It

Watch Video

1

Aug -
Sep

Read Chapter 1:
Education Is...

2

Sep -
Oct

Read Chapter 2:
Students

3

Oct -
Nov

Read Chapter 3:
Teachers

4

Nov -
Dec

Read Chapter 4:
Time

5

Dec -
Jan

Read Chapter 5:
Places for Learning

6

Jan -
Feb

Read Chapter 6:
The Right Stuff

7

Feb -
Mar

Read Chapter 7:
The System

8

Mar -
Apr

Read Chapter 8:
Resources

9

Apr -
May

Read Chapter 9:
Success

10

May -
Jun

Read Chapter 10:
So Now What?
To support these conversations and set the pace for them:
The Ed100 team promotes the "Ed100 chapter of the month" through emails to our readers and through the Ed100 Facebook page.
It's our hope that the Ed100 chapter of the month will help anchor a statewide conversation among PTA leaders using Facebook. It's an easy, rewarding way for Ed100.org participants to complete the course, earning their Ed100 Graduate certificate.
As an added benefit to reading lessons and taking the quizzes, your board members will earn lots of tickets in the drawing. We hold two drawings each school year, so you can always have something to organize around.
We're eager for your feedback. Add your comment below, or drop me an email, or leave a comment on our Ed100 Facebook Page. What do you need from us to be successful?