There's a Lot Here. What Do You Need?
Ed100 exists to support well-informed and effective leadership in each school community in California. Over years, we have created a LOT of tools. At one point, a PTA leader asked me for a short overview presentation about Ed100, and I found myself rummaging around for it. This prompted a slap to the forehead: if I can't find it, neither can you.
So here ya go. This post summarizes the tools we have developed to help leaders make use of Ed100. Use what you like, and let me know if there's something more or different that would help you develop informed leadership in your school community.
Tool #1: The Ed100 Graduate Certificate
The Ed100 Graduate Certificate is a mark of achievement that you can earn by passing every lesson in Ed100. Each lesson in Ed100 focuses on a specific aspect of the education system, examining it from different angles. The quizzes at the end of each lesson aren't meant to be particularly hard — they reinforce main points. They also aim to slow you down a little to think about what you are learning.
Hundreds have earned their Ed100 Graduate Certificate, including parents, teachers, students, administrators, and even district superintendents. Why not challenge yourself to earn yours? When you do, please print it and post a selfie to encourage others! Send it to us and we will happily feature your achievement on our Ed100 Facebook page. (You can find your certificate in your profile page.)
Tool #2: The Ed100 Leaderboard and the Drawing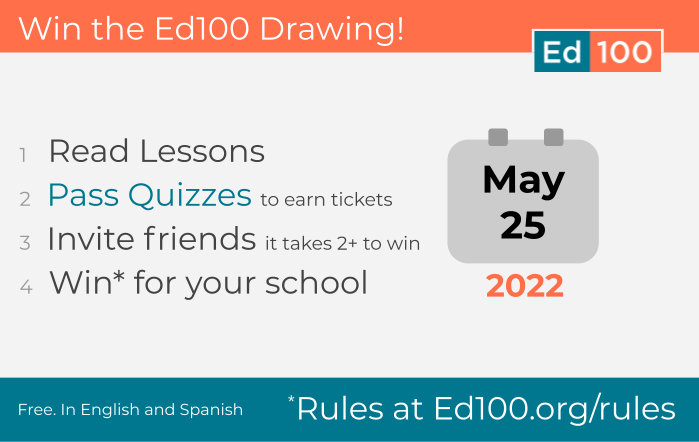 Each quiz you pass on Ed100 earns a ticket, which is reflected on the Ed100 Leaderboard for your school. Some school community leaders have made powerful use of the leaderboard, which helps them celebrate progress as group members complete the lessons. Set monthly learning goals. Announce each school's current-year ticket count at each monthly meeting.
In order to help parent leaders and student leaders drive usage of Ed100 in their school, we hold drawings twice a year using the tickets as entries. Yes, your school community CAN win $1,000! (See rules)
Tool #3: Leadership Meeting Plans for each Chapter of Ed100
Try the discussion guides! Look for the red star ★ at the top of each lesson.
Most PTAs, Site Councils and Student Councils hold leadership meetings monthly — ten in a school year. The Ed100 Chapter of the Month program provides you with ready-to-go content to add a "learning and discussion" component to each month's leadership team meeting. To be clear, for general membership meetings it's better to focus conversations strategically just on one or two lessons at a time — this is how student leaders working as Ed100 Outreach Ambassadors are using it. The Chapter of the Month can help you build a really well-informed leadership team, fostering conversation among those who have committed themselves to earning the Ed100 Graduate certificate. Tip: At the top of each lesson in Ed100 look for the ★ red star. It's meant to draw your eye to the Discussion Guide for the chapter.
Tool #4: Chapter overview videos.
The introduction to each chapter of Ed100 includes a brief summary video (about 5 minutes or so). You can find all ten of them in a playlist on the Ed100 YouTube channel. The Ed100 team of Student Discussion Leaders uses these videos to help bring everyone on a Zoom call to a shared level of basic understanding.
The Chapter of the Month tools are all free. For each chapter, we have developed a summary video (on YouTube), text you can use and adapt to announce your meeting, and a discussion guide (in English and Spanish) that you can use to make your meeting interactive. The plans are built in Google Docs. You can clone and customize them, or download them in Word format, or as PDFs.
Tool #5: The Ed100 Academy for Student Leaders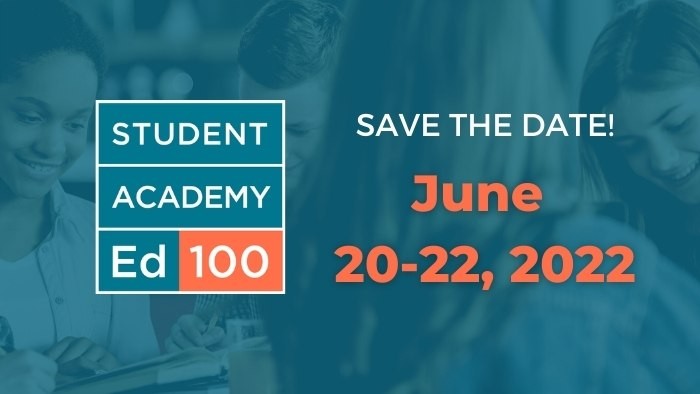 During the Pandemic summer of 2020, we created an online conference for California student leaders, involving hundreds of high school students from all over the state. It worked so well that we have made it an annual event. See https://ed100.org/academy. Every high school should be represented, and none left out.
Tool #6: The Ed100 Parent Leader Guide
The Ed100 Parent Leader Guide provides "ready to go" plans for parent group meetings. It's all here: Lessons, discussion guides, handouts and suggestions for taking action.
This Guide offers specific advice and practical tools to help you engage and support your school community. Using these resources, you can build your school's capacity to face facts, work together, sharpen focus, or change direction.
Tool #7: Content for Presentations, Meetings and Emails

Want to include some content from Ed100 in an email, meeting or presentation for your PTA or school group? Go for it. Feel free to draw from our lessons and blog posts. We have more to offer, though. For example, if you want to give a presentation to give people a feel for how Ed100 works and how to get started with it, use our Ed100 Mini-presentation. It's short and sweet.
Want to get a conversation going? Try selecting teaser questions from our Big Book of Questions. It's a deck of Google Slides that you can copy, edit and share. (You can also download it as a PowerPoint file, if you prefer.)
Need a copy of the Ed100 logo to add it to your PTA unit or council web page? Or a flyer to print and hand out, maybe in Spanish? Or just want to dig around in the Ed100 toolbox? Help yourself to our Ed100 Public Folder.
Tool #8: The Ed100 Search Function
Lessons are the backbone of the Ed100 course, and we aim to keep them somewhat brief. The Ed100 blog explores some important topics a bit more deeply. The Search function on Ed100 spans both the lessons and the blog.
We have invested significantly in key blog posts, and we update them. For example, our post about homework is an important extension of Chapter 4 (time). Our blog post about strikes is an important extension of our lesson about teacher pay. Our series of posts about the Dashboard is vital for understanding your role in holding your school and district accountable for success. Our series about school boards and site councils explains important elements of the school system that are often misunderstood.
Tool #9: The LCAP Checklist
The LCAP: The most interesting boring document you'll ever never read
A key concept of the Local Control Funding Formula is that communities are the ultimate source of accountability for school results. The Local Control Accountability Plan, written annually by your school district, is the most interesting boring document you'll ever never read. You know who it's written for, right? It's supposed to be for you.
If you want to make a change in your district's priorities, persuading it to change the LCAP can be a powerful approach, visible on the California Dashboard.
The LCAP Checklist is a simple tool to help you prepare for your community LCAP meetings. The checklist is linked to lessons in Ed100 to make research easier. By using it, you can tie your feedback directly to each section of your district's LCAP.
Tool #10: Ed100 on Social Media
If you're a Facebook user, please find, follow and share the Ed100 Facebook page. We're on Twitter, too.
Tool #11: Play Ed100 Educational Pursuit
At the California State PTA convention in 2019 we unveiled a playful way to get PTA groups talking and thinking about California's education system. Borrowing from Trivial Pursuit, we created a set of ten game cards for an activity called "Educational Pursuit." Each card asks a simple multiple-choice question associated with a lesson in Ed100. It also asks this: "how sure are you?"
The game can be played as a ten-minute activity or (better, of course) as a 45-minute session.
Tool #12: Email… to Contact Us!
We often include our email addresses in our posts. Carol is carol@ed100.org. I'm jeffcamp@ed100.org. You can learn about admission to the Ed100 Academy for Student Leaders from academy@ed100.org. We want to know how you are using Ed100 and how we could help you more. We are volunteers, so please be patient with us — but we really do like to hear from you.