More Money for Schools? Not Really.
The headlines boast that California will have a lot more money for schools in the 2018-2019 state budget. Is that the full story? Let's take a closer look.
The good news is that funding for California schools has grown! By billions! Over the past seven years, K-12 education funding increased by $31 billion to $78.4 billion. Just look at the chart below, from the California 2018-19 State Budget: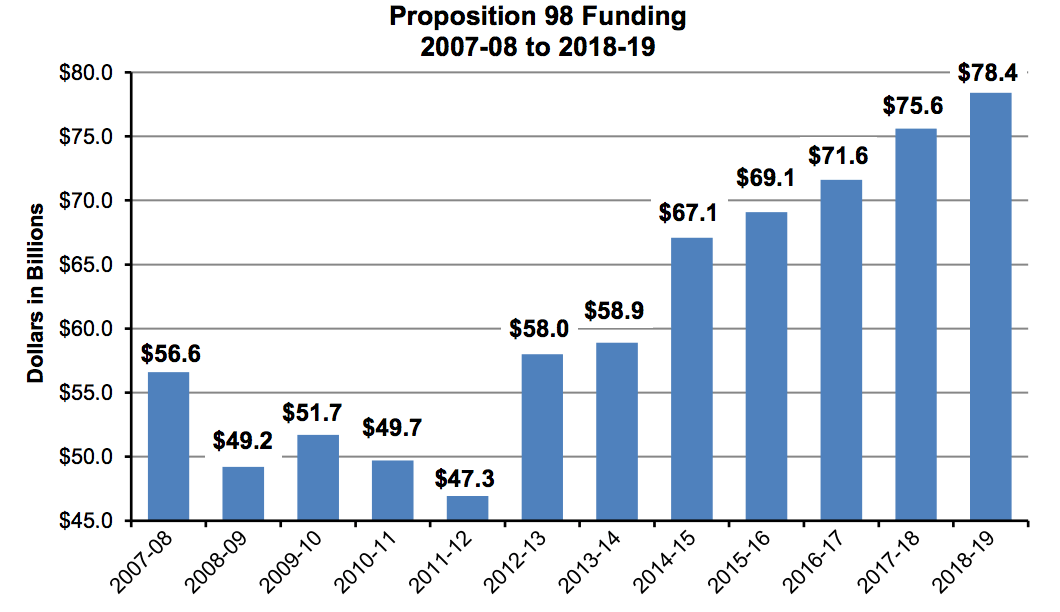 Now, Let's Take Another Look
Anyone who runs a household or is in charge of paying bills knows there many ways of looking at a budget. First clue: Don't just look at revenue.
Years ago, I tried to teach my kids how to estimate costs at the grocery store. Could they figure out — just by looking at the items in the cart — how much money we would spend? Our trick was to multiply each item by $2. If we had ten items, we would guess the bill would be $20. We came pretty close.
Try using that $2 estimate today. What cost $20 in groceries in 2000 now costs $30 for the same items. That's one of the things missing from the chart above — a little thing called inflation.
The chart below looks at basically the same revenue information as the chart at the top, but it draws a very different conclusion.
If you just look at the blue line, it appears that we've increased funding per pupil significantly since 2007-08. That's great news, right?
But when adjusted for inflation — the red line — the news doesn't look as good. Yes, revenue has grown. But so has the cost of running a school. What's the growth in per pupil funding adjusted for inflation over the past decade? Not much.
California is still just digging its way out of the deep budget cuts of the Great Recession. It's now back to the funding level of a decade ago when California was well behind the national average in education funding.
Now Add Some Big Ticket items to Your Expenses
What if your grocery needs suddenly got a lot more expensive? Hello new baby AND the price of bread jumps from $2 a loaf to $5 a loaf? Right. Your grocery budget would not go as far.
That's what happening to school budgets. Most notably, costs have skyrocketed because of changes in the way pensions are funded. For many years, too little money went into the pension system. It wasn't sustainable, and now school districts and teachers are playing catch-up to fill the gap. In the last few years, school districts and teachers have had to pay a lot more in pension contributions, and the rates are still rising. Significant pension costs have been shifted from the future to the present and from the state to local school districts — without dedicated extra money to pay for this.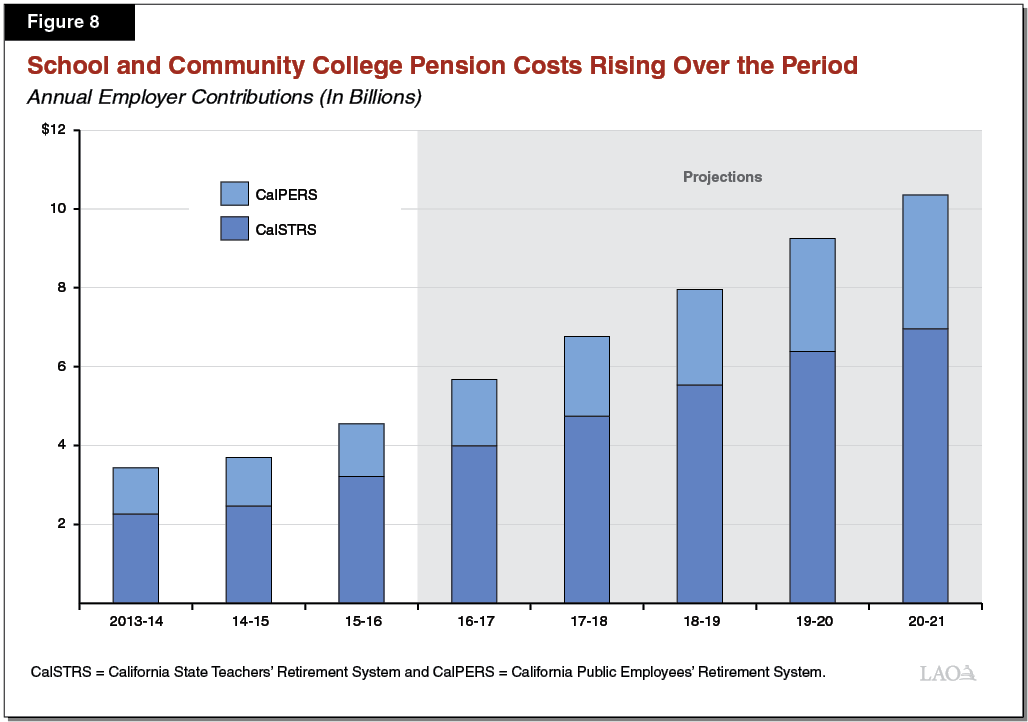 Wait... there's more.
Special education costs for school districts have almost doubled since 2004. While there is some state and federal funding for special education, it falls far short of the actual growing costs. School districts must pick up the difference. This is big money. California school districts pay about $13 billion for special education services and almost two-thirds of it ($8.8 billion) now comes out of local budgets.
Add to that increased healthcare costs, greater expenses to address the teacher shortage, and declining enrollment and you have more money going out (expenses) than coming in (revenue).
The Bottom Line: Schools Face Budget Cuts
Combine these factors and the rosy headline that "California has lots more money for schools" makes no sense. More money isn't the same as more resources. Below are real headlines from around the state:
Want More Budget Information? The California State PTA Budget Highlights for Parents gives you a quick rundown of funding for children and families in the 2018-2019 California budget. For a deeper dive, try these: