Starting School with a Little "Ouch"
As schools get started each year, safety is on the agenda. Part of keeping kids safe involves an important bit of paperwork: ensuring that each student has been properly immunized.
The COVID-19 pandemic reminded everyone of what can be easy to forget in normal times: universal vaccinations are critical to our society. Not so long ago, childhood diseases like whooping cough, chicken pox, measles, mumps and rubella claimed the lives of thousands of American children every year. Many children who survived were left with scars or chronic health problems. 
Universal vaccination has been one of the most successful medical interventions in human history. By ensuring that all children are vaccinated, these terrible diseases became rare — the stuff of history lessons, not daily news.
Students in California must be vaccinated to attend school.
Despite this success, or perhaps more accurately because of it, it's easy to assume that "old" diseases are no longer a threat. Vaccination rates have declined in some places. Until 2016 it was legal for parents in California to enroll unvaccinated children in public school simply by registering a "personal belief statement." An outbreak of measles in 2015 served as an important reminder: these diseases are still a deadly reality. They will come back if allowed to do so, regardless of personal beliefs.
To protect children and the general public, in 2016 California put an end to the "personal belief" exemption. To enroll in school, each child must be immunized unless there is a specific, medically valid reason to leave them unprotected based on "physical condition or medical circumstances."
Eliminating personal belief exemptions improved overall vaccination rates in the state, but some communities remain exposed. The law includes an important provision for medically necessary exemptions. Some physicians abused their power to interpret the meaning of medical circumstances.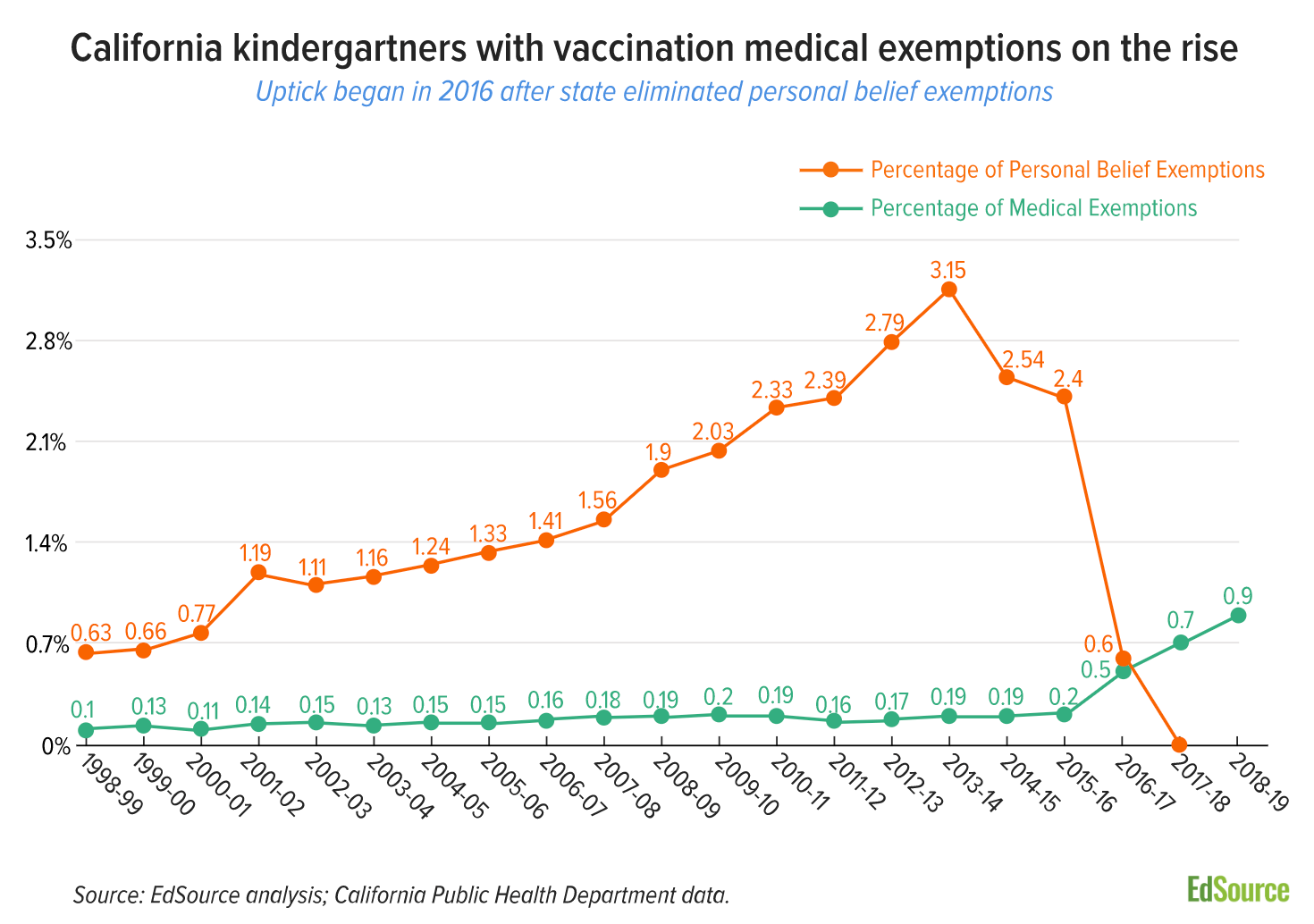 Each School Counts
According to the California Department of Public Health, to prevent transmission of disease in a community at least 95% of children at each school must be immunized. At most schools, the vaccination rate is safely above this level, but the rate varies significantly from school to school.
Outbreaks are likeliest to occur in places where anti-vaccination beliefs take root, leading groups of parents to take measures to "exempt" their children from protection. This creates a concentration of children that can contract the disease and transmit it to others. In 2019, about one in every four schools in the state still had a ratio of unvaccinated students higher than the state's recommended maximum.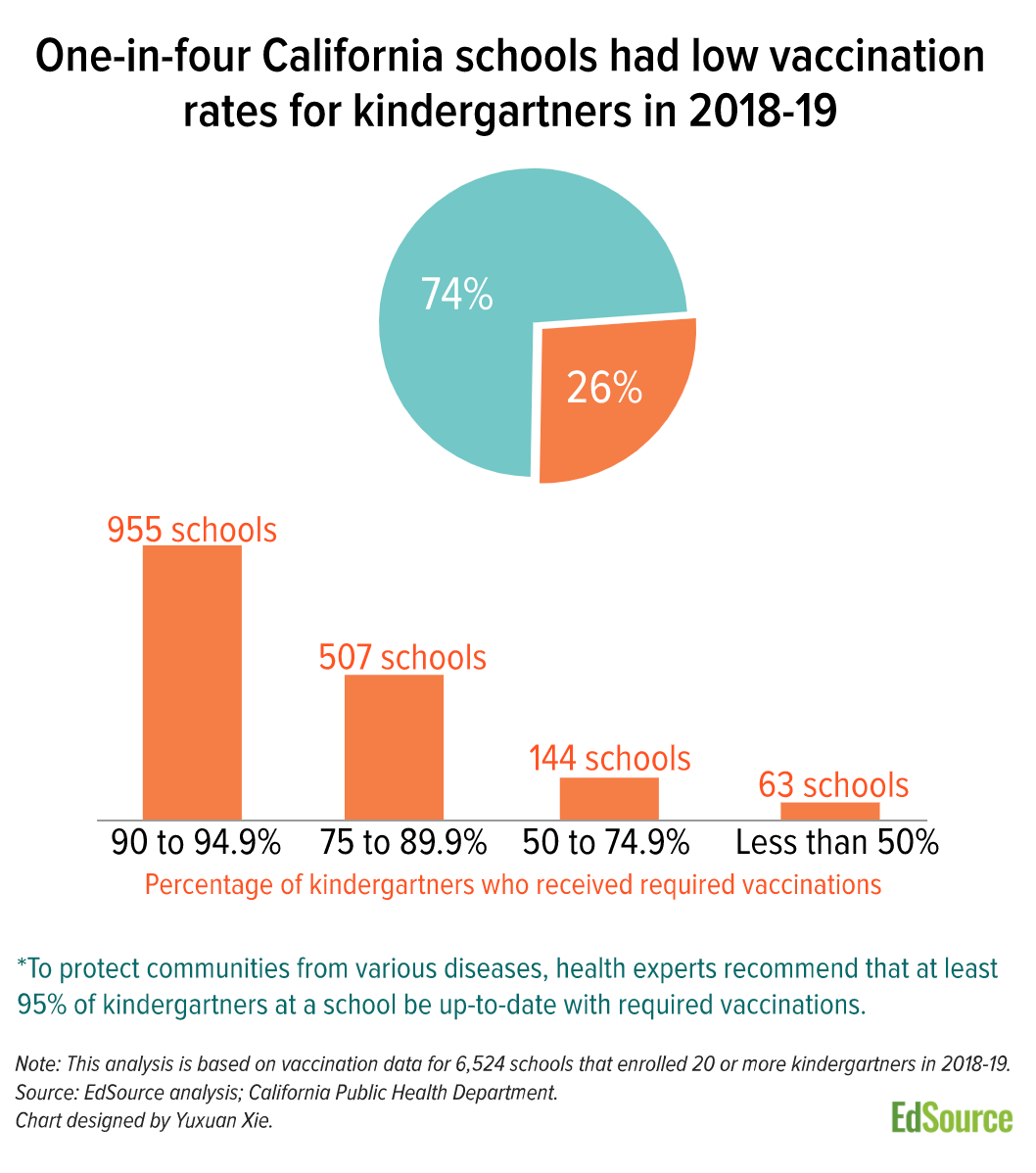 There are patterns that predict which schools tend to be higher-risk, according to EdSource, which has examined data about the immunization rate at schools throughout the state. Many of the schools where children are most at risk of an outbreak are charter schools or private schools concentrated in a few areas of the state.
California Senator Richard Pan, the author of the law that put an end to "personal belief" exemptions, led efforts to address these pockets of vulnerability by tightening the standards for medical exemptions. Cracking down on unscrupulous doctors who issue medically unnecessary exemptions was an important part of the plan, too.
Check Your School's Immunization Rate
Is your school among those susceptible to an outbreak? Check this helpful map from EdSource for data about the immunization rate at schools around the state. Or look up your school here.
If you find that your school community has a lot of unvaccinated children, be thoughtful about how you approach the problem. Changing someone's mind can be difficult. A clumsy confrontation can make it even harder. This podcast episode from Hidden Brain might be of use.