Preparing California's top student leaders
At the end of June, I had the great pleasure of seeing the 2021 Ed100 Online Academy for Student Leaders come to fruition. Hundreds of students participated from all over California, and about 400 of them completed at least one end-of-day survey. These students will receive instructions this week to download their conference certificate, a record of their involvement.
As part of the conference, we urged students to continue learning about the California education system by taking lessons on Ed100.org. More than 20 students have already passed all of the lessons, earning their certificate as Ed100 graduates.
The Ed100 Student Academy conference, which was held June 21-23, involved more than 30 speakers and more than a dozen organizations. The host of the event was Zaid Fattah, the student member of the California State Board of Education. Students at the conference heard from remarkable speakers, including student leaders, educators, elected officials, researchers, journalists and cultural influencers.
Over the coming weeks and months the Ed100 blog will feature posts about many of these speakers, including notes, slides and video. Don't miss a post — sign up at Ed100.org to receive our weekly email.
What does it mean to be a student leader?
The most traditional leadership roles for students are positions in student government. By design, these positions are limited — for example, most schools have only one or two students at a time with the title of "president" of the Associated Student Body (ASB). But holding a title is not the same as being a leader. There are unlimited opportunities for students to invent ways of proving their mettle as leaders, with or without a title.
Within the context of a school, students can lead clubs or programs. In California, students can serve formally on the site council of a school, an important and often-overlooked role. Students can also serve on the board of a school PTSA. Students can ask to serve on a task force to coordinate community services through their city or county. Students can make their mark through journalism, writing for the school paper, the community paper or beyond. Whether elected or not, students can organize projects or campaigns in support of a cause.
At the 2021 Ed100 Academy for Student Leaders, attendees heard from inspiring student leaders who found especially notable ways to help change the world. None of them did so through "official" channels. GenderCool champion Stella Keating spoke about opening hearts and minds toward transgender kids. Hudson Yang, one of the young stars of Fresh Off The Boat, spoke about rallying young actors and celebrities to the cause of stopping anti-Asian hate. Andrew Sutherland, an Ed100 advisor, described his high school experience as the inventor of Quizlet.
Community organizations often need help, and after a year of Pandemic experience they have a broader view than ever before of how much people can contribute virtually. The same is true of political candidates, local businesses and teachers. Young people who earn a reputation for being reliable and creative in small ways can quickly become noticed as leaders — especially if they help others imagine what they can do to make a difference.
How can students find leadership opportunities?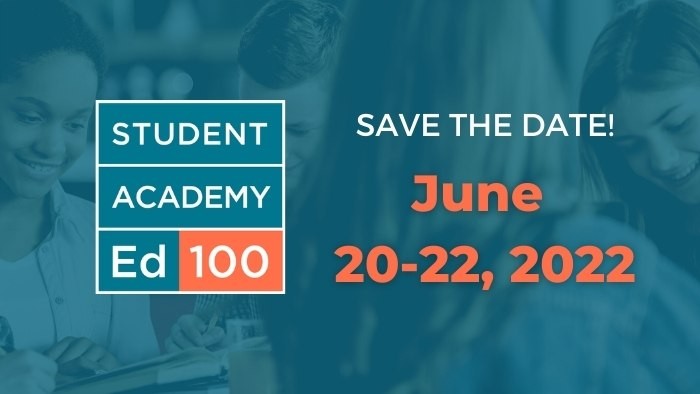 Collectively, there are nearly half a million students in each grade level in California. About 2,000 high schools in the state of California enroll more than 100 students. Each is like an island. Student leaders are isolated from one another not only by simple geography, but by design. School leaders tend to focus on building connections, community and culture only within their school. When student leaders from different schools come into contact it is usually as competitors.
The Ed100 Student Academy is an exception to this competition-driven pattern. Student leaders can accomplish a lot by working together toward shared goals. There are some terrific organizations that need motivated student leaders, and vice versa.
The 2021 Academy highlighted 11 organizations with opportunities for student leaders. Students were invited to connect with as many of these organizations as they wanted, and were asked to rank which four they were most interested in getting actively involved with. This process delivered 1,395 opt-in connections between student leaders and organizations. Here's what happened:
Opt-in connections, by ranked choice

 

First

Second

Third

Fourth

Unranked

Total

CSBMA

22

17

12

17

59

127

ACLU

21

16

17

18

65

137

BYLP

7

6

10

7

65

95

CASC

51

34

19

19

41

164

Tract

20

25

24

19

44

132

ACE

7

18

13

12

66

116

The SCA

12

9

10

6

60

97

GENup

14

22

21

21

64

142

PTSA

4

12

11

6

63

96

CreateCA

13

14

7

14

63

111

Ed100

55

30

31

22

40

178
Every organization that participated in the Academy emerged with at least four students who were so motivated that they ranked the organization as their top choice. Every organization also added at least 95 student subscribers to their opt-in contact list, a suitable base for research, social media campaigns and help with recruiting. Every student who wanted to learn more about an organization is now connected. Who knows where it will lead?
Measuring Impact
We asked students to participate in surveys before, during and after the Academy, partly in order to measure impact.
Students felt that they had a lot to learn.
They felt that they learned at the conference...
...and that the conference set them up to be more effective as leaders.
What do student leaders care about?
The Academy was a great opportunity to learn about what is on the mind of student leaders in California. As part of the application for the conference we asked students to name their top priority as a student leader. The answers varied a lot:
To my eye, the single most surprising takeaway from this chart is the very small number of students — just 23 of them, or 2.4% — who mentioned the climate crisis as their top priority as a student leader. This implies a challenge: in any given school community it's unlikely that there are enough students to form a critical mass large enough to sustain effort. This underscores the importance of helping students connect with one another across school communities.
Connecting student leaders
A key goal of the conference was to help student leaders build useful connections with one another, if they wanted to. This is a big challenge, in part because many school systems are designed to repel communication from the outside world. Many high schools provide their students with email systems that block incoming messages, for example. We received scores of applications from students who took time to apply but were unable to receive the message that they had been accepted! One of the first messages we send to student leaders is that they need to begin building their adult identity online, beginning with a proper Gmail account.
Social media can serve as a way for teens to connect with students beyond their school, and in 2020 we had passable results connecting students using a private Facebook page. In 2021 we found that resistance to any use of Facebook had become insurmountable, so we opted to try Discord, a much simpler platform freighted with less negative buzz. We invited students involved in the conference to communicate with one another in a variety of configurations including randomly-assigned private small groups. Good moderation of the server was important, and four student leaders teamed up to provide it. Based on survey feedback this approach was somewhat effective, but it remains an area for improvement in future versions of the conference.
What's Next?

Students will soon receive their certificates for participating in the conference. We have announced the dates for next year: Jun 20-22, 2022.
We are grateful to Zoom Communications for their support as our exclusive corporate sponsor in 2021. We are looking for creative ways to adequately fund this conference for 2022. If you have ideas about that, please let me know!
— Jeff