Performance
California is moving to a new way of measuring the success of schools and districts. The California School Dashboard is a work-in-progress, and will evolve over many years. The first version of the Dashboard will be publicly introduced in early March of 2017. The indicators on the Dashboard will be divided into two major sections: State Indicators and Local Indicators.
The "Local" indicators will only be reported for school districts (not schools) and in this first release won't provide much information.
That's why, for this post, we'll focus on the State Indicators that will be provided for almost all of the school districts, schools and charter schools in California. They will summarize data the state has compiled and use colors to represent "performance", a combined measurement of current conditions ("status") and of progress ("change").
Among the performance colors, you will see red and blue least often - on most indicators they apply less than 10% of the time. Orange, yellow and green are more common, with yellow generally the most common (but not for every indicator).

In other words, the distribution of performance levels varies by indicator, and is determined by results, not by a fixed grading curve.
What's Measured?
Students' Academic Performance Measures
Scores from the state's standardized tests are the basis of several indicators on the California School Dashboard:
English Language Arts. (Grade 3-8 CAASPP language arts scores)
Mathematics (Grade 3-8 CAASPP math scores)
Measures of Students' Engagement with School
The Dashboard also includes data collected by the state other than tests:
Graduation Rate (The four-year "cohort" graduation rate measures the percentage of students entering as ninth grade students who graduate in four years or fewer.)
School Suspension Rates (all grades)
More to Come
Additional academic tests will be added to the Dashboard in the future:
This first version of the Dashboard will not include the following indicators, which have been largely approved but are not yet available:
Chronic Absenteeism (all grades - coming fall 2017)
College and Career (still being refined)
How do the Dashboard colors work in practice?
Most of the time, you will probably see data from the Dashboard in the form of reports about your school or district. The reports will use color-coded icons to represent performance levels, like this: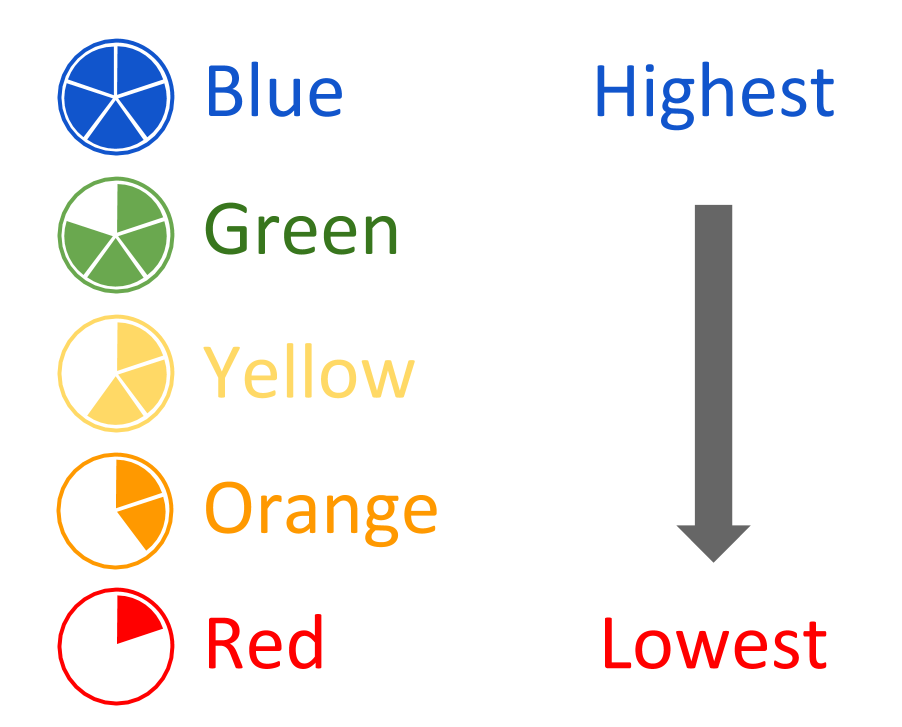 The icons look like pie charts with slices of equal sizes, but they should not be read that way. They are just icons.
The Dashboard will present performance data about your school or district in the form of "reports."

For example, the "Status and Change Report" will summarize performance for your school or district. It also will break apart the "status" and "change" elements of the rating. This is where you can see whether things are improving, and by how much. It will look something like this: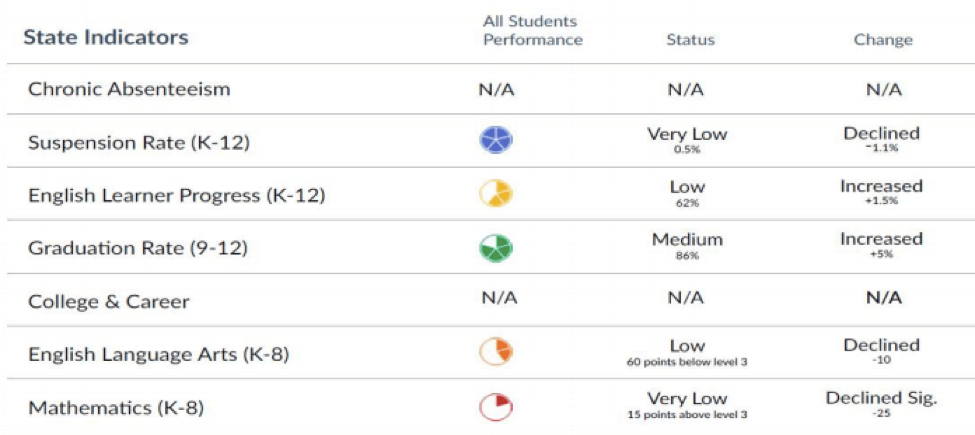 In the example above, K-8 student performance in mathematics appears to be in crisis and getting worse. English Language arts performance is hardly better. Although English Learners aren't doing very well, they at least seem to be improving a bit. On the plus side, graduation rates are fairly strong and improving, and very few students are being suspended.
Other reports resembling this example will enable you explore the data in different ways, for example focusing on performance by grade level, by school or by student groups. School districts and nonprofit organizations might focus particularly on "equity reports", which can reveal patterns in where students in various socioeconomic groups are succeeding or struggling.
You may have noticed fine print in the image above, providing specific numbers related to the status and change of each indicator. The next post will peek under the hood to explain how the Dashboard combines these elements to evaluate performance using a "5 by 5 reference chart."